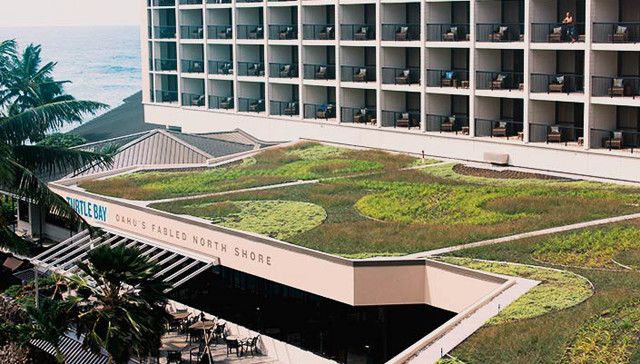 Turtle Bay receives STOKE Certified designation
Surf News Network, 11 December, 2014. INDUSTRY: Turtle Bay Resort on Oahu's fabled North Shore recently joined an elite group of surf resorts that have taken on the challenge of sustainability with STOKE Certified—the world's first sustainability certification program to focus exclusively on surf and snow resorts.
STOKE Certified undertook an intensive onsite evaluation of Turtle Bay Resort against 142 criteria and 326 sustainability indicators resulting in a compliance score of 83%. This easily surpassed the minimum requirements for certification enabling Turtle Bay Resort to become the second surf resort in the world, and the first in Hawaii, to be awarded STOKE's designation of 'Sustainable' certification.
Turtle Bay Resort guests can rest and surf easy knowing that their vacation is supporting community development projects, environmental conservation, cultural heritage preservation, and the enhancement of marine ecosystems as well as surf resources, and that they are getting the best surf guiding and safety services available anywhere.
Scott McCormack, Vice President of Real Estate for Turtle Bay Resort, stated, "It's an honor to be awarded this prestigious designation, resulting from our continued commitment to environmental sustainability and stewardship. Over the past year we've collaborated with STOKE to further our master plan for the benefit of all guests who seek a resort experience that is in keeping with the spirit of the North Shore."
Co-founder of STOKE Certified Carl Kish said "Last year STOKE Certified worked with Turtle Bay Resort to develop a 'roadmap to sustainability'. This year we are delighted to have been able to document and verify a vast array of sustainability initiatives. From working with local schools, the elderly, sporting groups, and Hawaiian cultural festivals, to supporting local agricultural programs, establishing permanent conservation easements, designing sustainable renovations like the installation of green roofing, and renewable energy initiatives including a massive rooftop solar array".
Director of the Center for Surf Research and STOKE Certified Co-founder Dr. Jess Ponting added "Through these and many other small practices that have a big cumulative impact, Turtle Bay Resort has become a legitimate sustainability leader."
Turtle Bay Resort is the only destination resort on Oahu's fabled North Shore – Mecca of the surfing world. Situated on 852 acres, it offers outdoor enthusiasts four and a half miles of shoreline and 12 miles of hiking trails to enjoy and explore. This is in addition to 36 holes of championship golf and a wide array of ocean and land activities.