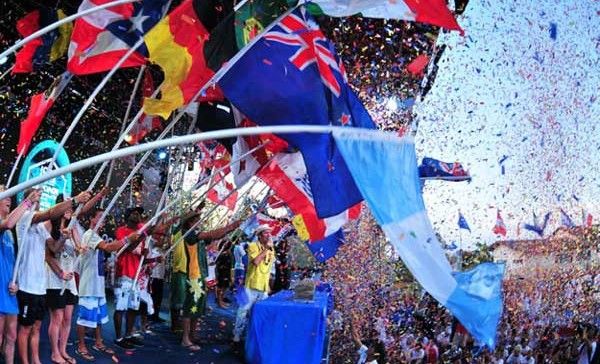 Fernando Aguerre (yellow shirt) at the 2012 Panama ISA World Juniors © ISA/Rommel Gonzales
Fernando Aguerre confirms surfing's Olympic application
Surf News Network,  Tokyo, Japan – On June 12th Fernando Aguerre, International Surfing Association President, confirmed that the ISA has submitted their application for surfing's inclusion into the 2020 Tokyo Summer Olympics.
As reported by 'Around The Rings' Olympic media Aguerre is quoted as saying, "I'm delighted to confirm that the ISA has submitted its application to the Tokyo 2020 Organising Committee for the inclusion of Surfing at the Tokyo 2020 Olympic Games.
Our relationship with the Olympic Movement and inclusion in the Games has been a strategic priority for the ISA for many years and we are excited and energised by the spirit of change that has given us this opportunity.
"I firmly believe that Surfing's incredible youth appeal, its unique core values and the sports willingness to innovate and embrace new technology would add huge value to Tokyo 2020 and to the Olympic Movement.
"I'd like to offer my sincere thanks to the IOC and to Tokyo 2020 for providing this opportunity. The ISA and the Surfing community will continue to do all that we can to help make our Olympic dream become a reality."