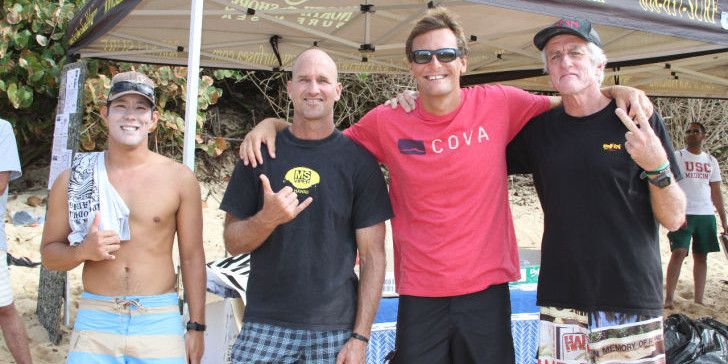 Two legends go head to head, fin to fin at the Pipe to grab and 1st and 2nd.
Quiksilver Bodysurfing Extravaganza
Banzai Pipeline, Hawaii
1- 27 March 2015
Mike Stewart wins  Quiksilver Bodysurfing Extravaganza at playful Pipe
Surf News Network, 18 March, 2015.  Pipeline, Hawaii – Mike Stewart, in a tight battle with long time body surfing rival Mark Cunningham, won the Quiksilver Body Surfing Extravaganza. Surf was in the 1-3 foot range; the event was held at Ehukai, the more consistent peak in the area. Super glassy conditions prevailed all day and about 45 contestants were up for the challenge.
Body surfing is the art and sport of riding a wave without the assistance of any buoyant device.  Bodysurfers typically equip themselves only with a pair of specialized fins that optimize propulsion and help the bodysurfer catch, ride and kick out of waves. It is considered an art form and most of the wave riders love the feeling of having nothing but their bodies to pull off the spins, tube rides and off the lips that they do in the surf.
Results:
Body Surfing:
Mike Stewart
Mark Cunningham
Shayne McIntyre
Jason Nakasato
Jesse King
Craig Watson
Bryan Phillips
Mathew Humphreys
Pomai Hoapili
Kanealii Wilcox
Mel Keawe
Abe Lerner
Sean Enoka
Kai Santos
Todd Sells
Jeff Hubbard
Surf Racing:
Todd Sells -Mathew Humphreys
Jeff Hubbard – Matt Soloman
Craig Watson – Mike Lorne
Highest Woman:
Scotti Schafer