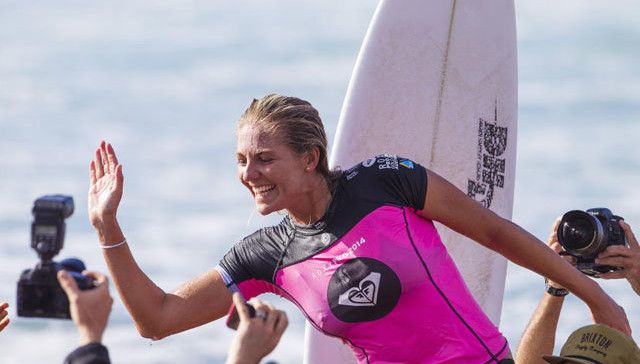 Steph's magic board is a DH 5'9 x 18 3/16 x 2 1/8

 Surf News Network, Stephanie Gilmore (AUS) won three events on her way to her sixth World Title: the season opener at the Gold Coast, the inaugural Swatch Women's Pro in September and the Cascais Women's Pro. And all with just one surfboard model.
Obviously, Gilmore goes by the saying "if it ain't broke don't fix it." She has been working with Darren Handley — also known as DH, owner of Darren Handley Designs — for years. For 2014, the two found a Magic shape that Gilmore could ride all the way to the No. 1 spot by the season's end.
SHAPER: Darren Handley, Darren Handley Designs
MODEL: Ducks Nuts
DIMENSIONS: 5'9″ x 18 3/16″ x 2 1/8″
FINS: FCS
TAIL: Square/Pintail
VOLUME: 24.41 liters
MATERIALS: Polyurethane
"Steph was riding… Ducks Nuts rounded square all event until the Final," DH said after the Cascais Women's Pro. "Then she switched to the same board in a pintail so she could push her turns in the choppier conditions.
"We spend lots of time together working on boards and what she is looking for out of her surfing for the year. This year we really worked on decreasing the volume as she was riding 5″10 and 5″11 with 25+ liters last few years. Steph's boards are all PU, super light."
DH also designs for 2014 World Title contender and three-time World Champ Mick Fanning (AUS). Fanning's Bells Beach Magic Board was a custom Ducks Nuts (the MF Duck Nuts).