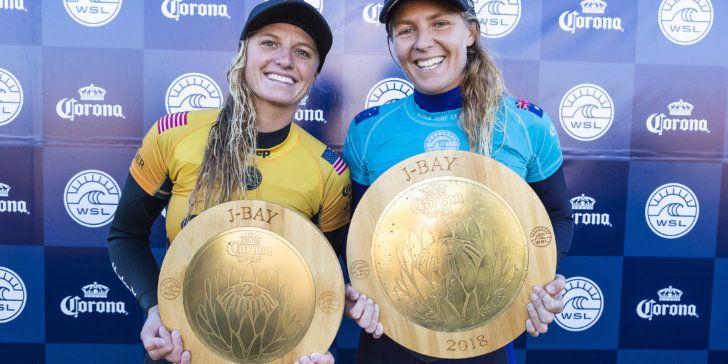 GILMORE TAKES JEEP LEADER JERSEY FROM RUNNER-UP PETERSON
– CORONA OPEN J-BAY DELIVERS PUMPING CONDITIONS FOR WOMEN'S FINALS
 Corona Open J-Bay Runner-up Lakey Peterson (USA) and winner Stephanie Gilmore (AUS).
Credit: © WSL /  Cestari
Location:   
  Jeffreys Bay, Eastern Cape, South Africa
Event window:
  July 6 – 

16, 2018

Today's call:
  Event complete – Congratulations Stephanie Gilmore!
Conditions:
  4 – 7 foot 
JEFFREYS BAY, South Africa (Friday, July 13, 2018) – Today, Stephanie Gilmore (AUS) won the Corona Open J-Bay, Stop No. 6 on World Surf League (WSL) Championship Tour (CT), in pumping four-to-seven foot (1.3 – 2.3 metre) conditions at the world-renowned Supertubes.
In a marathon day of competition, Gilmore took down Lakey Peterson (USA) in the Final,Tatiana Weston-Webb (BRA) in the Semifinals, Bronte Macaulay (AUS) in the Quarterfinals, and Nikki Van Dijk (AUS) in Round 3 to claim the win at the women's first CT event hosted at Jeffreys Bay in almost 20 years.
The Corona Open J-Bay win for Gilmore marks her record 29th CT victory and her third in the 2018 season (Rip Curl Pro Bells Beach, Oi Rio Pro). In her first-time visiting and competing in South Africa, the six-time WSL Champion made herself at home at Jeffreys Bay with stunning performances.

Stephanie Gilmore of Australia. Credit: © WSL /  Cestari
"I just do not know why I never came here until now," said Gilmore. "I always felt I'd have some special connection with J-Bay. It is just so much fun and it is just a magical place. The waves are just so powerful and perfect. The sunrises, sunsets, dolphins – it is just never-ending. Thanks to everyone.
"To wait a week and to make sure we were in great conditions is so important for all of us girls. The waves came and all the girls showed up with incredible performances. To come out with the win is crucial knowing that both Lakey (Peterson) and I are so close to each other. This win was crucial to the World Title, so I will take it and I will wrap it."
Ahead of today, Finalists Gilmore and Peterson both had two CT wins to their respective 2018 Title campaigns. The J-Bay win would determine who would take the lead in the World Title race and the coveted Jeep Leader Jersey heading into the back half of the season. Gilmore's  2.74-point lead over the American now puts her ahead on the Jeep Leaderboard by 2,145 points.
"This is what sport is all about," said Gilmore. "This is what I love about competing – you find yourself in these moments where you are challenged and under pressure. You think, 'Okay, can I compose myself? Can I rise to the occasion and make it happen?' That is what the magic of sport and rivalry is.  It is nice to be up front again. I've been doing the Tour for quite a while and I've had a lot of wins, but I just love it. I love performing and seeing if I can do my best. Lakey (Peterson) is getting better and better every single event, so this is definitely not the end by any means,"
Although she fell short in the Final, Peterson dropped some massive scores and was consistent throughout the event. During the second heat of the morning, Peterson earned a 9.00 (out of a possible 10) to kick-start her campaign. She then went on to eliminate wildcard and local favoriteBianca Buitendag (ZAF) in the Semifinals. Peterson now sits at World No. 2 heading to into the Vans US Open of Surfing presented by Swatch.

Lakey Peterson of USA. Credit: © WSL /  Tostee
"Today was a great day," said Peterson. "I am so stoked the WSL waited so we could get these waves, and thank you to the local community for letting us have these waves at your beautiful break. I know it is not easy sitting on the beach all day watching us. This year has just felt super fun for me and I am just enjoying myself. To make the podium here is a dream. Steph (Gilmore) and I are so back and forth this year and it is just making the back half of the year that much more exciting."
Event wildcard Buitendag went toe-to-toe with Peterson in Semifinal 1. Peterson started early with a solid 7.67 on her opening ride and continued to improve with a 7.83. The South African had the crowd to their feet throughout the heat as she attempted big maneuvers but was unable to meet the required scores, The wildcard, although recovering from a back injury, shined throughout this event and eliminated Coco Ho (HAW) in the Quarterfinals for a 3rd place finish.

Bianca Buitendag of South Africa. Credit: © WSL /  Cestari
"I am going to go straight to do some work on my back," said Buitendag. "It locked up a lot and I am going to focus on it for the next three-to-four weeks. It has been a struggle for me for a really long time and it seems to be getting worse and worse, so I want to go figure it out."
The second Semifinal featured WSL Title contenders Gilmore and Weston-Webb fighting for a spot in the Final. Gilmore locked in series of big turns to open with an 8.17 and a 7.50. Weston-Webb lost her rhythm in her third heat of the day and was unable to complete her rides. Having already scored a near-perfect 9.77 (out of a possible 10) in her previous heat, the Brasilian was not to be counted out with ten mins remaining. But with time running out, Weston-Webb did not meet the 8.84 requirement and finished with her 5th Top 3 result this year to maintain her World No. 3 position.

Tatiana Weston-Webb of Brasil. Credit: © WSL /  Cestari
2018 CT Rookie Caroline Marks (USA) was eliminated in Heat 4 of Round 3 by fellow goofy-footers Weston-Webb and Macaulay. The American will now focus her attention on the Vans US Open of Surfing, Stop No. 7 on the women's CT.
"It is going to be so nice to go home for a little while and be with my family," Marks said. "I actually really like Huntington. It is such a fun wave. I love beach breaks, and it will be really nice to go left. The Vans US Open is going to be a really fun event and hopefully, I can take that one out. I feed off of the crowd and just want to impress everyone. It is going to be an exciting event and I am really looking forward to it."
The next stop on the 2018 WSL Championship Tour will be the Vans US Open of Surfing presented by Swatch from July 30 through August 5, 2018.
For highlights from the Corona Open J-Bay, please visit WorldSurfLeague.com.
Women's Corona Open J-Bay Final Results:
1 – Stephanie Gilmore (AUS) 14.24
2 – Lakey Peterson (USA) 11.50
Women's Corona Open J-Bay Semifinal Results:
SF 1: Lakey Peterson (USA) 16.66 def. Bianca Buitendag (ZAF) 9.33
SF 2: Stephanie Gilmore (AUS) 15.67 def. Tatiana Weston-Webb (BRA) 10.33
Women's Corona Open J-Bay Quarterfinal Results:
QF 1: Bianca Buitendag (ZAF) 12.33 def. Coco Ho (HAW) 8.90
QF 2: Lakey Peterson (USA) 15.83 def.  Johanne Defay (FRA) 13.30
QF 3: Stephanie Gilmore (AUS) 15.00 def. Bronte Macaulay (AUS) 15.00
QF 4: Tatiana Weston-Webb (BRA) 18.54 def. Sage Erickson (AUS) 10.60
Women's Corona Open J-Bay Round 3 Results:
Heat 1: Bianca Buitendag (ZAF) 14.40, Johanne Defay (FRA) 14.30, Carissa Moore (HAW) 11.36
Heat 2: Lakey Peterson (USA) 16.83, Coco Ho (HAW) 15.10, Malia Manuel (HAW) 13.07
Heat 3: Stephanie Gilmore (AUS) 14.50, Sage Erickson (USA) 11.57, Nikki Van Dijk (AUS) 11.04
Heat 4: Tatiana Weston-Webb (BRA) 15.40, Bronte Macaulay (AUS) 13.34, Caroline Marks (USA) 12.76
2018 Women's WSL CT Jeep Leaderboard (After Corona Open J-Bay):
1 – Stephanie Gilmore (AUS) 45,575 pts
2 – Lakey Peterson (USA) 43,430 pts
3 – Tatiana Weston-Webb (BRA) 35,245 pts
4 – Johanne Defay (FRA) 27,050 pts
5 – Tyler Wright (AUS) 26,190 pts