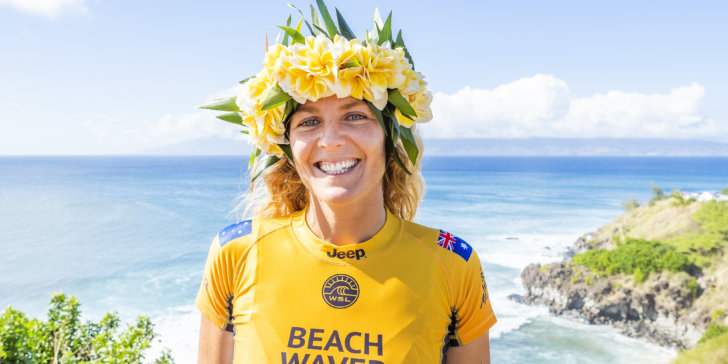 Exciting Day of Women's Surfing in Hawaii

Gilmore Equals Layne Beachley's Record

Keala Kennelly Wins Big Wave Tour Jaws Challenge at Pe'ahi, Hawaii
HONOLUA BAY, Maui, Hawaii/USA (Monday, November 26, 2018) – Today, Stephanie Gilmore (AUS) claimed a historic seventh World Surfing Title at Honolua Bay in Hawaii. Gilmore's incredible achievement comes following remaining challenger Lakey Peterson's (USA) early elimination from the Beachwaver Maui Pro, the final stop on the 2018 World Surf League (WSL) Women's Championship Tour.
"I was not expecting it to happen just then," said Gilmore in an emotional post-heat interview. "I was feeling so nervous, that was an intense heat and Alana (Blanchard) just went to town. I can't believe it. I just want to thank everyone, my friends and my family and everyone that gets me here and lets me do what I do. My parents are back in Australia, all my friends that flew here to watch and my sister Whitney, who does so much for me. I want to thank everyone at Roxy and everybody that's helped me and supported me in my career up to this point. The WSL, every single thing they've done for us, for the women, it's just unbelievable. All the locals for letting us surf this wave to ourselves. Everyone who puts on this event, my coach Jake Patterson, my shaper Darren Handley, who's made the best boards for me for the last 13 or 14 years. Without all these people I couldn't have done it. I'd like to dedicate this win to Pierre Agnes."
This victory sees her equal the record for the most women's world titles (currently held by Layne Beachley) and puts Gilmore, 30, in an elite class within surfing's World Champions – only two other individuals have accomplished the feat of earning seven World Titles: Beachley (AUS) (7) and Kelly Slater (USA) (11).
"Layne, it's an honor to sit alongside you," continued Gilmore. "You've been a huge inspiration for my entire career and for so many female surfers all around the world so to equal you is amazing. Thank you for setting the standard. I'm just going to lap up seven titles – this is so, so cool."
Gilmore won her first world title in her rookie season (2007) and became the first surfer ever (male or female) to accomplish such a feat. She went on to claim three more consecutive titles (2008, 2009 and 2010) and has racked up an impressive 29 Championship Tour victories during her career, second only to Slater.
The now 7X World Champion (2007, 2008, 2009, 2010, 2012, 2014, 2018) narrowly missed out on clinching her seventh title in Maui last year, but came into the event this year in first place on the Jeep Leaderboard with three of event wins so far this season at Bells Beach, Australia; Saquarema, Brazil and Jeffreys Bay South Africa. A thrilling year-long battle with Lakey Peterson (USA), who was on the hunt for her maiden world title, saw the pair trade the Jeep Leader Jersey until Gilmore's cemented her place atop the rankings following her with at the Corona Open J-Bay.
WATCH: On Her Way to Making History (Video)
Gilmore is also the 4X defending event winner in Maui and will look to top off her incredible season with one final victory in Honolua Bay. The newly crowned World Champion sailed through her Round 1 and 3 heats with her impeccable form.

Peterson's world title hopes were dismantled after she was eliminated from the event in Round 2 at the hands of replacement surfer Alana Blanchard (HAW). Despite the early exit, 2018 marks Peterson's best CT finish to date, who will finish up the year as runner-up.

"I just didn't perform to my best ability today, but it's just been an incredible season and so much fun," said Peterson. "There's still so much for me to learn and to grow from today and the whole year. Huge congratulations to Steph (Gilmore), what a beautiful surfer and it's so great to have her as an inspiration — there's no one more deserving. It hurts, but it's been a really fun year and I've enjoyed every minute of it. I'm not done, I think the hurt will drive me even more next year. I think I've broke down a lot of barriers for myself and proved to that I can be in this position and going for a World Title at the end of the year."

The Beachwaver Maui Pro will be broadcast LIVE on Facebook.com/WSL and WorldSurfLeague.com. Also check local listings for coverage from the WSL's broadcast partners.

Stephanie Gilmore's 2018 WSL Championship Tour Results:
Roxy Pro Gold Coast: 5th
Rip Curl Women's Pro Bells Beach: 1st
Oi Rio Women's Pro: 1st
Corona Bali Protected: 5th
Uluwatu CT: 3rd
Corona Open J-Bay: 1st
Vans US Open of Surfing: 2nd
Surf Ranch Pro: 2nd
Roxy Pro France: 2nd
Beachwaver Maui Pro: TBD

Stephanie Gilmore's Championship Tour Career Rankings:
2018: 1st
2017: 2nd
2016: 6th
2015: 12th
2014: 1st
2013: 5th
2012: 1st
2011: 3rd
2010: 1st
2009: 1st
2008: 1st
2007: 1st
The Beachwaver Maui Pro ran through the opening three Rounds of competition and narrowed the field down to eight from 18, setting the stage for the Quarterfinals.
Incredible surf was on offer for the world's best surfers and it was Sally Fitzgibbons (AUS), Tatiana Weston-Webb (BRA), Carissa Moore (HAW) and newly crowned Gilmore that really capitalized on the excellent conditions to earn their place in the final eight. Meanwhile, top seeds Lakey Peterson (USA)and Caroline Marks (USA) fell in Round 2 at the hands of Alana Blanchard (HAW) and Paige Hareb (NZL) respectively.