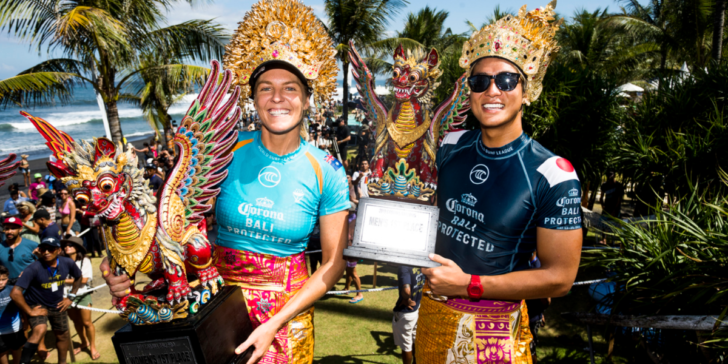 GAME ON…
1 – John John Florence (HAW) 17,415 points
2 – Kanoa Igarashi (JPN) 16,640 points
3 – Italo Ferreira (BRA) 16,075 points
4 – Filipe Toledo (BRA) 15,865 points
5 – Kolohe Andino (USA) 13,8751 –
1-    Stephanie Gilmore (AUS) 19,490 points
2 – Caroline Marks (USA) 18,695 points
3 – Courtney Conlogue (USA) 17,355 points
4 – Carissa Moore (HAW) 17,290 points
5 – Sally Fitzgibbons (AUS) 16,495 points
5 – Malia Manuel (HAW) 16,495 points
Stephanie Gilmore Back to World No. 1 with Perfect 10 in Final

Kanoa Igarashi Wins Career-First CT Event, Historic First Victory for Japan
Stephanie Gilmore (AUS) and Kanoa Igarashi (JPN) celebrate their Corona Bali Protected wins. 
Credit: © WSL / Dunbar
Keramas, Bali/Indonesia (Saturday, May 25, 2019) – Today, Stephanie Gilmore (AUS) and Kanoa Igarashi (JPN) won the Corona Bali Protected, the third stop on the 2019 World Surf League (WSL) Championship Tour (CT). Hosted at Keramas, one of the world's most high-performance waves, the Final Series concluded in the best conditions of the event's holding period with clean six-to-eight foot (1.8 – 2.4 metre) waves on offer. Gilmore charged through the pumping surf to take her 30th CT victory, while Japan's Igarashi captured his first.
Kanoa Igarashi Captures Historic First CT Win for Japan
Kanoa Igarashi (JPN) won his first CT event title today after taking down a stacked field of veterans, including 11-time WSL Champion Kelly Slater (USA)in the Semifinals, Adrian Buchan (AUS) in the Quarterfinals, and Jeremy Flores (FRA) in the Final. With all of his opponents today holding a minimum of ten years over him, 21-year-old Igarashi was fired up to earn a big result on Finals Day.

"It all makes sense," Igarashi said. "All of the hard work you do makes sense after this. My first round was so terrible. I didn't catch any waves and I was just thinking what is the point of all of the hard work you do, all of the one percenters, all of the time in the gym, all of the time alone and surfing alone and now it all makes sense. This means so much to me. I can't even find words to describe it."

Igarashi is the first full-time competitor to formally represent Japan on the Championship Tour. Igarashi's victory today not only marks his first CT win but also the first win for a surfer representing Japan on the CT. Igarashi moves up to 2nd on the Jeep Leaderboard and is one step closer to achieving his dream of representing Japan at the Olympic Games Tokyo 2020, where surfing will make its Olympic debut.

"Every heat meant a lot to me and I wanted to give my all no matter who I was up against," continued Igarashi. "No matter what the conditions were like, I just wanted to adapt to the conditions and throw everything at it. From the first round to the Final, I surfed the same but then I feel like in the Final I peaked and I did everything right. Sharing the Final with Jeremy (Flores) was an honor and that Semifinal with Kelly (Slater) was so good. Every heat gave me so much purpose to do my best and to now have my first CT win this early in my career…it means so much."
Stephanie Gilmore Wins 30th CT Event Title with Perfect 10, Now Back to World No. 1
Stephanie Gilmore (AUS) Credit: © WSL / Dunbar (Top), Dorsey (Bottom L + R)
Gilmore, seven-time WSL Champion, came into the Corona Bali Protected sitting in 5th place on the Jeep Leaderboard, searching for a result above Equal 5th in 2019. Gilmore powered through the draw and defeated Sally Fitzgibbons (AUS) in the Final, Nikki Van Dijk (AUS) in the Semifinals, and Courtney Conlogue (USA) in the Quarterfinals.

Gilmore's Final with event standout Fitzgibbons was an epic battle in perfect barrels at Keramas. Fitzgibbons hunted the tubes but struggled to find an exit, leaving Gilmore to control the heat with two mid-range scores until the final minutes when Gilmore utilized priority to take off on a set, hit the first section, pull into the longest tube of the heat and come out to attack the closeout. Her wave was the first and only Perfect 10 point ride of the event and only the second of the 2019 season.
"I can't believe this, I just can't," Gilmore said. "I knew Sally (Fitzgibbons) was going to be out there looking for barrels, but I just had to stick to my game plan and find the right waves and make the best out of them. At the end, I was thinking 'Just get the excellent range' because I haven't really done that all event and I just kept thinking about then pulled the trigger on that one and just closed my eyes and held my line and then I came up. It was so cool."

Gilmore's impressive win in Bali was the 30th CT victory of her career and rockets her to World No. 1 on the Jeep Leaderboard, overtaking 17-year-old Caroline Marks (USA). The Australian now wears the Jeep Leader Jersey heading into the Margaret River Pro next week.

"I didn't know that it was possible for me to go to the top of the rankings, so I'm so stoked with that," Gilmore continued. "I was wearing yellow this week and painted my nails yellow so I made my intentions pretty clear. I don't know what Margaret River is going to deliver, but I'll be going there to do my best and just hope I can hold on to the yellow Jeep Leader Jersey all year. This is just amazing."
Sally Fitzgibbons (AUS) Credit: © WSL / Dorsey
Sally Fitzgibbons (AUS) finished a gallant runner-up in what was her first CT Final in 20 events when she took out the Margaret River Pro in 2017. Renowned for her ability and commitment in the tube, Fitzgibbons was always a threat at this event title. Fitzgibbons did progress through the Semifinals when she took down 2019 CT Rookie Brisa Hennessy (CRI) in a rematch of the World-Title-deciding Maui Pro in 2017. This result moves Fitzgibbons into 5th place on the Jeep Leaderboard and she still hunts for her maiden WSL World Title.

"Today was a super dreamy day," Fitzgibbons said. "It was an awesome build up with a few lack-luster days before this but due to the forecast, we waited a bit so there was some anticipation for sure. When you wake on finals day and there are barrels on offer there is this energy that's flowing around which is cool. At this point of my career, I just love being surrounded by amazing surfing as it inspires me as to what's possible and on a day like this to get some tubes and share a final with Steph was cool. Now I'm looking forward  to getting back to Margies."
France's Jeremy Flores Earns Runner-up Result in Barreling Keramas Waves 
31-year-old Flores is no stranger to success in big, hollow waves having won CT events at Teahupoo and Pipe. The Frenchman's hopes for a fourth CT victory were elevated on Finals Day with the increase in swell and big barrels on offer. Although he fell short to Igarashi in the final, Flores battled hard until the end, even posting an 8.93 (out of a possible 10) to give himself a chance. Flores' runner-up finish rockets him up nine places up the rankings from 16th to 7th.

"Every time the waves pump like this it reminds me of why I'm on Tour and why I still do this," Flores said. "This is what I live for: waves and conditions like this. Today was magical. The waves were big and barreling and it was so high performance, it was sunny and the beach was packed. It just doesn't get any better than this. Of course, I would have liked to win because it was so close at the end, but I'm really happy with my performance and next time I'll try even harder. Now I will begin to focus on Margaret River, which is always a challenging event and hopefully repeat my performance there."

Flores took down CT sophomore Michael Rodrigues (BRA) in Semifinal 1 by charging massive tubes at Keramas. Rodrigues, 24, could not match the duration and depth inside the barrels to overcome Flores' 16.43 (out of a possible 20) heat total and exits in 3rd place, his career-best result. Flores also eliminated Kolohe Andino (USA) in Quarterfinal 2 earlier today.
11-time WSL Champion Kelly Slater Falls to Kanoa Igarashi in the Semifinals
Kelly Slater (USA) Credit: © WSL / Dunbar 
11-time World Champion Slater started 2019 with the intention of winning a historic 12th World Title and qualifying for the US Olympic team. He finished dead last with a 33rd place finish at Quiksilver Pro Gold Coast, something that hasn't happened in over a decade. The surfing world, including Slater himself, started questioning his place among the world's best surfers. With two solid results at Bells and Bali, Slater puts himself back in the race with the new generation of progressive surfers.

At 47 years old, Slater shows no sign of slowing down in 2019, a year that could see him clinch an unprecedented 12th World Title, in addition to a securing a place on the US Olympic Team for surfing's Olympic debut in Tokyo 2020 Games.

"I'm stoked and well done to Kanoa (Igarashi)," Slater said. "He definitely wanted it and was pushing. I was happy to have a heat with Kanoa, I don't think we've had a heat before. He is going to be on this Tour for a long time and sit in the Top 10 for years to come, so that was cool. To get past Filipe (Toledo), who is a favorite out here, and Michel (Bourez), who had finaled out here twice, was good. Those were big heats, which were both confidence building for sure."

Slater now moves up World No. 9 on the WSL World Rankings. The WSL rankings at the end of the 2019 season will determine the qualifiers for the Olympic Games Tokyo 2020 (Top 10 men and Top 8 women). Although Slater has hinted that this could be his last competitive season, his finish today shows his commitment to a big comeback in one of surfing's biggest years.
Rookie Brisa Hennessy Shines at Keramas, Locks in Career-Best Finish
: Brisa Hennessy (CRI) Credit: © WSL / Dorsey
Rookie Hennessy earned her career-best finish, 3rd place, after a stunning run at the Corona Bali Protected. Hennessy eliminated three-time WSL Champion Carissa Moore (HAW) and Johanne Defay (FRA), before falling to eventual runner-up Fitzgibbons in Semifinal 1. The 19-year-old has had a great start to her rookie season with a 5th place result at the Rip Curl Pro Bells Beach and 9th at the Boost Mobile Pro Gold Coast. Hennessy now heads to the Margaret River Pro where she will take on the wild and wooly conditions for the first time in a CT event.

"It's still pretty surreal for me," Hennessy said. "To surf out there with Sally (Fitzgibbons) at perfect Keramas was honestly a dream and I couldn't have wanted any other finish. It's just so special and I'm really grateful. I'm just taking it heat by heat and wave by wave and enjoying this moment. To be here surrounded by everyone I love and all of my idols, I have no words to describe it. Especially surfing heats with Sally and Carissa (Moore) who have always been my favorite surfers that I have always looked up to."

In their pumping Semifinal, Van Dijk locked into some big barrels but failed to overcome Gilmore. Van Dijk previously eliminated Bronte Macaulay (AUS) in the Quarterfinals. She now sits in eighth on the Jeep Leaderboard after her third place finish.
The next stop on the 2019 WSL CT is the Margaret River Pro in Western Australia. The event window opens on May 29 and runs through June 9, 2019. The fourth stop on the 2019 CT, the Margaret River Pro, will be broadcast LIVE on WorldSurfLeague.com and Facebook.com/WSL .
Corona Bali Protected Women's Final Results:
1 –  Stephanie Gilmore (AUS) 16.83
2 – Sally Fitzgibbons (AUS) 7.00Corona Bali Protected Women's Semifinal Results:
SF 1: Sally Fitzgibbons (AUS) 15.07 DEF. Brisa Hennessy (CRI) 12.86
SF 2: Stephanie Gilmore (AUS) 11.74 DEF. Nikki Van Dijk (AUS) 7.80Corona Bali Protected Remaining Women's Quarterfinal Results: