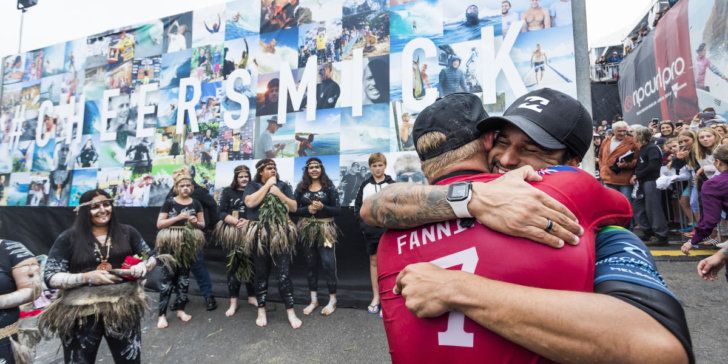 Stephanie Gilmore Rings Bell for Fourth Time at Rip Curl Pro
Italo Ferreira Claims First CT Win at Bells
Mick Fanning Ends Career with Runner-Up Finish at Rip Curl Pro Bells Beach
6x WSL Champion Gilmore New World No. 1
Ferreira to Share Jeep Leader Jersey with Wilson
BELLS BEACH/VICTORIA/AUS (Thursday, April 5, 2018) –Today, Stephanie Gilmore (AUS) and Italo Ferreira (BRA) won the Rip Curl Pro Bells Beach, Stop No. 2 of the World Surf League (WSL) after an exciting week of competitive drama, upsets and emotion. The final day of competition ran in excellent 2m conditions at the world renowned Bells Beach for its 57th year.
In addition to Gilmore and Ferreira celebrating their wins, three-time WSL Champion Mick Fanning (AUS) celebrated the last Championship Tour event of his competitive career. The four-time Bells winner now says goodbye to elite competition after 17 years on Tour and 22 CT victories. The Australian hero's story comes full circle as he ends his career in the Finals at the same event where he first won as a wildcard.
Patrick Gudauskas (USA) fell to event favorite Fanning in Semifinal 1. The Californian was unable to combat Fanning's two excellent 8-point rides and exits in Equal 3rd in his first year back on the CT since 2013. This is the 32-year-old's best result at Bells. Previously, Gudauskas eliminated Michel Bourez (PYF) in the first Quarterfinal, Matt Wilkinson (AUS) in Round 4, Julian Wilson (AUS) in Round 3 and Kanoa Igarashi (JPN) in Round 2.
In only the second event of her rookie year, 16-year-old Caroline Marks (USA) is making a name for herself with stunning results on the elite tour.  Marks exits with an incredible 3rd place result after losing to Stephanie Gilmore in the Semifinals. Marks is the youngest surfer to ever qualify for the elite CT and now rockets up to 3rd on the Jeep Leaderboard. Not only is the young competitor ousting World Title contenders in her rookie debut, she is also making a run for her own World Title in her freshman year on Tour.
Rip Curl Pro Bells Beach Final Results:
1 – Italo Ferreira (BRA) 15.66
2 – Mick Fanning (AUS) 12.83
Rip Curl Pro Bells Beach Semifinal Results:
SF 1: Mick Fanning (AUS) 16.50 def. Patrick Gudauskas (USA) 9.67
SF 2: Italo Ferreira (BRA) 16.00 def. Gabriel Medina (BRA) 14.10
Rip Curl Pro Bells Beach Quarterfinal Results:
QF 1: Patrick Gudauskas (USA) 11.67 def. Michel Bourez (PYF) 11.44
QF 2: Mick Fanning (AUS) 13.77 def. Owen Wright (AUS) 9.33
QF 3: Italo Ferreira (BRA) 17.86 def. Ezekiel Lau (HAW) 11.50
QF 4: Gabriel Medina (BRA) 15.73  def.  Frederico Morais (PRT) 15.00
Rip Curl Women's Pro Bells Beach Final Results:
1 – Stephanie Gilmore (AUS) 14.17
2 – Tatiana Weston-Webb (HAW) 13.94
Rip Curl Women's Pro Bells Beach Semifinal Results:
SF 1:  Tatiana Weston-Webb (HAW) 13.00  def. Silvana Lima (BRA) 5.10
SF 2:  Stephanie Gilmore (AUS) 17.00 def. Caroline Marks (USA) 15.44
2018 WSL Men's CT Jeep Leaderboard (After Rip Curl Pro Bells Beach):
1 – Julian Wilson (AUS) 11,665 pts
1 – Italo Ferreira (BRA) 11,665 pts
3 – Mick Fanning (AUS) 11,500 pts
4 – Owen Wright (AUS) 9,490 pts
4 – Michel Bourez (PYF) 9,940 pts
2018 WSL Women's CT Jeep Leaderboard (After Rip Curl Pro Bells Beach):
1 – Stephanie Gilmore (AUS) 14,745 pts
2 – Lakey Peterson (USA) 13,085 pts
3 – Caroline Marks (USA) 10,830 pts
4 – Carissa Moore (HAW) 9,490 pts
5 – Tatiana Weston-Webb (HAW) 9,190 pts
5 – Keely Andrew (AUS) 9,190 pts