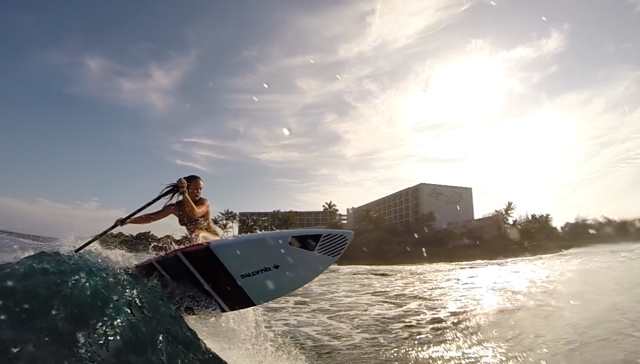 8am start. The girls got waves! Turtle Bay delivers on day one for some good competition.
PC: Waterman League
Kicking off Thursday 2/4 is the 2016 Turtle Bay Pro.The tension is mounting as the World's best female athletes prepare to do battle on Oahu's Fabled North Shore at Turtle Bay Resort.
With a number of different surfbreaks on offer for the event, the most likely spot is in front of the Pool Bar at the heart of the Resort, with a challenging right hand reef break providing plenty of scoring potential and a very technical wave to surf.
Nicole Pacelli from Brazil was able to claim victory in years 1 & 2 and will be headed back to reclaim her title in 2016, but it was Caroline Angibaud from France who was able to clinch the win in 2015 with an emotional victory for the talented French athlete.
However this year will be a sign of things to come, as the field of female talent goes from strength to strength and we anticipate breakout performances across the board:
Fiona Wylde (Starboard) demonstrated skill and determaination with some gutsy performances in 2015 so will definitely be one to watch out for, as will Sophia Bartlow, Mariko Strickland (Naish) and of course the ever dangerous Shakira Westdorp (Starboard) and Iballa Moreno (Starboard).
Meanwhile, the young 2x World Champion Izzi Gomez (Starboard) has been training hard in Hawaii to defend her World Title and post a solid result here at Stop #1 in Hawaii, as we also hope to see Candice Appleby (Infinity) return to Hawaii to continue her incredible roll.
One thing is for sure, the event will be action packed as we look forward to a solid forecast that is fortunately not too big to prevent action at Turtle Bay (that can close out over a certain size), but will provide its challenges to the Contenders as the World Title race will kick off once again right here on Oahu's Fabled North Shore. Join us LIVE for all the action at www.immersedtv.com
Hawaiian Open Sunset Beach Pro
El Nino to deliver epic surf to Oahu's North Shore and continue the legacy of the iconic Sunset Beach Pro from the 8th – 20th February
Since early January it has been a non stop barage of L to XL surf hitting Hawaii's shores, with record breaking sessions across all the big wave breaks, and even historic sessions along the famous North Shore breaks such as Pipeline and of course, Sunset Beach.
As we look ahead at the long range forecast, there will be no shortage of swell, as a huge amount of activity deep out in the Pacific Ocean continues to swirl, continuing that run of big surf.
What this means for this year's Sunset Beach Pro is that we are looking down the barrel at another groundbreaking year of action that will provide the dramatic action that has made this iconic event what it is. Big Surf, big performances, and the ultimate showcase of performance Stand Up Paddlesurfing in surf of consequence.
Watch out for 4x Sunset Beach Pro & World Champion Kai Lenny (Naish) as he will be on a mission to regain the World Title in 2016, but also the likes of Caio Vaz, Zane Schweitzer (Starboard), Mo Freitas (Focus SUP), Poenaiki Raioha (F-One), Justin Holland (Starboard) and many more, all shooting for a solid result at this World Championship Tour Opener.
However, as always, the local contingent will provide among the toughest challenge for these international Champions, as the Keali'i Mamala, Kala Alexander, Robin Johnston and Bonga Perkins all look to threaten the young guns Title aspirations at home here on Oahu's Fabled North Shore.
Whatever happens, it will be an event to remember, as all the action returns to Hawaii for the 2016 Sunset Beach Pro World Tour Opener.