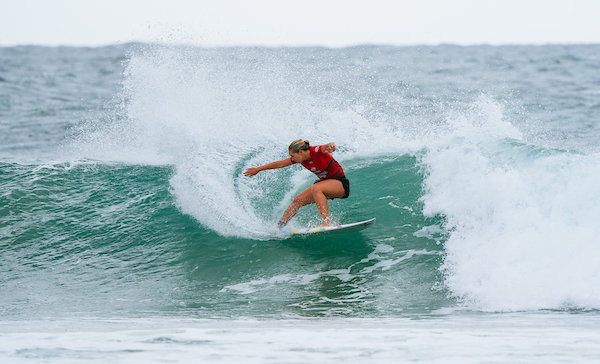 … pres. By Rip Curl
Women's Quarterfinalists Decided at Snapper Rocks
Front Page Image:  Gabriela Bryan of Hawaii surfs in Heat 1 of the Round of 16 at the Boost Mobile Gold Coast Pro on May 10, (Andrew Shield/World Surf League)
CS Journeymen Look For Dream Start to Season
2022 and 2023 WSL CT Season Wildcards Announced
Pictured: Bronte Macaulay (AUS) was a standout today at the Boost Mobile Gold Coast Pro Challenger Series event. Credit: © WSL / Dunbar
COOLANGATTA, QLD / Australia (Tuesday, May 10, 2022) – The Boost Mobile Gold Coast Pro presented by Rip Curl, stop one of the 2022 World Surf League Challenger Series (CS), has seen another big day of competition today with the stage being set for Finals Day tomorrow in semi-clean three-to-four foot surf at Snapper Rocks. The day saw the women's Quarterfinals matchups decided along with that of the men's Round of 16.
Women's Quarterfinalists Decided at Snapper Rock

s 
Fresh off the biggest result of her career with a second place finish at the Margaret River Pro, Gabriella Bryan (HAW) has come into the Boost Mobile Gold Coast Pro brimming with confidence, laying down some of the best performances of the event and today was no exception. 2022 CT Rookie Byran was able to book herself a spot into the Quarterfinals with a win over fellow Hawaiian Luana Silva (HAW) who was unable to find the same connection as Bryan in their 40 minute matchup. Bryan was awarded a 15.07 two-wave total for her frontside rail surfing. Gabriela will take on event form surfer Sally Fitzgibbons (AUS) in Quarterfinal 1 tomorrow morning. 
"It's so good to be surfing such perfect waves at this event, it really allows you to go for excellent scores" said Bryan. 'I came into this event off a great result and I'm through to finals day here as well and with great waves again tomorrow this will be an amazing finish. It feels good to be building momentum."
Former CT competitor Nikki van Dijk (AUS) has returned to competition this week for the first time in almost a year after overcoming injuries sustained during last year's Australian leg of CT events. Her long awaited return has continued to be a successful one with the Australian claiming a clutch victory over the event's form surfer Malia Manuel (HAW). van Dijk needed a score with only seconds left and was able to find a wave and get the job done with the score being read out with both competitors on the beach. 
'It was a tough heat and a lot of paddling required to stay in the lineup out there," said van Dijk. "That was quite a stressful heat because I need a score to advance and luckily I just got it on my last ride – Tomorrow should be amazing with these waves for finals." 
Other standout performers in the women's Round of 16 included Molly Picklum (AUS) and Bronte Macaulay (AUS) who both dominated their heats with excellent scores and at this stage look like the women to beat at Snapper Rocks. Picklum will have to overcome two-time WSL Champion Tyler Wright (AUS) in their Quarterfinal matchup with Wright progressing through her heat today. Macaulay looked in sync in both her heats, even knocking out event favourite Stephanie Gilmore (AUS) in the Round of 32. 
Californian youngster Caitlin Simmers (USA) continued her run of form on the Gold Coast, moving into the Quarterfinals where she will take on Nikki van Dijk (AUS). Hawaiian standout Bettylou Sakura Johnson (HAW) was able to overcome Yolanda Hopkins (PRT) in their Round of 16 matchup as Sakura-Johnson looks to find her way back onto the Dream Tour for 2023. 
Pictured: Californian prodigy Caitlin Simmers (USA) has booked herself a spot in the Quarterfinals at Snapper Rocks. Credit: © WSL / Dunbar
Challenger Series Journeymen Look For Dream Start to 2022 Season 
Ramzi Boukhiam (MAR) has long been touted one of the most talented competitors to not yet qualify for the elite Championship Tour with much of the praise being directed at his impeccable backside surfing which he has perfected thanks to his time on the long right-hand points of Morocco. Coming into the event here at Snapper Rocks, Boukhiam was pegged as a dark-horse and to this point, he hasn't disappointed, putting up some solid heat totals to progress into the Round of 16 and bank a keeper result in event one of the 2022 CS. 
"I feel this Challenger Series is really good for me and to start here on the Gold Coast has been perfect," said Boukhiam. 'There's some great venues for us to look forward to on this tour and it feels like a fresh tour post Covid. I'm 29 years old now, I've been competing hard for a number of years but I really feel now is my time!"
Portuguese Powerhouse Vasco Ribeiro (PRT) is another competitor built for the waves of the Championship Tour with a super powerful frontside carve which has been on full display this week on the Gold Coast. Ribeiro put on a great performance today to progress into the Round of 16 along with Hawaiian Ian Gentil (HAW) as the pair took another step in the right direction towards achieving their dream of qualifying for the CT in 2023. 
"I'm especially happy with this new Challenger series and it's going to plan for me at the moment because I'm through to  finals day tomorrow" said Ribiero. "Snapper Rocks is an amazing venue and I hope all the Challenger venues can give us waves like this – It's been incredible and I'm ready for tomorrow."
Pictured: Ramzi Boukhiam (MAR) is in a great rhythm at Snapper Rocks. Credit: © WSL / Dunbar
Surfing Icons Descend on Snapper Rocks 
The last heat of the day saw a special treat for surfing fans online and on the beach as some of the all time greats of surfing, all with close connections to this famous Snapper Rocks surf break put on an expression session display. All are favorites of the Gold Coast's large surfing fan base but clearly led by 11-time World Champion Kelly Slater along with regular local past WSL greats  Mark Occhilupo, Josh Kerr, Dean Morrison, Bede Durbidge, Kate Wilcomes and Chelsea Hedges.
Caroline Marks Awarded WSL CT Season Wildcard for Events Following Mid-Season Cut, Sally Fitzgibbons and Yago Dora Awarded 2023 WSL Season Wildcards
Caroline Marks (USA) has been awarded the women's 2022 WSL season wildcard, which gives her entry into Championship Tour (CT) events following the Mid-season Cut and entry into the first half of the 2023 CT season. The men's 2022 WSL season wildcard was awarded to Gabriel Medina (BRA). Sally Fitzgibbons (AUS) and Yago Dora (BRA) have been awarded the 2023 WSL season wildcards, which give entry to all competitions in the first half of the 2023 CT season.
As the WSL season wildcard for the remaining CT competitions following the cut, Marks' points will be eligible for the WSL Final 5 rankings, where the Top 5 surfers on the men's and women's CT will compete in the Rip Curl WSL Finals to compete for the 2022 World Title. The same rules will apply to Medina's competition eligibility as the men's 2022 WSL season wildcard.
As the 2023 WSL season wildcards, Fitzgibbons and Dora will also be the first replacements for the remaining events in the 2022 CT season. Points earned by Fitzgibbons and Dora as the replacements for any CT events in 2022 will count as rankings' points.
Watch LIVE
All Challenger Series events will be broadcast LIVE on WorldSurfLeague.com, WSL's YouTube channel, and the free WSL app. Check local listings for coverage from the WSL's broadcast partners. For fans watching in Brazil, coverage of the competition's Quarterfinals and beyond will continue exclusively on WorldSurfLeague.com and SporTV.