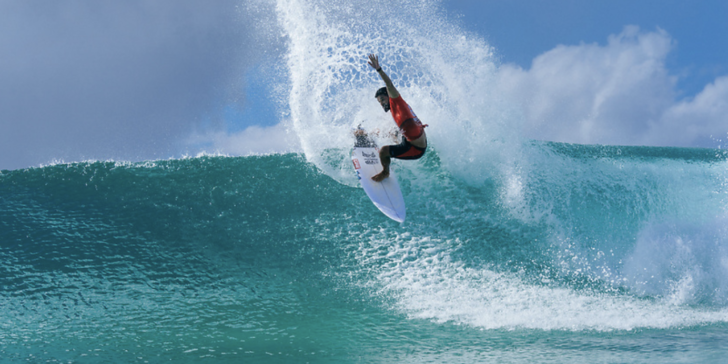 Jett Schilling Overcomes World No. 1 Joao Chianca in Upset of the Day
Women's Semifinals Made up of Veterans and Rising Stars
Men's Quarterfinalists Decided at Snapper Rocks
Pictured: Michael Rodrigues (BRA) has continued to impress at the Boost Mobile Gold Coast Pro Presented by GWM. Credit: © WSL / Shield
SNAPPER ROCKS, Gold Coast, Queensland, Australia (Friday, May 12, 2023) – After another huge day of competition, the stage has been set for Finals Day at the Boost Mobile Gold Coast Pro presented by GWM, Stop No. 1 of the 2023 World Surf League (WSL) Challenger Series. The men's Quarterfinalists and women's Semifinalists were decided in perfect, peeling, two-to-four foot waves at Snapper Rocks.
Jett Schilling Overcomes World No. 1 Joao Chianca in Upset of the Day 
Young Californian Jett Schilling (USA) snuck through the Round of 16 with his third straight buzzer beater today against current World No. 1 Joao Chianca (BRA). Chianca got busy early, leading the heat with a mid-range total while Schilling stayed patient, sitting with only one score until the final few minutes. As the clock wound down, Schilling took off on a set and earned 6.67, enough to turn the heat on Chianca.
"I don't even know what to say right now, my heart rate is still so high," Schilling said. "When I let that last wave go it was a big roll of the dice because I knew Joao could get a score. I'm just stoked that wave didn't offer him too much and I made the right decision. I'm so grateful to be surfing Snapper Rocks all week, it's just so much fun."
Schilling's fellow San Clemente competitor Crosby Colapinto (USA) was also able to progress into the Quarterfinals with an impressive win over event standout and Championship Tour competitor Rio Waida (INA). Colapinto will now have the difficult task of trying to overcome Rodrigues in order to break through to the Final.
Women's Semifinals Made up of Veterans and Rising Stars 
Sally Fitzgibbons (AUS) drew on all of her experience to claim heat wins in the Round of 16 and the Quarterfinals today at the Boost Mobile Gold Coast Pro. Having recently fallen victim to the Mid-season Cut, Fitzgibbons is hoping for a maiden win at Snapper Rocks to get her re-qualification campaign off and running in 2023.
"It's good to get this far into the draw and get more opportunities to perform and express myself," Fitzgibbons said. "I was happy with that performance and know I was able to wait for the wave and get the score I needed when it came. Whether it's a CT or a Challenger, to be at this end of the event feels good."
Fitzgibbons will take on Sawyer Lindblad (USA) who has already guaranteed her best Challenger Series result with a Semifinals berth. Lindblad overcame former Championship Tour competitor Luana Silva (BRA) in the final minutes of the last heat of the day.
"I'm so happy to make it this far," Lindblad said "Last year I didn't make it past the Quarterfinals so I'm super stoked. It's just so cool to have Snapper to ourselves and I feel lucky to get another opportunity out there. I'm looking forward to another day down here and hope for a big result."
Stephanie Gilmore (AUS) continued her winning streak today, overcoming young talent Nyxie Ryan (AUS) in the Quarterfinals. She will now face off with another up-and-coming surfer, India Robinson (AUS) in the Semifinals. Robinson has been beaten twice by Gilmore and hopes to get one back on the local legend here in Coolangatta.
Men's Quarterfinalists Decided at Snapper Rocks 
Michael Rodrigues (BRA) posted another excellent heat total of 16.93 (out of a possible 20) today, booking a spot in the Quarterfinals. Rodrigues looks to be the man to beat as his lightning-fast rail game on the long walls of Snapper Rocks continues to impress.
Heat 6 of the Round of 16 saw two French surfers, Jorgann Couzinet (FRA) and Timothe Bisso (FRA) go head-to-head. Both competitors have been standouts throughout the event. The two have contrasting styles, Couzinet known for his smooth frontside and Bisso his powerful backhand surfing. It was a slow heat for waves, but Couzinet was able to get in rhythm with the sets and find an excellent 8.07 (out of a possible 10) which was enough for the heat win.
"I feel like I got lucky in that heat," Couzinet said. "I had the priority when the good waves came which helped a lot. It was stressful at the end as he only needed a mid-range score which he could easily get as he is such a good surfer."
Former CT competitors Jadson Andre (BRA) and Imaikalani DeVault (HAW) have also found themselves spots in the Quarterfinals after taking narrow wins in the Round of 16. Andre will now face Jett Schilling (USA) while DeVault has matched up with Jacob Willcox (AUS) whose backside attack was a highlight of Day 4.
The next call for competition to recommence will be tomorrow, Saturday, May 13, at 7:45 a.m. AEST for a possible 8:05 a.m. start.
For highlights from today's Boost Mobile Gold Coast Pro presented by GWM competition, please visit WorldSurfLeague.com.
2023 Boost Mobile Gold Coast Pro pres. by GWM Women's Round of 16 Results Heats 1-5): 
HEAT 5: Vahine Fierro (FRA) 15.67 DEF. Francisca Veselko (POR) 11.83
HEAT 6: Sally Fitzgibbons (AUS) 12.53 DEF. Alyssa Spencer (USA) 12.00
HEAT 7: Sawyer Lindblad (USA) 14.50 DEF. Teresa Bonvalot (POR) 10.20
HEAT 8: Luana Silva (BRA) 15.60 DEF. Isabella Nichols (AUS) 9.672023 Boost Mobile Gold Coast Pro pres. by GWM Men's Round of 16 Results: 
HEAT 1: Imaikalani deVault (HAW) 12.73 DEF. Adin Masencamp (RSA) 11.43
HEAT 2: Jacob Willcox (AUS) 15.16 DEF. Evan Geiselman (USA) 9.93
HEAT 3: Jett Schilling (USA) 12.17 DEF. Joao Chianca (BRA) 12.03
HEAT 4: Jadson Andre (BRA) 11.04 DEF. Mikey McDonagh (AUS) 10.27
HEAT 5: Samuel Pupo (BRA) 15.83 DEF. Edgard Groggia (BRA) 11.77
HEAT 6: Jorgann Couzinet (FRA) 13.57 DEF. Timothe Bisso (FRA) 10.93
HEAT 7: Michael Rodrigues (BRA) 16.93 DEF. Jackson Bunch (HAW) 12.30
HEAT 8: Crosby Colapinto (USA) 13.13 DEF. Rio Waida (INA) 12.872023 Boost Mobile Gold Coast Pro pres. by GWM Women's Quarterfinal Results: 
HEAT 1: Stephanie Gilmore (AUS) 13.50 DEF. Nyxie Ryan (AUS) 11.50
HEAT 2: India Robinson (AUS) 14.40 DEF. Sarah Baum (RSA) 9.77
HEAT 3: Sally Fitzgibbons (AUS) 13.53 DEF. Vahine Fierro (FRA) 12.83
HEAT 4: Sawyer Lindblad (USA) 11.73 DEF. Luana Silva (BRA) 11.24

2023 Boost Mobile Gold Coast Pro pres. by GWM Men's Quarterfinal Matchups: 
HEAT 1: Imaikalani deVault (HAW) vs. Jacob Willcox (AUS)
HEAT 2: Jett Schilling (USA) vs. Jadson Andre (BRA)
HEAT 3: Samuel Pupo (BRA) vs. Jorgann Couzinet (FRA)
HEAT 4: Michael Rodrigues (BRA) vs. Crosby Colapinto (USA)

2023 Boost Mobile Gold Coast Pro pres. by GWM Women's Semifinal Matchups:
HEAT 1: Stephanie Gilmore (AUS) vs. India Robinson (AUS)
HEAT 2: Sally Fitzgibbons (AUS) vs. Sawyer Lindblad (USA)