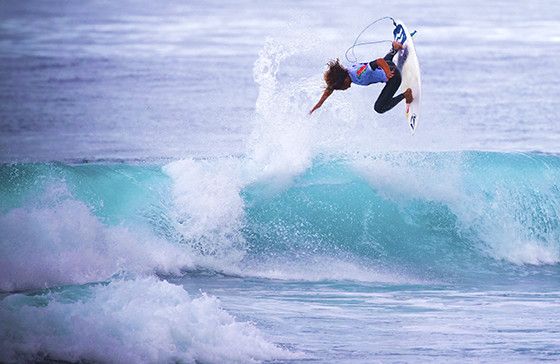 Munoz will show his aerial prowesses again when the event resumes.
Image: WSL / Masurel
| | |
| --- | --- |
| Location:    | Praia de Santa Barbara – Sao Miguel / Azores Islands |
| Holding Period: | September 22-27, 2015 |
| Call: | Next Call 7:30AM Friday |
| Conditions: | 2-3Ft on Day 3 |
PRAIA DE SANTA BARBARA, Sao Miguel – Azores Islands (Thursday, September 24, 2015) –  After a slow morning at high tide, the SATA Azores Pro resumed early in the afternoon with clean two-to-three foot allowing the third round of competition to be completed at Santa Barbara.
Dion Atkinson (AUS), 29, opened the show in the punchy peaks of Santa Barbara and put on a solid performance, collecting the heat-winning ride in the dying moments of the heat. The former Samsung Galaxy Championship Tour competitor, who's back on the grind for qualifying points, advanced into the fourth round of competition where he'll face Adam Melling (AUS) in a man-on-man confrontation for a place in the quarters.
"Obviously everyone's waiting for tomorrow, but it's still fun waves and everyone almost would have preferred to surf today than the previous days cause it's been so tricky," Atkinson reflected. "That little right ripple is pretty fun, it's pretty homely to a lot of the guys. The second wave of the set was probably better for me, and I tried to pick that and learn from a few mistakes at the start of the heat. Everyone keep saying offshore for tomorrow and maybe a few barrels, I've seen what this beach can do and I'm pretty excited."
Alex Ribeiro (BRA), 25, fought off current World No.22 Sebastian Zietz (HAW) and Miguel Tudela (PER) in an exciting Round 3 matchup. The three surfers kept trading the heat lead and built their scoreboard all the way into the final moments of the heat. Eventually it was Ribeiro with two high sevens that claimed the win, to take one step closer to a maiden Championship Tour qualification.
"Conditions today were pretty hard at low tide, you never really know which of the left or right are going to work the best in your heat," Ribeiro commented. "The couple heats before mine were only rights, and during ours the left started working and I got my two big scores on that one. You have to keep an open mind and adapt to the conditions at hand."
Wigolly Dantas (BRA), 25, scored the day's highest single scoring ride, an impressive 9.57 out of a possible 10, for a succession of backhand bashes on a clean little right. Dantas controled his heat and was never really at risk, but eventually found another good wave to backup his high score and definitely push his opponents away.
"It's tough to surf against two other guys, and waves were a bit smaller but still really fun," Dantas said. "Wave selection is really crucial to find the right waves that will allow two or three turns and good sections. I changed boards for a 5'9 1/2 epoxy and felt really confident on it, they work great."
Bino Lopes (BRA), 27, dismantled the little lefts on offer on the far western side of the contest area and won a tense three-man matchup where each competitor had a score in the excellent range. Lopes was the most successful at backing up his best wave and relieved his parents' anxiety, watching all the action from the beach.
"I'm in the good run and have won two events recently in Brazil and feeling super confident," Lopes admitted. "Conditions fit my surfing perfectly here and I'm happy to advance through a few heats. My parents are here to support me, well they're always supporting me and watching the webcasts whatever the time, but here they came with me and it's great to have them around, it's just more positive energy and I'm stoked to share this with them."
The next call has been set to 7:30AM on Friday, for a potential final day of competition as event officials expect pumping conditions all-day.
First in the water when the event resumes will be Dion Atkinson (AUS) up against Adam Melling (AUS).
The SATA Azores Pro is scheduled from September 22-27, 2015 at PRAIA DE SANTA BARBARA, Sao Miguel – Azores Islands. For all results, photos, video highlights and press releases, log on to worldsurfleague.com.
The SATA AZORES Pro is organized by DAAZ Eventos with the support of the following event partners:  SATA Airlines, Governo Regional dos Acores, Turismo dos Açores, Câmara Municipal da Ribeira Grande, SUMOL, SEAT , MOCHE, amongst other.
UPCOMING SATA AZORES PRO ROUND OF 16 MATCHUPS:
Heat 1: Dion Atkinson (AUS) vs. Adam Melling (AUS)
Heat 2: Hizunome Bettero (BRA) vs. Brent Dorrington (AUS)
Heat 3: Alex Ribeiro (BRA) vs. Pedro Henrique (PRT)
Heat 4: Wigolly Dantas (BRA) vs. Sebastian Zietz (HAW)
Heat 5: Jack Freestone (AUS) vs. Carlos Munoz (CRI)
Heat 6: Bino Lopes (BRA) vs. Aritz Aranburu (ESP)
Heat 7: Kolohe Andino (USA) vs. Timothee Bisso (GLP)
Heat 8: Miguel Pupo (BRA) vs. Eric Geiselman (USA)
SATA AZORES PRO ROUND OF 24 RESULTS:
Heat 1: Dion Atkinson (AUS) 15.44, Brent Dorrington (AUS) 13.60, Caio Ibelli (BRA) 10.60
Heat 2: Hizunome Bettero (BRA) 12.93, Adam Melling (AUS) 11.43, Marlon Lipke (PRT) 10.40
Heat 3: Alex Ribeiro (BRA) 15.70, Sebastian Zietz (HAW) 14.64, Miguel Tudela (PER) 13.50
Heat 4: Wigolly Dantas (BRA) 16.90, Pedro Henrique (PRT) 12.83, Ezekiel Lau (HAW) 11.83
Heat 5: Jack Freestone (AUS) 15.34, Aritz Aranburu (ESP) 12.83, Alejo Muniz (BRA) 11.00
Heat 6: Bino Lopes (BRA) 16.00, Carlos Munoz (CRI) 15.77, Tanner Gudauskas (USA) 13.97
Heat 7: Kolohe Andino (USA) 17.30, Evan Geiselman (USA) 15.30, Ramzi Boukhiam (MAR) 14.10
Heat 8: Miguel Pupo (BRA) 14.04, Timothee Bisso (GLP) 11.70, Tanner Hendrickson (HAW) 10.57