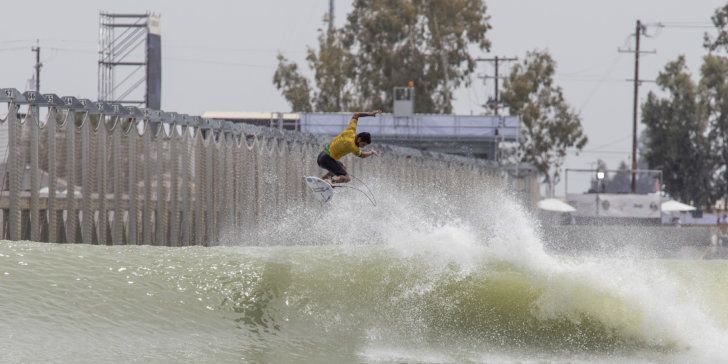 – USA TEAM FINISHES OPENING DAY WITH DOMINANT LEAD
– WORLD TEAM PERFORMS STRONG AGAINST AUSTRALIA'S SURFING GIANTS
– BRAZIL AMAZES EVENT WITH INNOVATION AND PERFECTION
Brazil Team's Filipe Toledo delivers WSL Surf Ranch's first Perfect 10 at the inaugural Founders' Cup of Surfing.
Credit: © WSL /  Morris

LEMOORE, Calif./USA (Saturday, May 5, 2018)  
The World Surf League (WSL) Founders' Cup of Surfing presented by Michelob ULTRA Pure Gold made history today with the USA, Brazil, Australia, Europe, and World Teams showcasing incredible performances in the first-ever event at the WSL Surf Ranch.
Today witnessed the completion of the first two runs from the five teams. All five members of each team had the opportunity to earn the highest scores with four waves (two rights and two lefts). After the runs today, USA Team holds first place position, followed by Australia, World, Brazil, and Europe.
Tomorrow, each competitor will have two more opportunities (one right and one left) to help their team qualify for the highly-anticipated Final. Each athlete's top-scoring left and top-scoring right will contribute to the Team Total. Ten waves (each of the five team members' contributing top-scoring left and right) will be added up to a maximum Team Total of 100. The top three scoring teams out of the five will qualify for the Final.
USA is currently in first place after outstanding rides from the entire team and near-perfect scores from three-time WSL Champion Carissa Moore and two-time WSL Champion John John Florence. Additionally, the team's consistency, particularly by Captain Kelly Slater and Kolohe Andino, and progression by Lakey Peterson gives the team a five-point advantage over Australia.
"I wasn't as deep as I thought I would be at that end section, so I just went for that air and it worked out," said Florence following his last wave, a 9.80. "To be in this team environment is so different and it's amazing. It is definitely the coolest thing in surfing I've ever done. We are all excited and cheering each other on, it is great."
"It's all about timing out here and listening to the people around you about what sections to take advantage of, and just stay calm," Moore said. "I don't know if I can take a lot of the credit with such an amazing team. Being able to pick Kelly Slater's brain about the wave has been great."
"Team World did really well, they only fell on two waves and when you have that kind of pressure you don't know until you're in that situation," Slater said. "For us to get ahead of them is a really big accomplishment, and I'm looking at them as the team to beat after that first run. And this is just the first day, the first time the world's gotten to see this live and see what it is. I've never been to a surf contest where everyone, including the surfers, are smiling all day. Even though we're trying to beat each other, there's a good comradery among all the teams."

Three-time WSL Champion Carissa Moore of USA Team
Credit: © WSL /  Cestari
The Australians entered this weekend as one of the favorites to win it all but struggled to complete all their individual rides. Team Captain Stephanie Gilmore and Tyler Wrightdecimated the WSL Surf Ranch lineup with excellent performances in their first runs. Gilmore's waves and Wright's 9.33 right-hander were among the best of the day. Mick Fanning helped his team dramatically with a 9.07 on his second left and an 8.43 on the right. Matt Wilkinson's 8.43 left is his only real contribution so far, as he has struggled to complete his waves. And, with Joel Parkinson's last righthander earning a 7.40, helped push the team into a contending position, but an all-important Run 3 awaits the accomplished team.
"I'm not planning too much and just whatever the left gives me, I'll just adapt to that," said Wright. "I felt like I did that, and then the right was kind of a free ride to get more creative. But, on the right you start getting those routines and certain maneuvers, and the more we get into this event, the better it's going to get."
"I put a 7 on the left this morning, so I thought there was only one way to improve and that was to push a bit harder," Fanning said. "We still have a lot of room for improvement. Parko's (Joel Parkinson) getting rid of a 3, so that's a few more points there, he just couldn't connect on the right. And we haven't even seen Steph (Gilmore) dominate on the right yet, so I think she can get into those high 9s when she puts that right together."

Two-time WSL Champion Tyler Wright of  Australia Team
Credit: © WSL /  Cestari
A dark horse amongst the surfing giants, but not lacking in talent, World Team came out and shook up the competition. Big performances by all surfers in Run 1 gave the team an early lead to the day. After the completion of Run 2, the team struggled to find the excellent range scores, but Captain Jordy Smith's 9.07 and 8.87, and Paige Hareb's consistency with big numbers across all four of her scores has the team in the third position.
"It feels amazing to be a part of this team and I was just so nervous before both of my runs," Hareb said. "To improve in the end is the best feeling. I wouldn't want to let the team down. I'm more nervous here than when I'm just competing for myself. The whole team is so supportive."
"At this point, it's a game of inches and any little point will count toward that result to hopefully make the Final," Smith said. "I talked with my teammates and told them from the very first wave you stand up on, it's deliver everything you have. Those first waves this morning were crucial and I'm so proud of all of them for delivering."

Caption: Team World Captain Jordy Smith
Credit: © WSL /  Cestari
The explosive Brazilian squad played it safe in the first Run but really wowed the crowd in their second set. Filipe Toledo lit up the day with the WSL Surf Ranch's first-ever Perfect 10. 2014 WSL Champion and Captain Gabriel Medina earned his team's second highest score with an incredible air-rotation for a near-perfect 9.17. Despite Toledo's and Medina's stunning rides, the team still needs to push the envelope to make it into the Finals and move into a higher position.
"I'm over the moon just being able to surf a perfect wave like this and to get the first perfect 10 in the wave pool is incredible," Toledo said. "I talked to my team before that and said I'm going to launch and they agreed saying, 'Let's do this.' That gave me more confidence just knowing they're supporting me."
"After Filipe (Toledo) got that 10, I was so happy for him and made me go big in the next one," Medina said. "I was trying to make it to the end of the left and fell just short of going for the air on that one. We still have a chance to improve tomorrow and hopefully, I can stick that air at the end of the left."
Europe Team turned some heads with strong performances but still found themselves in 5th place by day's end. Italy's Leonardo Fioravanti helped fuel his team's point total with a 9.57 and 8.17 as the anchor, following Jeremy Flores' 8.00 and 8.47. Captain Johanne Defay,Frederico Morais, and Flores also earned solid scores, and the team trails by only 0.18.
"Being a part of the European Team is amazing, we're a very supportive team – we win, we win together and we lose, we lose together," Fioravanti said. "It's a pleasure to surf with and against the best surfers in the world. Most of the CT events we're alone and there's no teamwork, but here we are working together on game plans and so far so good. This atmosphere makes you feel like a rock star with the jet ski just flying in front of everyone and you just try to psych them up. I just want to see the fire out of everyone."
Team Captain Defay knows where the team's improvements need to come from and is confident her team has what it takes for a Finals appearance.
"This morning the boys got some really good waves and still improved on Run 2, but the overall scores will take some improvements from the girls for sure," Defay said. "If we can take this day and see the mistakes and what we did great, we can put it together for tomorrow and we will be in a good spot. I think I can do better on both my right and left, but it's difficult when you get that one shot at it at a time. It's a different experience, but it'll be good to find more flow and we'll definitely have to push more tomorrow."
Founders' Cup of Surfing Qualifying Runs:
L1 = First Lefthand Wave
R1 = First Righthand Wave
United States:
Lakey Peterson – L1: 6.6, R1: 7.83, L2: 2.77, R2: 7.93
Kolohe Andino – L1: 8.5, R1: 6.00, L2: 8.8, R2: 7.43
Carissa Moore – L1: 7.43, R1: 9.27, L2: 8.37, R2: 9.43
John John Florence – L1: 3.43, R1: 6.63, L2: 5.3, R2: 9.8
Kelly Slater – L1: 8.80, R1: 8.47, L2: 8.6,  R2: 7.87
USA Team Total: 80.83
Australia:
Tyler Wright – L1: 4.83, R1: 9.1, L2: 6.4, R2: 9.33
Joel Parkinson – L1: 3.5, R1: 6, L2: 3.53, R2: 7.4
Mick Fanning – L1: 7.43, R1: 8, L2: 9.07, R2: 8.43
Stephanie Gilmore – L1: 8.63, R1: 8.23, L2: 5.53, R2: 2.17
Matt Wilkinson – L1: 8.37, R1: 3.83, L2: 4.5, R2:6.43
Australia Team Total: 75.82
World:
Bianca Buitendag – L1: 7.6, R1: 2.5, L2: 6.77, R2: 4.93
Kanoa Igarashi – L1: 2.17, R1: 8.83, L2: 3.87, R2: 4.5
Michel Bourez – L1: 8.8, R1: 7.5, L2: 5.5, R2: 4.5
Jordy Smith – L1: 7.27, R1: 9.07, L2: 8.87, R2: 4.53
Paige Hareb – L1: 7.53, R1: 7.93, L2: 7.43, R2: 8.33
World Team Total: 75.33
Brazil:
Taina Hinckel – L1: 2.17, R1: 4.17, L2: 5.5, R2: 4.1
Filipe Toledo – L1: 7.83, R1: 6.93, L2: 4.2, R2: 10
Gabriel Medina – L1: 6.67, R1: 7.83, L2: 6.87, R2: 9.17
Adriano de Souza – L1: 6.83, R1: 7.93, L2: 3.93 R2: 4.93
Silvana Lima – L1: 5.5, R1: 7.73, L2: 5.67, R2: 8.33
Brazil Team Total: 72.3
Europe:
Frankie Harrer – L1: 5.73, R1: 1.93, L2:5.87, R2: 3.83
Leonardo Fioravanti – L1: 8, R1: 8.17, L2: 3.73, R2: 9.57
Johanne Defay – L1: 6.67, R1: 0.77, L2: 5.33 R2: 7
Frederico Morais – L1: 7.17, R1: 3.07, L2: 7.17, R2: 6.77
Jeremy Flores – L1: 8, R1: 8.47, L2: 8.77, R2: 7.77
Europe Team Total: 72.12
For more information, please visit WorldSurfLeague.com and WSLFoundersCup.com.