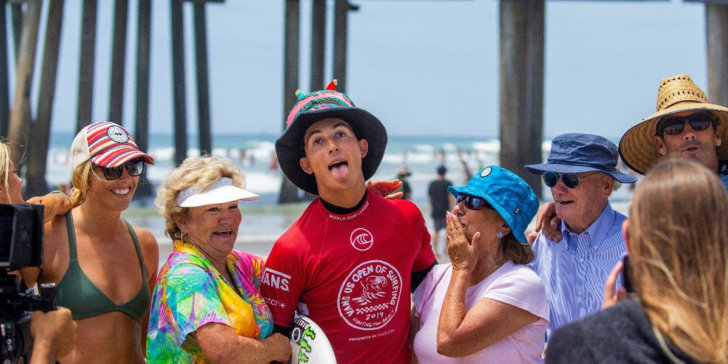 Andino, Colapinto, Marshall Dominate Round 2 Debuts
Internationals Continue Threatening Charges Over Top-Tier Contingent
Wilkinson Finds His Rhythm, Coffin and Lau Impress
Griffin Colapinto (USA) celebrates his 21st birthday at the Vans US Open of Surfing pres by Swatch with a Round 2 win.
Credit: © WSL / Morris
HUNTINGTON BEACH, California/USA (Monday, July 29, 2019) –– The Vans US Open of Surfing presented by Swatch saw strong performances from the local contingent alongside dramatic losses today as Round 3 of the World Surf League (WSL) Men's Qualifying Series (QS) 10,000 event got underway. One of the largest action sports festivals in the world, the Vans US Open of Surfing takes place at the iconic Huntington Beach pier with surfing, skateboarding and BMX competitions taking center stage, in addition to community-centered activities, art and entertainment.
Encinitas, California, native Jake Marshall (USA) currently sits at No. 21 on the QS and led a Southern California charge today with his brilliant performance over former Championship Tour (CT) competitors Matt Banting (AUS) and Tomas Hermes (BRA) with an excellent 8.00 (out of a possible 10) single wave score and 14.93 (out of a possible 20) heat total. Marshall finds himself among great company in fellow countrymen as the Americans continue to garner big results across the world and now find themselves under the Huntington Beach microscope.
Jake Marshall (USA) using his dominant backhand to produce excellent scores
Credit: © WSL / Morris
"This is my first year in the main event so I'm feeling really confident and it's always nice just knowing you're in the contest and a part of the event," Marshall said. "I had a really good amateur career out here and I feel super comfortable just knowing what to do at this wave. It's been a cool year with Eithan (Osborne) taking down the first event of the year, Nolan (Rapoza) winning and Luke (Gordon) winning a 1,000. I had a good result in Japan with Evan (Geiselman) and Nat (Young) making the Final so it's super inspiring to see all the Americans doing well."
Last year's runner-up Griffin Colapinto (USA) is on track for another strong result at the familiar Huntington pier beach break after earning a heat win with two good scores — 7.10 and 7.50 — and displaying a confident frontside approach in the chest-high surf. The CT sophomore celebrates his 21st birthday today but has this competition at the forefront of his focus.
"I'm celebrating my birthday by surfing a heat at the US Open (laughs)," Colapinto said. "For me it's about being an athlete first, but I'll have a good dinner with my family and friends tonight to enjoy it. It's when preparation meets opportunity after having that really good Final with Kanoa and hopefully I keep that same routine."
A regular competitor at Huntington Beach, Colapinto saw success in 2015 with a win in the Vans US Open Men's Pro Junior division, and has continued to improve his QS result in the California competition since then.
Some more of the world's best were in the water immediately following the first horn with current World No. 1 Kolohe Andino (USA) going to work. The San Clemente, California, native felt right at home garnering a 13.27 (out of a possible 20) heat total.
"I just love competing and the feeling of getting ready, as well as dropping big scores and flying through the reform — I love all of it," Andino said. "I'm excited to be in this competition, I'm not trying to requalify so I can surf pressure-free which is nice to have fun."
 No. 1 and feeling right at home – Andino searches for his first Vans US Open QS title.
Credit: © WSL / Morris
On the opposite side of the qualifying spectrum, Thiago Camarao (BRA) has tried to crack into the Top 10 since 2008 and made his presence known in Round 2 by overpowering two-time defending event winner Kanoa Igarashi (JPN). Igarashi's powerful forehand earned him an excellent 8.00, but Camarao was right behind the Huntington Beach local with a 6.83 and quickly backed it up with a 6.90. The QS veteran made his Vans US Open debut in 2010 but hasn't been able to surpass an equal ninth result.
"It's a really good to start the contest well and that's the first time I've beat Kanoa which is really good," Camarao said. "I'm stoked to surf well but also be smart in that heat which I think is more important. I've been surfing here every day just like I train back home and I've also been using smaller equipment but it feels great."
Other Round 2 standouts included big debuts for Ezekiel Lau (HAW), Conner Coffin (USA) and Matt Wilkinson (AUS) in their respective heats, but a hit list of upsets were scattered once again as current QS No. 1 Jadson Andre (BRA), Cam Richards (USA), Carlos Munoz (CRI), Reo Inaba (JPN), Hiroto Ohhara (JPN), Tanner Gudauskas (USA), Tanner Hendrickson (HAW), and Maxime Huscenot (FRA) all faced elimination.
Not to be left out of the airshow, Ezekiel Lau (HAW) soared in his debut.
Credit: © WSL / Morris
European standout Charly Martin (FRA) was a part of those early upsets when he took out Australian threat Jack Robinson (AUS) in the first heat of Round 3. Robinson made leaps and bounds when he moved from fourth to first advancing position with six minutes on the clock, however Martin stomped an impressive 7.10 under the five-minute mark and jumped to first with Alex Ribeiro (BRA) in second, which ultimately edged out Robinson.
"I'm really happy to make it through that one after losing my first heat in Ballito so I really wanted to make a couple of heats here," Martin said. "These are the most important events and I've trained hard for them. I also didn't go to Australia for the smaller events just to have the money for these bigger events and be comfortable while here. I've done well here before but I want to do better."
Martin has been close to CT qualification since ascending to the QS and is currently ranked No. 43 after a third-place finish at the Caparica Surf Fest Pro in April. His best result at the Vans US Open of Surfing was a 9th in 2014 and now with a berth into Round 4, the Frenchman will zero in on his next heat match up with Hawaiian Seth Moniz and Brazilian Krystian Kymerson.
The Vans US Open of Surfing presented by Swatch will resume tomorrow, Tuesday, July 30, at 7:30 a.m. PT in Huntington Beach. The event will be broadcast LIVE on WorldSurfLeague.com and Facebook.com/WSL. Also, check local listings for coverage from the WSL's broadcast partners.
Alongside the surfing, the Vans US Open of Surfing also hosts skateboarding and BMX competitions in sync with authentic community activations and artful entertainment in Surf City USA. Recognized as the largest professional sports competition and action sports festival in the world, the Vans US Open of Surfing presented by Swatch is currently sanctioned and operated by the World Surf League under license from IMG, the event owner. Official partners of this year's event include Vans, Swatch, Jeep, ULTRA, Red Bull, Jose Cuervo, Barefoot Wine, Hydro Flask, Harley-Davidson, Polo Blue, BF Goodrich, CLIF Bar, and Frontier Communications.
The 2019 Vans US Open of Surfing event site.
Credit: © WSL / Morris