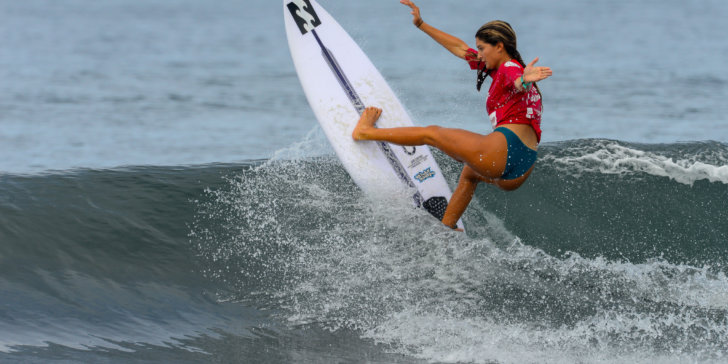 …at the Women's Next Generation Light Up Opening Day of
Papara Pro Open Tahiti
Silva Shines at Papara, Former Event Winner Stone Earns Clutch Heat Win
Johnson Continues to Surge, Brooks Rises to the Occasion
Pictured: Amid a critical day of competition, Kohai Fierro (PYF) remains as the lone Tahitian heading into the Quarterfinals.
Credit: © WSL / Andrew Nichols
PAPARA, Tahiti/French Polynesia (Tuesday, March 10, 2020) – The World Surf League (WSL) Papara Pro Open Tahiti, a men's and women's Qualifying Series (QS) 1,000, kickstarted into action with women's Round 1 and 2 getting underway in two-foot, occasional three, clean surf at the Tahitian beach break, with a few breakthrough performances illuminating the competition. Hawaii's top up-and-coming competitors continued to shine alongside Tahiti's lone Quarterfinal representative Kohai Fierro as she looks to bring an event title to Tahitians.
Pictured front page: One of Hawaii's  Pro Junior standouts making noise in the QS was Luana Silva after a big Round 2 showing.
Credit: © WSL / Christophe Abraham
The Papara Pro Junior Tahiti finalists picked up right where they left off as third-place finisher, Luana Silva (HAW) went to work on her forehand attack to accrue one of the day's highest heat total of a 14.73 (out of a possible 20) over Round 1 standouts Haylee Boverman (HAW) and Mathilde Monbrison (PYF) along with Pro Junior runner-up Nora Liotta (HAW) also advancing with a solid performance. Silva's QS success in 2020 has her sitting at No. 18 on the rankings – already taking a victory in Australia before this event.
"I'm looking at this as a completely different event and just hit the reset button heading into that heat," Silva said. "I was trying to stay as busy as possible since there wasn't much out there and wanted to get the first wave of the heat to start my momentum. It's really exciting to be back into the Quarterfinals of a QS and I'm looking forward to better waves and I think it should be fun."
Pictured: Monday's Pro Junior winner Bettylou Sakura Johnson kept her momentum going. Credit: © WSL / Abraham 
Fellow Pro Junior finalist and eventual victor Bettylou Sakura Johnson (HAW) dropped the hammer in Round 1 with an excellent 8.00 and 14.00 heat total. Johnson showed her patience after a flurry of throwaway scores, meaning they did not count toward her heat total, and took that strategy into a battle for first place in Round 2 with fellow Oahu, Hawaii, competitor Leila Riccobuano (HAW). One last exchange between the two decided the heat and Johnson with a heat-best 8.33 to shut it down alongside her good friend – earning the day's highest heat total of 15.73 and single-wave score.
"It was super fun surfing that heat with Leila (Riccobuano) and we just tried to share the lineup and it worked out perfectly," said Johnson. "My plan was to bring that momentum from yesterday into today and it worked. It would be unreal to take out both of these events but I think I'm even more excited to surf a head-to-head heat. It'll be my first time doing that so I'm really looking forward to it."
Pictured: Hawaii's 2017 event winner Savanna Stone looks to relive that moment in 2020.
Credit: © WSL / Abraham
Fierro came out of the gates with an impressive Round 1 performance before an even better showing in Round 2 to give her Tahitian crowd moments of elation. Younger sister to former WSL Junior Champion Vahine Fierro (PYF), Kohai's backhand strikes were undeniable on the running righthander of Papara's beach break until regional standout Savanna Stone (HAW) smashed her last opportunity on the buzzer for a 7.10 and a big heat win.
Last year's event runner-up, Stone, has a win in her sights after her first-ever victory was on these shores in 2017.
"I'm really happy there are some waves after everybody was talking about it getting smaller but there's a lot of opportunity out there," said Stone. "All you need is two waves. It's really nice when you get an opportunity like that in the end and I wish I could've pushed hard and gone faster but I can just save that for the next heat. I would be so stoked to take back the victory here at Papara because it's such a special place and you just get see all the mountains in the background when you're getting chaired- up, it's so beautiful here."
Pictured: The event's youngest Hawaii competitor Erin Brooks surfed well past her years in the small condtions.
Credit: © WSL / Abraham
The youngest competitor in attendance, Erin Brooks (HAW), 12, put on an incredible display of technique and flow on her forehand throughout opening day. The Oahu, Hawaii, competitor put on a dominant Round 1 performance and showed her ability to persevere in a showdown in Round 2 with fellow Hawaii competitor Stella Valdez. Brooks looks to one of Tahiti's standout big wave and QS competitors, Tereva David, as her coach and mentor; her approach to attacking waves is one to watch.
"It was actually really fun on the lefts even though it was a little flat on the start it would bowl up at the end and reminded me a little bit of Rockies back home," said Brooks. "It's nice to get started in competitions young but all the girls are ripping so it's pretty hard to keep up (laughs). Stella (Valdez) got that seven and then I was able to get two good ones for the lead but then she got a banger to end on. I'm really looking forward to more fun waves and trying to get a good result."
CLICK HERE FOR PAPARA OPEN PRO TAHITI ROUND 1 AND 2 RESULTS
Event organizers will reconvene at 7:00am TAHT to determine a possible 8:00am TAHT.
The Papara Pro Open Tahiti will run from March 9 – 13 on the best days of the event window in Papara, Tahiti.
About the WSL 
The World Surf League (WSL), established in 1976, is the enablement platform for surfing and surfers worldwide. The WSL is dedicated to changing the world through the inspirational power of surfing by creating authentic events, experiences, and storytelling to inspire a growing, global community to live with purpose, originality, and stoke.
The WSL is a global organization, headquartered in Santa Monica and with regional offices in North America, Latin America, Asia Pacific, and EMEA. The WSL possesses a deep appreciation for the sport's rich heritage while promoting progression, innovation, and performance at the highest levels.
The WSL is comprised of Tours & Events, celebrating the world's best surfers across all disciplines and annually running more than 180 global contests and crowning the undisputed World Champions across all divisions; WSL WaveCo, where innovation meets experience; and WSL Studios, which offers best in class storytelling across competition, lifestyle, and conservation.
For more information, please visit WorldSurfLeague.com
About the Tahitian Surfing Federation (Federation Tahitienne de Surf)
The association called the Tahitian Surfing Federation is located at Taharu'u Beach PK 39 Papara, Tahiti, French Polynesia and aims to organize, control and develop the practice of surfing and all associated disciplines including bodyboard, longboard, kneeboard, bodysurf, skimboard, paddleboard, stand-up paddleboard, and tow-in surfing.
The Tahitian Surfing Federation coordinates the activities of affiliated associations practicing the above-mentioned activities functioning in French Polynesia and, when appropriate, of Polynesians abroad. The organization establishes the rules of conduct as defined by the Olympic Committee of French Polynesia, elaborates the rules and pedagogic content pertaining to the teaching of surfing, and maintains all useful relationships with all Federations and all French and foreign agencies and public authorities.