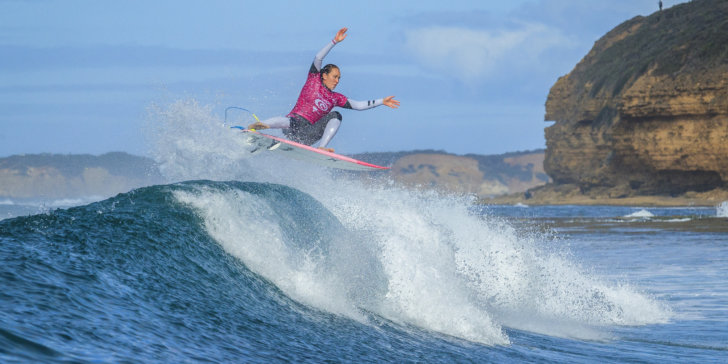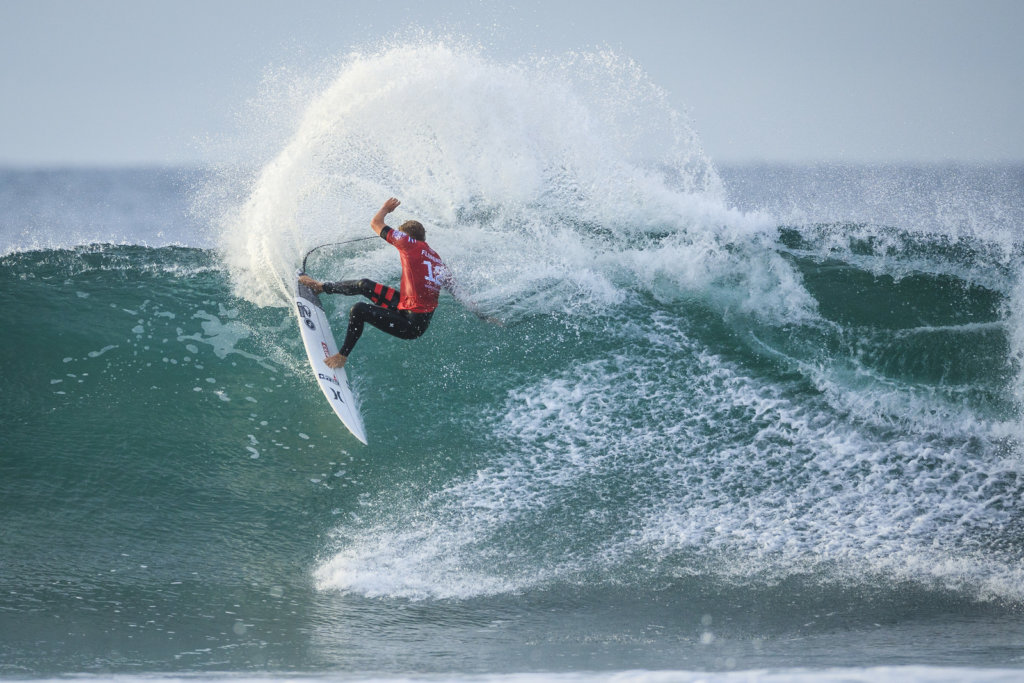 JJF WINNING HIS HEAT ON PWR GOUGES LIKE THIS LAYBACK. PHOTO: © WSL / Dunbar
Rookies and Wildcards Continue to Surprise at Winkipop

Victorian Nikki Van Dijk Wins Early for Home Crowd

Front Page: Carissa extends the performance limits

PHOTO: © WSL / Cestari
 2019 CT Rookie Brisa Hennessy (CRI) advances to Round 3 after winning her opening heat against World No. 1 Caroline Marks (USA) and Courtney Conlogue (USA) at the Rip Curl Pro Bells Beach. 
Credit: © WSL / Cestari
BELLS BEACH, Victoria/AUS (Monday, April 22, 2019) – After three-consecutive off days, the Rip Curl Pro Bells Beach continued today with a highly anticipated swell at Winkipop, the event's backup site. Stop No. 2 on the 2019 World Surf League (WSL) Championship Tour (CT) completed the remaining three heats of men's Round 1, women's Round 1, and men's and women's Elimination Round 2 in four-to-five foot (1.2 – 1.5 metre) waves.
Next Generation of Surfers Shine at Winkipop
 Replacement surfer Reef Heazlewood (AUS) 
Credit: © WSL / Dunbar
After causing big upsets as a wildcard on the Gold Coast, Aussie youngster Reef Heazlewood caught the attention of event organizers and was an obvious choice to replace Sebastian Zeitz (HAW), who pulled out of the event for the upcoming birth of his first child. Heazlewood once again made the most of his opportunity, putting on a dynamic performance to take down 2019 CT Rookie Mikey Wright (AUS) and Jesse Mendes (BRA). Heazlewood looked comfortable on the big stage, accruing a two-wave combination of 12.67 (out of a possible 20) to progress. His and Wright's results eliminated Mendes, who leaves in Equal 33rd place.

"I was actually at home running an event with some groms when the news came through that I'd have a spot in the event," Heazlewood said. "I rushed to get ready and head to the airport, then my flight got canceled, but I eventually got here so I'm stoked. I have a little bit of experience here at Bells but not a heap. There is definitely a lot of room to grow and learn so I'm really happy to make it through and will hopefully keep making heats."

Current World No. 1 Caroline Marks (USA) put on a solid display at Winkipop, smashing huge turns on her highly regarded backhand, but surprisingly, it was not enough to win her heat. 2019 CT Rookie Brisa Hennessy (CRI) posted the highest wave score of the women's event so far, 8.33 (out of a possible 10), taking the win from Marks. Hennessy will move directly into Round 3 where she hopes to take another win and better her result of Equal 9th from Stop No. 1. Marks' second place will also advance her to Round 3.

"That was a pretty heavy heat, so I was going into it giving it my all and I'm just glad I eventually found some good waves," Hennessy said. "It's so special to get underway here at Bells. It was reallycool to hear them play Hells Bells this morning and know I'd be competing. I'm just so happy to be here competing fulltime on the CT and to be competing at such a historical event."

After a tough Round 3 loss on the Gold Coast, 2019 CT Rookie Soli Bailey (AUS) was close to another dreaded early elimination. The young Byron Bay local was determined to take his first CT heat win and overcome 2018 CT Rookie of the Year Wade Carmichael (AUS) and wildcard Xavier Huxtable (AUS) in their Round 2 matchup. Bailey dominated the heat with a combination of progressive aerial surfing and classic power turns. Bailey moves into Round 3 where he will take on an in-form Conner Coffin (USA).

"It's all on the line when you're surfing in those Elimination Round heats,"  Bailey said. "I ended up posting a couple of good scores, which was great. After that heat, I was really excited to think about some solid waves coming later in the week but also wanted to stay in the moment and enjoy the feeling of taking a CT heat with some good scores. I'm definitely excited to see what lays ahead with the waves that are on the way."

2019 CT Rookies Peterson Crisanto (BRA) and Deivid Silva (BRA) also progressed through the Round of 32 as they continue to search for a breakthrough result on their first year on the elite level.
Victoria's Van Dijk Brings Heat against Peterson and Hareb
 Nikki Van Dijk (AUS)
Credit: © WSL / Dunbar
In her 10th year of competing at the Rip Curl Pro Bells Beach (four years as a wildcard), Phillip Island's Nikki Van Dijk (AUS) hopes to ring the Bell for not only her first time but also as the first Victorian to do so since Gail Couper did in 1976. Today, Van Dijk took a step in the right direction, taking down World Title hopeful Lakey Peterson (USA) and Paige Hareb (NZL) in the opening heat of Round 1. Van Dijk will progress directly into the Round of 16 where she will take on two-time Rip Curl Pro Bells Beach winner Courtney Conlogue (USA).

"I was really trying to control that heat at the end," Van Dijk said. "I made a bit of a mistake at the end taking an average wave, which could have left the door open for the others but it was all good in the end. Winning this opening round is so important as it gives you a good seed in Round 3, but there are no easy heats on the CT so can't think too much like that. That keeps it exciting and I'm loving the new format. My first CT was this event years ago and the format was like this so it feels familiar which is good."
CT Veterans Stamp Authority in Early Rounds
Seven-time WSL Champion Stephanie Gilmore (AUS) struggled with wave selection against wildcard Kobie Enright (AUS) and Bronte Macaulay (AUS). Gilmore had a slow start to the heat but eventually found her rhythm and posted two solid scores for a heat total of 15.33 (out of a possible 20), the highest combination of the event so far. Gilmore's win puts her in the Round of 16 where she will again match-up with Enright.

"I get frustrated at Winki because I tend to pick bad waves," Gilmore said. "I look at waves and think they won't be good and paddle past them then the ones I choose are worse then I end up in a bad headspace. Halfway through I had to gather myself and just remember that I only need two waves and luckily I got back-to-back decent ones in a short amount of time. "

After falling to Gilmore and Enright, Macaulay battled back in the last heat of the day, Round 2 Heat 2, to also advance to the next round.

Coco Ho (HAW) shined in her opening heat at Winkipop with a commanding win over three-time WSL Champion Carissa Moore (HAW) and former Rookie of the Year Keely Andrew (AUS). Ho and Moore will both skip to Round 3 (Round of 16), while Andrew was eliminated from the event.

Owen Wright (AUS) took a vital win in his Elimination Round over Jack Freestone (AUS) and Trials winner Harrison Mann (AUS). Despite Wright and Freestone advancing, the heat saw no shortage of excitement with a heat pause after something was spotted in the lineup, which turned out to be a large plume of seaweed.
"Jack (Freestone) and I saw a big shadow and started to paddle in not knowing what it could be," Wright said. "Jack was waving at the skis and they came over to us and we jumped on the back and went to see what it was. We got over to the shadow and it turns out it was a massive clump of seaweed but it was good that we took the precaution and the safety protocols worked well. I'm really stoked to make it out of the Elimination Round not only to avoid the 33rd but also because it looks like there is some great waves coming at the end of the event window."

Malia Manuel (HAW) found on her groove on the last wave in Heat 1 of Round 2, posting an excellent 8.17 ride to grab the lead and progress into Round 3 over Sage Erickson (USA) and Andrew. Manuel surfed a slow heat but found one of the cleaner walls of the afternoon for her win. She will advance to the Round of 16 with Erickson, while Andrew exits early from the event.

Earlier in the day, two-time WSL Champion John John Florence (HAW) took out his first heat of the 2019 Rip Curl Pro Bells Beach, which also noted his 300th heat among the world's best. Florence put down a dominant win over Brasilian duo Mendes and Willian Cardoso.
First Eliminations Go Down at Rip Curl Pro Bells Beach
With the format change to the 2019 Championship Tour, Round 2 (the Elimination Round) sees four male competitors and two female competitors bow out of the draw in Equal 33rd and Equal 17th place, respectively. Andrew and Hareb were unable to find a way into Round 3 for the second event in a row. On the men's side, Victorian Wildcards Xavier Huxtable (AUS) and Harrison Mann (AUS) were dispatched, along with Mendes and Joan Duru (FRA).

The next call for the Rip Curl Pro Bells Beach will be tomorrow at 6:40 a.m. AEST, when event organizers will reassess the conditions to decide the event's schedule.

The Rip Curl Pro Bells Beach will be broadcast LIVE on WorldSurfLeague.com

and Facebook.com/WSL

Also check local listings for coverage from the WSL's broadcast partners.
Rip Curl Pro Bells Beach Men's Remaining Round 1 (H10-12) Results:
Heat 10: Deivid Silva (BRA) 10.67 DEF. Michel Bourez (FRA) 10.60, Reef Heazlewood (AUS) 10.34
Heat 11: John John Florence (HAW) 13.00 DEF. Willian Cardoso (BRA) 7.67, Jesse Mendes (BRA) 7.53
Heat 12: Peterson Crisanto (BRA) 10.87 DEF. Kanoa Igarashi (JPN) 10.46, Mikey Wright (AUS) 9.33Rip Curl Pro Bells Beach Men's Round 2 Results: 
Heat 1: Owen Wright (AUS) 11.30 DEF. Jack Freestone (AUS) 10.80, Harrison Mann (AUS) 8.37
Heat 2: Soli Bailey (AUS) 13.03 DEF. Wade Carmichael (AUS) 11.74, Xavier Huxtable (AUS) 11.40
Heat 3: Reef Heazlewood (AUS) 12.67 DEF. Mikey Wright (AUS) 11.50, Jesse Mendes (BRA) 11.46
Heat 4: Michael Rodrigues (BRA) 12.83 DEF. Caio Ibelli (BRA) 11.07, Joan Duru (FRA) 7.64Rip Curl Pro Bells Beach Men's Round 3 Matchups: 
Heat 1: Julian Wilson (AUS) vs. Kelly Slater (USA)
Heat 2: Peterson Crisanto (BRA) vs. Michael Rodrigues (BRA)
Heat 3: Conner Coffin (USA) vs. Soli Bailey (AUS)
Heat 4: Michel Bourez (FRA) vs. Ryan Callinan (AUS)
Heat 5: Filipe Toledo (BRA) vs. Caio Ibelli (BRA)
Heat 6: Mikey Wright (AUS) vs. Seth Moniz (HAW)
Heat 7: Kolohe Andino (USA) vs. Jacob Willcox (AUS)
Heat 8: Wade Carmichael (AUS) vs. Deivid Silva (BRA)
Heat 9: Gabriel Medina (BRA) vs. Reef Heazlewood (AUS)
Heat 10: Willian Cardoso (BRA) vs. Yago Dora (BRA)
Heat 11: Owen Wright (AUS) vs. Ricardo Christie (NZL)
Heat 12: John John Florence (HAW) vs. Jadson Andre (BRA)
Heat 13: Italo Ferreira (BRA) vs. Jack Freestone (AUS)
Heat 14: Ezekiel Lau (HAW) vs. Jeremy Flores (FRA)
Heat 15: Kanoa Igarashi (JPN) vs. Adrian Buchan (AUS)
Heat 16: Jordy Smith (ZAF) vs. Leonardo Fioravanti (ITA)Rip Curl Pro Bells Beach Women's Round 1 Results: 
Heat 1: Nikki Van Dijk (AUS) 12.66 DEF. Lakey Peterson (USA) 11.84, Paige Hareb (NZL) 7.40
Heat 2: Coco Ho (HAW) 13.86 DEF. Carissa Moore (HAW) 10.60, Keely Andrew (AUS) 10.16
Heat 3: Stephanie Gilmore (AUS) 15.50 DEF. Kobie Enright (AUS) 11.77, Bronte Macaulay (AUS) 10.33
Heat 4: Brisa Hennessy (CRI) 13.90 DEF. Caroline Marks (USA) 12.74, Courtney Conlogue (USA) 9.27
Heat 5: Tatiana Weston-Webb (BRA) 14.00 DEF. Macy Callaghan (AUS) 12.10, Malia Manuel (HAW) 8.57
Heat 6: Johanne Defay (FRA) 14.50 DEF. Sally Fitzgibbons (AUS) 13.16, Sage Erickson (USA) 12.00Rip Curl Pro Bells Beach Women's Round 2 Results: 
Heat 1: Malia Manuel (HAW) 12.90 DEF. Sage Erickson (USA) 11.33, Keely Andrew (AUS) 6.90
Heat 2: Bronte Macaulay (AUS) 12.00 DEF. Courtney Conlogue (USA) 11.96, Paige Hareb (NZL) 8.00

Rip Curl Pro Bells Beach Women's Round 3 Matchups: 
Heat 1: Lakey Peterson (USA) vs. Sage Erickson (USA)
Heat 2: Johanne Defay (FRA) vs. Coco Ho (HAW)
Heat 3: Carissa Moore (HAW) vs. Macy Callaghan (AUS)
Heat 4: Nikki Van Dijk (AUS) vs. Courtney Conlogue (USA)
Heat 5: Stephanie Gilmore (AUS) vs. Kobie Enright (AUS)
Heat 6: Sally Fitzgibbons (AUS) vs. Malia Manuel (HAW)
Heat 7: Caroline Marks (USA) vs. Bronte Macaulay (AUS)
Heat 8: Tatiana Weston-Webb (BRA) vs. Brisa Hennessy (CRI)