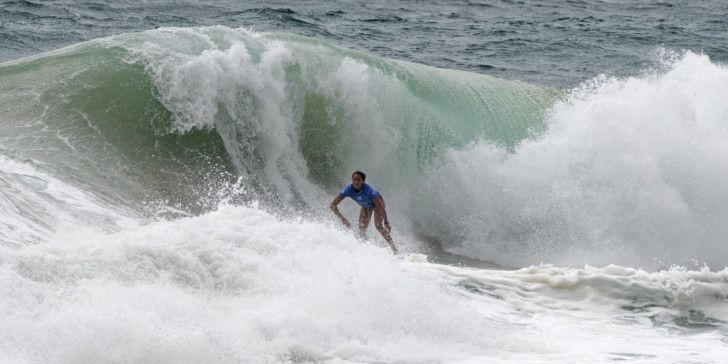 The 2017 WCT is 10 days away. Some of the best are warming up- QUARTERFINALISTS DECIDED AT MANLY
Julian Wilson on his way to the Quarterfinals at Manly for the 2017 Australian Open of Surfing.
Credit: © WSL /  Tom Bennett
Manly, Sydney NSW/AUS (Saturday, March 4, 2017) –  Conditions increased dramatically for the second last day of the Australian Open of Surfing as competitors fought tooth-and-nail in the stormy five-to-six foot swell in an attempt to earn themselves a spot in the coveted final rounds.
Reigning Women's World Champion Tyler Wright used her competitive prowess to positive effect in her Round 5 exchange against fellow Australian Dimity Stoyle. The treacherous conditions played into Wright's hands as she belted out a barrage of mammoth snaps and carves to post an impressive 16.44 heat total (out of a possible 20 points) and cement a spot into tomorrow's quarterfinals where she'll take on Novocastrian Philippa Anderson.
"That was good training," said Wright. "The whole lineup was a massive playing field so I had to change my strategy a little to maybe not catch as many waves and make the few that I get really count. You have to roll with it a little more when it's like this and let the waves come to you instead of hunting for them."

Current Women's World Champion Tyler Wright continued her dominating form in the Girls Make Your Move Women's Pro.
Credit: © WSL /  Tom Bennett
Malia Manuel's game-plan took a drastic turn as the swell increased rapidly. Armed with a quiver of step-up boards, Manuel waited for the final 15 seconds of the heat to claim the lead over West Australian Bronte Macaulay, taking off on a bomb set and smacking out one critical turn that earned her a 6.50 wave score and allowed her to edge in front of Macaulay by a 1.13 margin.
"I'm so relieved to get through that," said Manuel. "I woke up this morning and watched a lot of the guys heats and was blown away when I saw that it was way over-head and decided to change my equipment to suit the conditions. If I could go back I would definitely like to get the lead with a bit more than 15 seconds to go, but I'm still so stoked to pull it off."

Malia Manuel on a Manly dredge machine.
Credit: © WSL /  Tom Bennett
Coming off a career worst eighth position on the World Surf League Championship Tour in 2016, Sally Fitzgibbons thrived in the tricky lineup disposing of event standout Claire Bevilacqua. The multiple World Title runner-up unleashed an eclectic mix of giant snaps to notch up a 16.16 heat total and book a spot to meet Manuel in the quarters tomorrow.
"Those sort of rogue conditions were such a challenge and that's what I love about competitive surfing," said Fitzgibbons. "It doesn't matter if it's really small or solid like this, I've always found these QS events to be really competitive. I knew Claire would come out firing, but the solid swell meant we didn't have to use tactics too much in the heat."

Sally Fitzgibbons looked comfortable in the large unruly conditions on offer at Manly.
Credit: © WSL / Tom Bennett
A solid strategy and tactical nous played a vital role in Julian Wilson's victory over Dion Atkinson in the fifth round. Armed with the knowledge that the catching right-handers would result on a long, arduous paddle, Wilson opted to trial the lefts first in order to put some scores on the board. Wilson opened his account with an excellent 8.50 wave score, before backing it up with an 8.93. As the 2014 Australian Open of Surfing runner-up, Wilson is eager to go one step further this year and gain momentum going into the forthcoming Quiksilver Pro Gold Coast.
"I knew that Dion was definitely going to be one of the toughest competitors in these conditions, so I knew it was going to be tough," said Wilson. "I could see there were good waves out there, but it was really hard to find them. I knew if I went right then I'd have to do a run-around, so my tactic was to go left and use my backhand. I've come second in this event before, so I'd definitely like to go one better this year."
Marco Fernandez followed a similar game-plan to Wilson in his round five heat, only catching three waves, but making each one count. Fernandez pocketed two 7.83 wave scores to gain the upper hand against Costa Rican native Noe Mar McGonagle. With only two minutes on the clock and needing a 5.83, Fernandez nailed a series of critical manoeuvres to post the second of the aforementioned 7.83 wave scores and took the win ahead of McGonagle.
"That was exhausting. I'm so tired right now as there's a massive current out there," said Fernandez. "I'm really looking forward to taking on Julian tomorrow, he's one of my favourite surfers, so it's awesome to be able to share a heat with him."

Marco Fernandez booking himself a spot in the Quarterfinals at Manly.
Credit: © WSL /  Tom Bennett