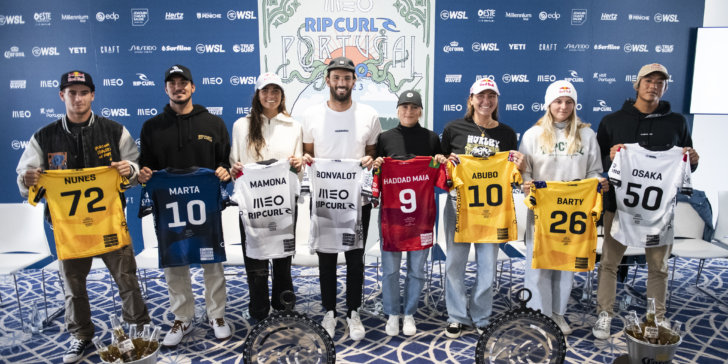 The waiting period opened March 8, and holds a competition window through March 16
10 Hours ahead of Hawaii
Portugal to Break Tie Between Current Ranking Leaders Moore and Picklum
Robinson Attempts to Hold on to No. 1 Position for Third-consecutive Event
Colapinto and Weston-Webb Eager to Defend Event Titles
World's Best Surfers Celebrate International Women's Day By Honoring Women in Sport on Jerseys at MEO Rip Curl Pro Portugal
Pictured: [From L to R]: Jack Robinson (AUS), Gabriel Medina (BRA), Teresa Bonvalot (POR), Frederico Morias (POR), Tatiana Weston-Webb (BRA), Carissa Moore (HAW), Molly Picklum (AUS), and Kanoa Igarashi (JPN) receive their special jerseys in celebration of International Women's Day at the MEO Rip Curl Pro Portugal press conference. Credit: © WSL /  Diz
PRAIA DE SUPERTUBOS, Peniche, Portugal (Tuesday, March 7, 2023) – The world's best surfers are ready to take on the hollow beach break of Supertubos in Peniche, Portugal, at Stop No. 3 on the World Surf League (WSL) 2023 Championship Tour (CT), the MEO Rip Curl Pro Portugal Presented by Corona.
The waiting period opens tomorrow, March 8, and holds a competition window through March 16, 2023. The WSL Tours and Competition team will determine the best possible days to run during the waiting period.
With plenty of swell on the way, the world's best surfers are preparing for what could be pumping Supertubos. The heavy, cold-water beach break is fickle, but on its day, it can compare to the Banzai Pipeline or Puerto Escondido. Surfers must display barrel-riding and high-performance skills to perform well at this venue. The pressure will be high, as this is one of only three more events before the Mid-season Cut.  
Pictured: Carissa Moore (HAW) enters the MEO Rip Curl Pro Portugal tied for No. 1 with Molly Picklum (AUS). Credit: © WSL /  Poullenot
Portugal to Break Tie Between Current Rankings Leaders Moore and Picklum 
Five-time World Champion Carissa Moore (HAW) and Tour newcomer Molly Picklum (AUS) are currently tied for the top position on the world rankings after their respective wins at Pipeline and Sunset Beach. Their performance at Supertubos will decide if one will keep the coveted yellow Leader jersey or if it will fall into the hands of one of their competitors. Moore will be the one to beat, having won her second World Title in Portugal in 2013 and earned a third-place finish here last year.
"I'm just excited to be back," said Moore. "I really love this place. Portugal has such a good place in my heart, I won one of my World Titles here, and I like surfing Supertubos. Hopefully, it's a great event, and we get good waves."
Moore may have more experience, but Picklum is a dangerous competitor in waves of consequence and is excited to capitalize on her momentum.
"Portugal is such a pretty place in the world, and to be potentially betting barrelled is really cool," said Picklum. "From what I've experienced, it seems super powerful and so humbling. I feel like most places on tour are pretty humbling, and Portugal fits right in that description."
Pictured: Current World No. 1, Jack Robinson (AUS), will represent UFC Champion Amanda Nunes on his jersey in celebration of International Women's Day. Credit: © WSL /  Diz
Robinson Attempts to Hold on to No. 1 Position for Third Consecutive Event
Jack Robinson (AUS) has maintained the top spot on the rankings this season with a win at Pipeline and a third-place finish at Sunset Beach. He had his worst result at Portugal last season, but he enters this year's event with newfound momentum and confidence.
"I'm just really happy to be back," said Robinson. "I'm super grateful for the position I'm in. I love this wave, so it's another opportunity to go big again. I like the place and the food here, and I know I'm back in Peniche cause I can smell the fish. The power of the waves here is very similar to where I'm from, so I enjoy it, and I feel at home in them."
Colapinto and Weston-Webb Eager to Defend their Titles
Defending event winners Griffin Colapinto (USA) and Tatiana Weston-Webb (BRA) are again hoping for success here at Supertubos. Colapinto comes to the event ranked sixth and full of confidence after a big runner-up finish at Stop No. 2, Sunset Beach. Colopinto narrowly missed clinching a spot in the Final 5 last year but is determined to be in contention for his first World Title this season
"I love Portugal. I won here last year, so I'm just going to try to channel what I did last year," said Colapinto. "I feel like I found myself recently, figuring out what works for me all the time. It feels good coming to Portugal after making a Final heat to start the year. I believe I belong there at the top. I'm going to keep taking it one event at a time and enjoy it."
Final 5 competitor and tour veteran Weston-Webb is currently sitting dangerously close to the Mid-season Cut line. She will be pressured to find her winning form from last season to move herself up the rankings.
"The objective is to win here," said Weston-Webb. "I want to get into the groove. I feel at home here in Peniche; I love this place. I didn't start the year so well, but I believe in my surfing. This event is going to be amazing either way."
WSL Celebrates International Women's Day By Honoring Women in Sport at MEO Rip Curl Pro Portugal 
On March 8th, WSL will launch its annual International Women's Day campaign with the goal of honoring female athletes, inspiring future generations, and bringing attention to the ongoing mission for equality in sport.
Throughout the competition, every WSL Championship Tour surfer will compete wearing the jersey of a woman in sport who inspires them. Every CT competitor has personally selected a woman to celebrate, ranging from athletes they have a personal relationship with to icons who have broken down barriers and paved the way globally.
Two-time World Champion John John Florence (HAW) chose to honor his mom, Alex Florence, as she is a surfer and skater herself and has played a large role in his pursuing his passion for surfing. Tour veteran Lakey Peterson (USA) selected Venus and Serena Williams as her honorees because of her love for tennis and the barriers they have broken on the court. Five-time World Champion Carissa Moore (HAW) will honor surfer Megan Abubo as she has been a role model and mentor for her.
"I chose my mom just because she has been a huge inspiration for my brothers and I, and she is an amazing surfer," said Florence. "She still goes out and surfs Pipe today. There are a lot of sessions when I wouldn't have gone out there if she hadn't paddled out first, so thanks mom!"
"I have always been a really big fan of tennis and both Venus and Serena Williams are huge inspirations for me," said Peterson. "I didn't want to choose between the both of them, so I chose just WILLIAMS to be on the back of my jersey in wanting to represent both Venus and Serena. I think they are two women who have busted down the doors of women's sporting areas, and proven what can be done as females on the court. They are great representations off the court too. I am honestly just a massive fan of the Williams sisters, grew up watching them on tv, and I grew up playing tennis, so that is who I decided to represent on my jersey this year for International Women's Day."
"Megan Abubo is someone I have looked up to since I was a little girl," said Moore. "She's a hero of mine because of how real and down to earth she is. She took the time for me when I was young. I felt like that interaction really changed the trajectory of my career and path in life. She was so tangible, from our island. She got on the World Tour and chased her dreams and surfed big waves, and I was like wow I want to be just like her. She still shows me that same kindness and has really mentored me with her wisdom and knowledge. We've gotten to reconnect over Moore Aloha, my charitable foundation. She's doing our first mentorship program with five girls. It's going really well and it's great to see her in her element."
For more information, please visit WorldSurfLeague.com.
MEO Rip Curl Pro Portugal Women's Opening Round Matchups:
Heat 1: Tyler Wright (AUS), Bettylou Sakura Johnson (HAW), Teresa Bonvalot (POR)
Heat 2: Stephanie Gilmore (AUS), Caitlin Simmers (USA), Sophie McCulloch (AUS)
Heat 3: Carissa Moore (HAW), Isabella Nichols (AUS), Yolanda Hopkins (POR)
Heat 4: Molly Picklum (AUS), Caroline Marks (USA), Sally Fitzgibbons (AUS)
Heat 5: Brisa Hennessy (CRC), Lakey Peterson (USA), Courtney Conlogue (USA)
Heat 6: Tatiana Weston-Webb (BRA), Gabriela Bryan (HAW), Macy Callaghan (AUS)MEO Rip Curl Pro Portugal Men's Opening Round Matchups:
Heat 1: Ethan Ewing (AUS), Kelly Slater (USA), Carlos Munoz (CRC)
Heat 2: Griffin Colapinto (USA), Samuel Pupo (BRA), Maxime Huscenot (FRA)
Heat 3: Italo Ferreira (BRA), Connor O'Leary (AUS), Ezekiel Lau (HAW)
Heat 4: Caio Ibelli (BRA), Liam O'Brien (AUS), Joan Duru (FRA)
Heat 5: Jack Robinson (AUS), Barron Mamiya (HAW), Frederico Morias (POR)
Heat 6: Filipe Toledo (BRA), Ryan Callinan (AUS), Tiago Carrique (FRA)
Heat 7: Miguel Pupo (BRA), Seth Moniz (HAW), Michael Rodrigues (BRA)
Heat 8: Kanoa Igarashi (JPN), Yago Dora (BRA), Jackson Baker (AUS)
Heat 9: John John Florence (HAW), Matthew McGillivray (RSA), Kolohe Andino (USA)
Heat 10: Joao Chianca (BRA), Nat Young (USA), Ian Gentil (HAW)
Heat 11: Leonardo Fioravanti (ITA), Callum Robson (AUS), Jake Marshall (USA)
Heat 12: Gabriel Medina (BRA), Jordy Smith (RSA), Rio Waida (INA)For more information, please visit WorldSurfLeague.com.
Watch LIVE
The MEO Rip Curl Pro Portugal Presented by Corona holds a competition window from Wednesday, March 8, through Thursday, March 16, 2023. Once called ON, the competition will be broadcast LIVE on WorldSurfLeague.com, the WSL's YouTube channel, and the free WSL app. Check out more ways to watch from the WSL's broadcast partners. For fans watching in Brazil, coverage of the competition's Quarterfinals and beyond will continue exclusively on WorldSurfLeague.com and SporTV.
The MEO Rip Curl Pro Portugal Presented by Corona is proudly supported by MEO, Rip Curl, Corona, YETI, Shiseido, Red Bull, Craft 1861, True Surf, Portugal Tourism, EDP, Millennium Bank, and Hertz.
For more information, please visit WorldSurfLeague.com.
About the WSL
The World Surf League (WSL) is the global home of competitive surfing, crowning the undisputed World Champions since 1976 and showcasing the world's best surfers on the world's best waves. WSL is comprised of the Tours and Competition division, which oversees and operates more than 180 global competitions each year; WSL WaveCo, home of the world's largest high-performance, human-made wave; and WSL Studios, an independent producer of unscripted and scripted projects.
For more information, please visit WorldSurfLeague.com.