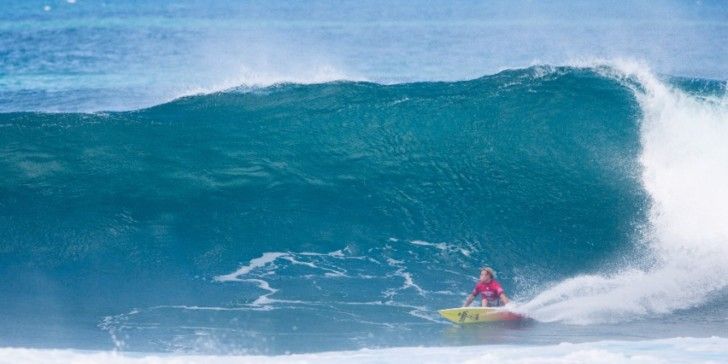 Surf is declining from a mix of WNW-NNW up to 3-4′ @ 14 seconds; we have morning sickness along with brisk ENE trades. Expect high performance possibilities all day! Welcome to the Vans Triple Crown. SNN.
Full wrap up coming….
John John Florence (HAW) – Current World Champion, Florence now turns his attention to the Vans Triple Crown, where he hopes to secure the win in his backyard at the Billabong Pipe Masters. Breezing through his Round 3 heat against Sebastian Zietz (HAW), Dion Atkinson (AUS) and Torrey Meister (HAW), Florence posted an 8.43 on his opening ride to maintain the heat lead.
Keanu Asing (HAW) – Asing sits No. 23 on the Jeep Leader Board after his first CT win in France, and is working to solidify his spot on the 2017 Tour here in Hawaii at the Vans Triple Crown. Today's heat win put him in a good mindset moving into the Finals day and the Oahu athlete looked on point and inform in the head high surf today.
Kelly Slater – The 11x World Champion hasn't surfed in the Hawaiian Pro since 2012, but came to Haleiwa after being inspired by last year's competition. Slater is also focused on a win at the Billabong Pipe Masters, and began his Vans Triple Crown campaign with a solid 9.00 ride and a combined heat total of 15.50 against Samuel Pupo (BRA), Ian Gouveia (BRA) and Deivid Silva (BRA).
Sebastian Zietz (HAW) – Zietz is one slot below Slater on the Jeep Leader Board, sitting in the No. 11 spot for a likely chance at qualifying for the 2017 CT. As a previous Vans Triple Crown champion and Hawaiian Pro winner in 2012, Zietz is on his way to securing another win in Hawaiian waters.
 Contestable surf continues to push through the Haleiwa lineup. Image: WSL / Cestari
| | |
| --- | --- |
| Location:    |      Haleiwa Ali'i Beach, North Shore, Oahu                                                 |
| Window: |      November 12 – 23   |
| Today's Call: |      Round Three to complete  |
| Conditions: |      4-6ft. NW swell |
HALEIWA, Oahu/Hawaii – (Tuesday, November 15, 2016) — The highly anticipated Round Three of the Hawaiian Pro, a World Surf League (WSL) Qualifying Series (QS) 10,000 event, has been called ON this morning at Haleiwa Ali'i Beach with an 8am HST start. 4-6ft. NW swell is on hand with ENE offshore winds."The waves have dropped substantially since yesterday but there are still some really fun sets on hand in the 4-6ft. range," said Deputy Commissioner Travis Logie. "Today looks by far one of the best days we have left in the waiting period so we're going to go for sure. Looks like it should be really rippable, high performance Haleiwa today."
First in the water this morning is Round Three Heat 2 featuring Kanoa Igarashi (USA), Jeremy Flores (FRA), Marc Lacomare (FRA) and David do Carmo (BRA). Other top seeds competing today include Kelly Slater (USA), John John Florence (HAW), Jordy Smith (ZAF), Matt Wilkinson (AUS) and Ezekiel Lau (HAW).
Both a regional and international video news feed will circulate around 2pm HST and an official press release and image gallery will be distributed after the competition ends for the day.
Round 3
HT1
6.2
Recent news….
BIG MONDAY: SOLID 8-10+' WNW-NNW MIX FOR DAY 2 OF HAWAIIAN PRO
Cover:Tanner Gudauskas (USA) on rail and ripping. Image: WSL / Freesurf / Heff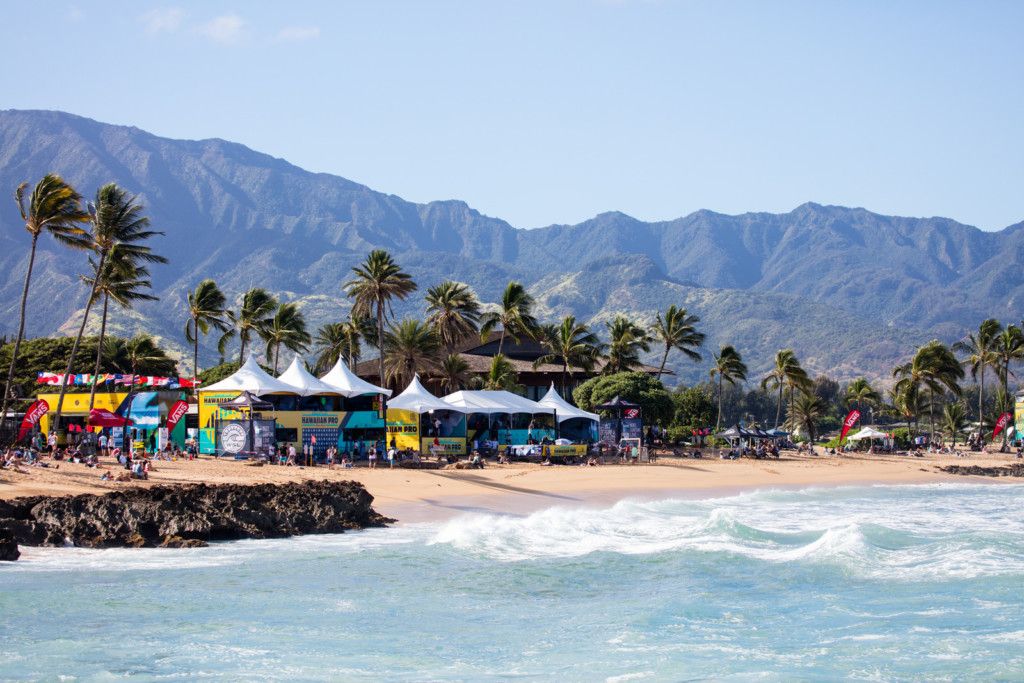 Ali'i Beach Park hosts the Hawaiian Pro and perfect weather:Heff
 Plenty of fun on fading NW swell on tap for Tuesday, Day3. Next 10′ NW swell is Friday for epic finals day! Stay tuned here and call 596-SURF. SNN.
| | |
| --- | --- |
| Event:    |     Hawaiian Pro, Men's QS10,000                                               |
| Location: |     Haleiwa Ali'i Beach, North Shore, Oahu     |
| Event Window: |     November 12 – 23 |
HALEIWA, Oahu/Hawaii – (Monday, November 14, 2016) — Twenty-foot wave faces provided a dramatic canvas for Day 2 of the Hawaiian Pro at Haleiwa Ali'i Beach today, and some of the largest conditions in the history of this event. With no shortage of action, the competition featured high performance surfing and a handful of excellent scores for the World Surf League (WSL) Qualifying Series (QS) 10,000 event. Solid surf is expected again tomorrow when the event's top seeds enter the fray, including World Champion elect John John Florence (HAW) and 11x World Champ Kelly Slater (USA).
The first stop of the Vans Triple Crown, the Hawaiian Pro field has been whittled down by half, with just 64 surfers now remaining as competitors prepare for Round 3. Key advancements included the likes of Evan Geiselman (USA), Mihimana Braye (PYF)and Brett Simpson (USA).
Braye set the standard this morning in the opening heat and despite his experience in heavy waves at home in Tahiti, conditions proved extremely powerful.
"It's really hard, I've never surfed Haleiwa like this before, this big," said Braye. "It was hard, I went out with a 6'4, maybe too small, then I brought out my 6'8 and it felt really good. The waves are big out there, really big, and when the sets come you don't want to be where it breaks."
In contention for Rookie of the Year, Braye was reassured with another day of competition after advancing from Round Two ahead of Brazil's Deivid Silva.
Veteran CT surfer Nathan Hedge (AUS) commented that he has been coming to Hawaii for 20 years and has only surfed conditions like this twice at Haleiwa. Experience at the temperamental wave is crucial, however on big days it can be outweighed by athleticism and brute power.
Cascais local Frederico Morais (PRT) had the highest score of the event, a 9.77 on his first wave of the heat. The athlete produced three major maneuvers on the set wave, stamped it with a claim at the end, then backed it up with an 8.10 for the heat win.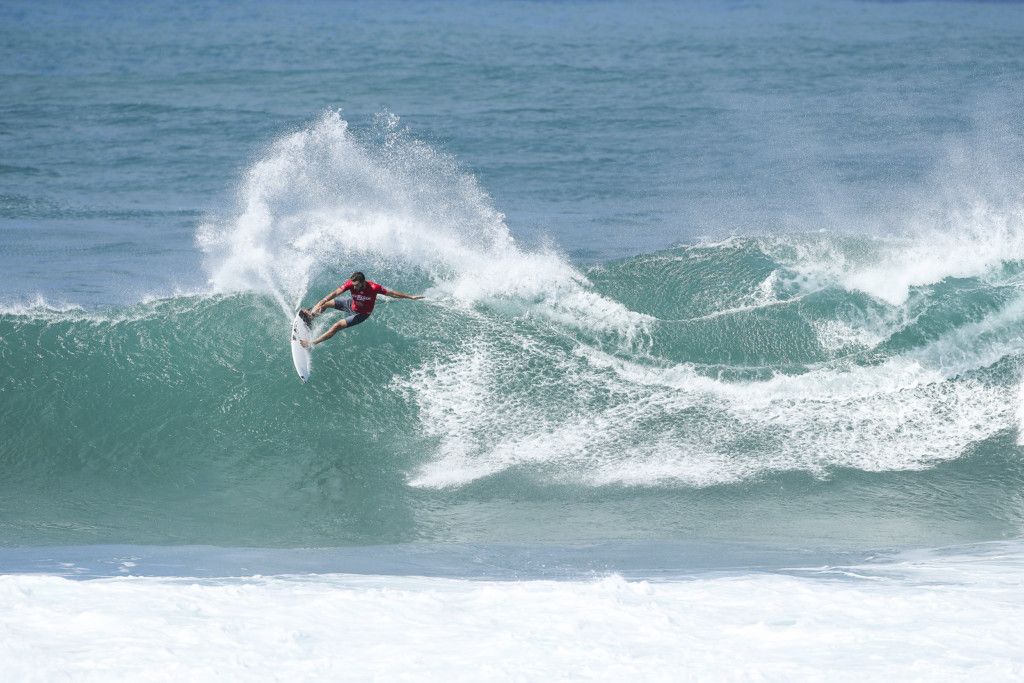 Morais_Photo: cestari
The second highest heat score of the day went to Big Island's Torrey Meister, a 9.50 for a critical drop and controlled backhand carves in the double overhead surf. Meister, a notorious dark horse on the North Shore, advanced in second after Hiroto Ohhara (JPN) dropped a 7.17 in the dying seconds of the heat to move to first with a combined heat score of 15.50. He is now one of only five Hawaii locals still in contention.
"I'm really happy they waited for this swell," said Meister. "It's kind of like playing cat and mouse with the huge sets and the current and the waves, and trying to get those medium waves that are really deep and have the right direction."
Meister sits 47th on the International Qualifying Series (QS), which means his dream of joining the elite 34 on the Championship Tour (CT) is within reach. A Final finish at the Hawaiian Pro would see Torrey move into the Vans World Cup as a serious contender.
"That would be the best thing ever that could happen, but it's really far out so I'm just going to surf it heat by heat," said Meister in regards to qualifying for the 2017 CT.
Vans team rider Tanner Gudauskas (USA) was a standout performer in the extra large surf and eager to compete in Hawaii for the first time this season.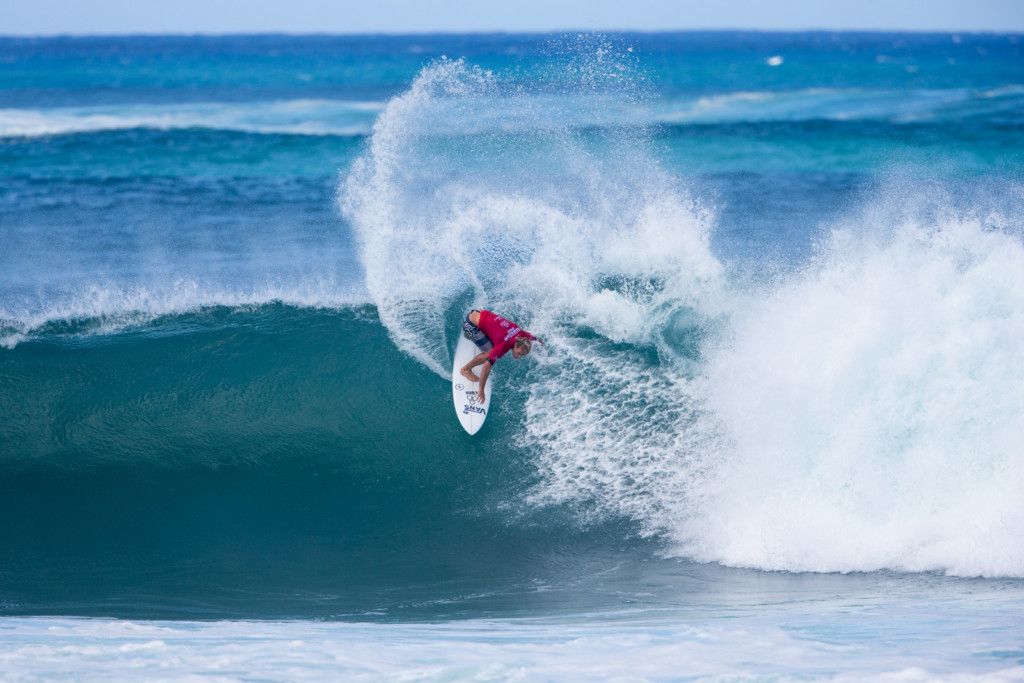 Tanner Gudauskas: Photo Heff
"I was really excited to surf in these conditions," said Gudauskas. "It's fun being given the opportunity to be challenged, not just by the lineups or the conditions, it's also the size of the waves. For us on the QS, I think we relish having days like this because it's always pretty small."
Surfline forecasts the swell to trend down tomorrow, but with waves still reaching 12+ft. heights, it is likely the competition will resume at 8am HST. Contest organizers will reconvene in the morning to assess conditions and determine a call.
The WSL Men's QS10,000 Hawaiian Pro is scheduled from November 12 – 23, 2016 and runs in conjunction with the Vans Triple Crown of Surfing specialty series along the North Shore of Oahu. For all results, photos, video highlights, press releases and LIVE webcast, log on to worldsurfleague.com or the WSL mobile app.
RESULTS
Surfers shown 1st through 4th, all athletes from Hawaii unless otherwise noted.
ROUND of 64, 1st and 2nd advance
3th=33rd, 4th=49th place
H1: Gony Zubizarreta (ESP), Mitch Crews (AUS), Adriano De Souza (BRA), Bino Lopes (BRA)
ROUND OF 96, 1st and 2nd advance, 3rd=65th place, 4th=81st place
H3: Mihimana Braye (PYF), Deivid Silva (BRA), Charles Martin (GLP), Granger Larsen
H4: Samuel Pupo (BRA), Yago Dora (BRA), Timothee Bisso (GLP), Krystian Kymerson (BRA)
H5: Ramzi Boukhiam (MAR), Hizunome Bettero (BRA), Ricardo Christie (NZL), Lucas Silveira (BRA)
H6: Robson Santos (BRA), Tomas Hermes (BRA), Finn McGill, Willian Cardoso (BRA)
H7: Hiroto Ohhara (JPN), Torrey Meister, Soli Bailey (AUS), Heitor Alves (BRA)
H8: Dion Atkinson (AUS), Hiroto Arai (JPN), Keoni Yan, Billy Stairmand (NZL)
H9: Griffin Colapinto (USA), Mitch Coleborn (AUS), Marco Fernandez (BRA), Dimitri Ouvre (BLM)
H10: Vasco Ribeiro (PRT), Tanner Gudauskas (USA), O'Neill Massin (PYF), Carlos Munoz (CRI)
H11: Ian Crane (USA), Evan Geiselman (USA), Joshua Moniz, Michael Dunphy (USA)
H12: Frederico Morais (PRT), Brett Simpson (USA), Marco Giorgi (URY), Noe Mar McGonagle (CRI)
H13: Shun Murakami (JPN), Cooper Chapman (AUS), Santiago Muniz (ARG), Taumata Puhetini (PYF)
H14: Aritz Aranburu (ESP), Jesse Mendes (BRA), Eli Olson, Tanner Hendrickson
H15: Victor Bernardo (BRA), Diego Mignot (FRA), Seth Moniz, Maxime Huscenot (FRA)
H16: Nathan Hedge (AUS), Patrick Gudauskas (USA), Michael February (ZAF), Tom Whitaker (AUS)