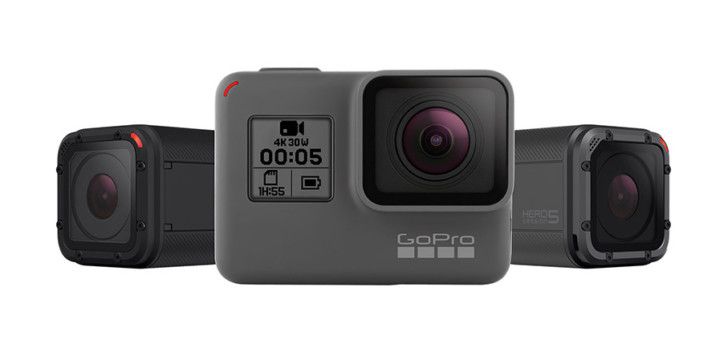 Able to auto-upload photos and video to GoPro cloud accounts and more…
Surf News Network, 6 October, 2016 – San Mateo – GoPro, Inc unveiled new products and services recently, the highlight of which was the GoPro Hero 5 camera. The new camera has a whole slew of features including voice command, 4K at 30 frames per second, slim waterproof housing and heaps more.
The cameras have the ability to auto-upload photos and videos to GoPro Plus account which is a cloud-based subscription service to access, edit and share GoPro content using a phone or computer.
GoPro's founder and CEO, Nicholas Woodman, introduced this new line of Hero 5 cameras recently at a special event.
"With these new products, we're delivering on our promise to make it easy to capture and share engaging stories," said Woodman. "HERO5's ability to auto-upload photos and videos to a GoPro Plus account dramatically simplifies mobile, on-the-go editing, sharing and enjoyment. This is a game-changing experience that we will continue to build upon."
Details on the Hero 5 Black $399.99.
2-inch Touch Display + Simplified Controls
Video Resolutions up to 4K at 30 Frames per Second
Professional Quality 12MP Photos
Auto-Upload of Photos and Video to Cloud when Camera is Charging*
Voice Control with Support for 7 Languages (additional languages coming)
Simple 1-Button Control
Waterproof Without a Housing to 33 Feet (10m)
Compatible with Existing GoPro Mounts, Including Karma
Stereo Audio Recording and Advanced Wind Noise Reduction
Professional-Grade Electronic Video Stabilization
Distortion-Free Wide Angle Video and Photos with New Linear-View Setting
RAW and WDR Photo Modes
GPS
GoPro Hero 5 Test
XTreme Video took the new GoPro Hero 5 to the local skatepark with talented young skater Aurelien Giraud to do a quick flash test. Check the video below.
Here is the 5 main changes tested:
– 4K Video (GoPro 4 2k VS GoPro Hero 5 4k) rescaled to 1080p.
– Zoom in 400%
– Voice Control: "GoPro Take Photo"
– SlowMotion (720p in 240 FPS)
– TouchScreen
– Photo + Video Mode