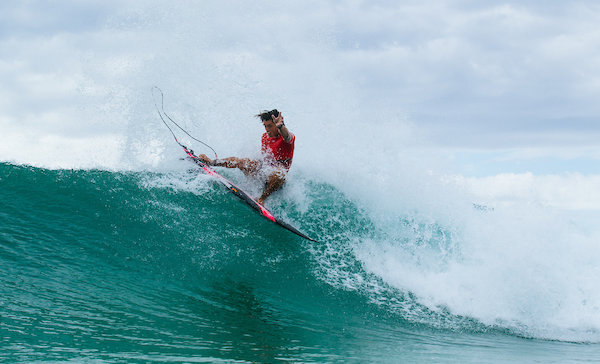 …pres. By Rip Curl
Huge Day of Competition Sees 18 Heats of the Round of 96 Run
Current and Ex-CT Surfers Stand Out at Snapper Rocks
Future Surfing Stars Shine on the Gold Coast
Front Page Image: Imaikalani DeVault
Andrew Shield/WSL
Pictured: New Zealand's Te Kehukehu Butler was in epic form on the opening day of competition at the Boost Mobile Gold Coast Pro pres. by Rip Curl. Credit: © WSL / Dunbar
COOLANGATTA, QLD / Australia (Saturday, May 7, 2022) – The Boost Mobile Gold Coast Pro presented by Rip Curl, stop one of the 2022 World Surf League Challenger Series (CS), has kicked off today in perfect waves at Snapper Rocks. Competitors in the opening 18 heats of the Round of 96 were treated to super clean waves in the two-to-three foot range as Snapper reminded the world that it's one of the best points on the planet.
Cut CT Surfers Find Redemption in Opening Round at Snapper 
Less than a week after the implementation of the Mid-season Cut saw a number of competitors lose their spot on the Championship Tour, the majority are back in a jersey here at Snapper Rocks, looking to requalify for the elite level through the Challenger Series. Imaikalani Devault (HAW), Conner Coffin (USA), Morgan Ciblic (AUS), Lucca Mesinas (PER) and Owen Wright (AUS) all seemed to shake off the disappointment of being cut with solid heat wins here at Snapper Today. 
Devault and Cibilic were on fire, both dominating their heats with excellent single wave scores with each competitor displaying their frontside power and finesse. As for Coffin and Wright, two competitors no one expected to see off tour, they both dug into the year's of experience they've had at Snapper Rocks to claim wins as Wright hopes to relive the success he's had at the location with another win to start off his CS season. 
"I feel like I'm surfing really well at the moment," said Wright. "'I've had some unlucky heats and I've also made some bad decisions in heats recently so I'm looking to turn that around and improve my results across the board. The waves are great and this is a good place to get this series going. The last week has been a real rollercoaster so I'm glad to get a good start."
A couple of surfers that recently missed the Cut on the CT and were unable to find a result here at Snapper Rocks included Portugal's Frederico Morais (PRT) and Deivid Silva (BRA) who unfortunately were unable to find the scores they were after to progress.
Pictured: Owen Wright (AUS) found redemption with a solid heat win today at the Boost Mobile Gold Coast Pro pres. by Rip Curl. Credit: © WSL / Shield
Surfing's Future Stars Shine in Point Break Perfection 
The third heat of the day saw an incredible matchup between two of surfing's most exciting up and comers in Brazilian Mateus Herdy and Indonesian Olympian Rio Waida. The pair went blow for blow in the perfect low tide conditions with Waida getting the edge and winning the heat with a two-wave combination of 15.74 while Herdy progressed in second position with an equally impressive display.
"I'm feeling confident here and in that heat I was focused on getting the right waves," said Waida. "I like these waves and I believe I can go a lot further with such good surf – It's an important event for me and I really want to do well. It's so good to be competing here in Australia with so many incredible competitors."
North Narrabeen local Jordy Lawler (AUS) was another one of surfing's most exciting up and comers who fired a warning shot across the bow of his fellow competitors today, posting the highest single wave score of the event so far. Lawlers 9.43 came from a combination of vertical, lightning quick backside hooks.
Other upstarts that turned heads on Day 1 of competition included Byron Bay's Kyuss King (AUS), Michael Rodrigues (BRA), Kiwi competitor Te KehuKehu Butler (NZL) as well as Californian Nolan Rapoza (USA).
CT Surfers Standout at Boost Mobile Gold Coast Pro 
Connor O'Leary (AUS), Callum Robson (AUS), Samuel Pupo (BRA), Jackson Baker (AUS) and Jadson Andre (BRA) are five Championship Tour surfers that competed today at Snapper Rocks with all three showing why they're amongst the top 20 surfers on the planet. While Robson and O'Leary took convincing wins in their heats it was Andre who was the standout of the day, posting the highest two-wave combination of the event so far with a 17.50.
"It's so good to be back here at Snapper Rocks," said Andre. "It was always one of my favorite places on tour and is such an incredible wave. There is a big Brazilian community on the Gold Coast so we always feel a lot of support here. It was good to get some really nice waves today and be able to surf the way I wanted to. It should be like this for a few days so I'm really excited."
A CT surfer who was a shock loss on Day 1 at Snapper was World No. 3 Jack Robinson (AUS) who is fresh off a win last week at the Margaret River Pro.
Queenslanders Step Up on Day 1 at Snapper Rocks 
With Sheldon Simkus as the only full time competitor on the Challenger Series representing the surfing stronghold of Queensland on the men's side, event wildcards Alister Reginato and Oscar Berry had to step up to fly the flag for the locals today at Snapper and that's exactly what they did with all three progressing through to the Round of 96 with impressive performances. Simkus, known as one of the best local surfers at Snapper, relished the opportunity to surf his home break with only three others out.
"I've grown up surfing this wave with a million people out here every day," Simkus said. "So today was a totally new experience for me and I hope I keep making heats and get to surf empty Snapper a few more times this week. I feel really fortunate to have grown up with a wave like this in my backyard and to have a Challenger Series event here now is so special."
Unfortunately, the highest seeded Queenslander Liam O'Brien was unable to progress through his opening round heat as he's only a few weeks past a leg injury that saw him pull out of the first half of his Rookie Season on the Championship Tour. The Burleigh Heads surfer will now shift his focus to the GWM Sydney Surf Pro.
Pictured: Trials winner Alister Reginato from Queensland's Sunshine Coast is making the most of his opportunities at the Boost Mobile Gold Coast Pro pres. by Rip Curl. Credit: © WSL / Dunbar
The 2022 Boost Mobile Gold Coast Pro presented by Rip Curl Challenger Series event will run at Snapper Rocks from May 7 – 14.
Challenger Series 2022 Explained 
The Challenger Series is the battleground where surfers compete to qualify for the elite Championship Tour (CT), surfing's most prestigious competition tier. Following the 2022 CS season, the Top 10 men and Top 6 women on the Challenger Series rankings will qualify for the 2023 Championship Tour season. Out of the eight Challenger Series competitions, only the top five results will count toward their end-of-year rankings.
Watch LIVE
All Challenger Series events will be broadcast LIVE on WorldSurfLeague.com, WSL's YouTube channel, and the free WSL app. Check local listings for coverage from the WSL's broadcast partners. For fans watching in Brazil, coverage of the competition's Quarterfinals and beyond will continue exclusively on WorldSurfLeague.com and SporTV.For more information, please visit WorldSurfLeague.com.