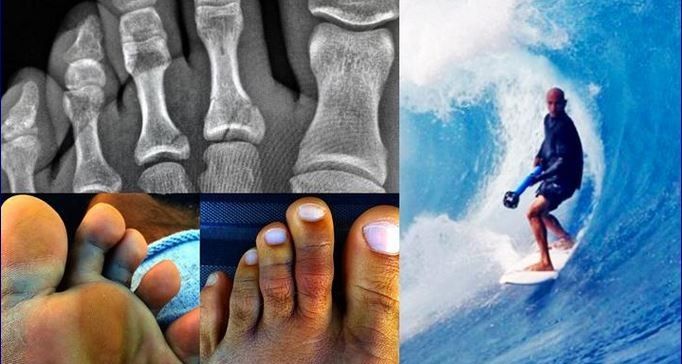 Slater's Official Injury Report
Nov 04, 2014
---
Kelly Slater (USA) confirmed Tuesday to the ASP that he broke a bone on the second and third toes of his left foot.
This came after the 11-time World Champion visited doctors in Orange County, Calif., to assess the condition of an injury he sustained a few days prior, while surfing Cloudbreak in Fiji. Slater's doctors estimate he'll be sidelined for approximately 3-to-4 weeks, but they anticipate he will be ready to chase another WCT Crown at the Pipe Masters.
#FootPrognosis…I broke my second and third toes and also sprained three or four toes on left foot surfing Cloudbreak a couple days ago. Three weeks or so of healing in a walking boot and a couple more weeks of some rehab but should be ready to go by the #PipeMasters waiting period. The foamball from the lip landing inside the barrel bounced back up and flipped the board into my foot, hyper-extending the toes backwards. My second toe was sitting kind of across my third one so I knew something was a little off. The worst thing about it was how good the surf was and having to watch from the sidelines afterwards. At least the boys scored a few before the wind went bad and swell backed off. The day before that I went over the falls and broke my fin off with my knee so I'm actually probably lucky to not have gotten hurt worse. Good time to reflect and cleanse the body after two weeks of bacon and barrels on @tavaruaislandresort! Thanks for all the messages from friends and strangers the last couple of days.