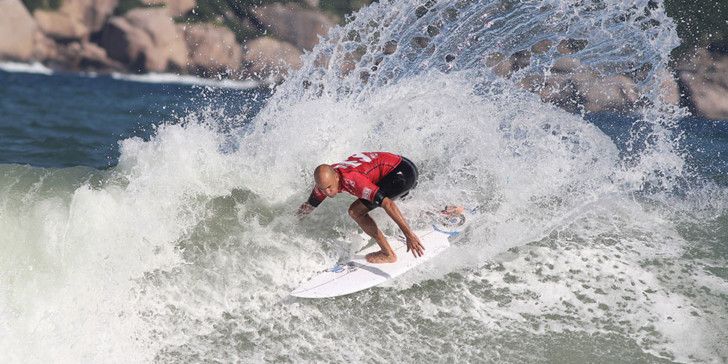 Kelly Slater has withdrawn from the Oi Rio Pro for "personal reasons," according to the latest statement from WSL South America. Joel Parkinson and Taj Burrow have also withdrawn, days after competing at Keramas in the Komune Bali Pro.
Slater believes Rio's dirty water made him sick last year, and scientists have compared Rio's water quality to that of raw sewage. This, among a host of other setbacks to the Brazil event this year, including the Zika virus and accounts of violent unrest from locals, could be a reason for Slater's withdrawal, even after the site was moved to nearby nature reserve Grumari Beach. 20-year-old Lucas Silveira will take Slater's place.
Earlier in the week, Joel Parkinson announced his withdrawal from Brazil in order to "mend a knee injury," though he surfed his way to the quarterfinals of the Komune
Bali Pro last week. Taj Burrow, who won the event, is also sitting Brazil out, as will Kai Otton.
Rio is 7 hours ahead of Hawaii. So if you wanna see it live you need to do a few all niters.  Grumari is the official spot. GO HERE
The newest heat draw, barring any more announcements before Tuesday's contest (or in case you've lost track), is as follows:
1st: Filipe Toledo (BRA), Kanoa Igarashi (US), Dusty Payne (HAW)
2nd: Gabriel Medina (BRA), Stu Kennedy (AUS), Leonardo Fioravanti (ITA)
3rd: Julian Wilson (AUS), Davey Cathels (AUS), Deivid Silva (BRA)
4th Italo Ferreira (BRA), Miguel Pupo (BRA), Bino Lopes (BRA)
5th: Matt Wilkinson (AUS), Jadson Andre (BRA), Marco Fernandez (BRA)
6th: Adriano De Souza (BRA), Keanu Asing (HAW), Lucas Silveira (BRA)
7th: Nat Young (USA), Michel Bourez (TAH), Alex Ribeiro (BRA)
8th: Jordy Smith (ZAF), Conner Coffin (USA), Jack Freestone (AUS)
9th: Jeremy Flores (FRA), Josh Kerr (AUS), Adam Melling (AUS)
10th: Kolohe Andino (USA), Wiggolly Dantas (BRA), Ryan Callinan (AUS)
11th: Sebastian Zietz (HAW), Adrian Buchan (AUS), Alejo Muniz (BRA)
12th: Caio Ibelli (BRA), John John Florence (HAW), Matt Banting (AUS)