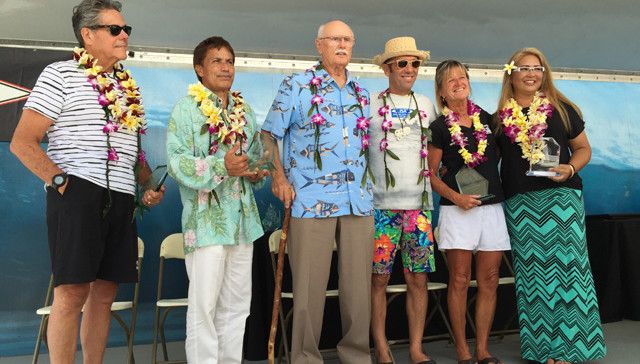 Strauch, Abellira, Mulanovich, Graham, Boozer and Nuuhiwa Sr. inducted 
 Surf News Network, 31 July, 2015. Huntington Beach – In the shadow of the US Open of Surfing, Surf City USA's Main Street was blocked off to honor the newest class of inductees to the Surfing Walk of Fame on Thursday morning.
Through a selection ballot, a host of respected surf industry veterans, former professionals and surf journalists narrowed down a field of hundreds of candidates to name the six 2015 Surfing Walk of Fame's honorees in their respective categories – Reno Abellira (Surf Champion), Paul Strauch (Surf Pioneer), Dick Graham (Surf Culture), Sofia Mulanovich (Women of the Year), John Boozer (Local Hero) and David Nuuhiwa Sr. (Honor Roll).
Emcee, former World Champion and past inductee Peter Townend welcomed the capacity crowd filled with previous Walk of Fame inductees, former Huntington mayors, a U.S. Senator (Janet Nguyen), surf industry notables and US Open surf fans.
"Its a beautiful day in Huntington Beach," Townend said, "to welcome our 22nd class of honored inductees."
Legendary Hawaiian surfer/shaper Reno Abellira garnered the Surf Champion title. His stellar competitive career was capped with a win at the 1974 Smirnoff Pro in 30-foot surf at Waimea Bay.
"There's a saying that 'life goes on…with or without you,'" Abellira smiled on stage. "There are good and bad moments and winning Waimea was one of the good ones. I'm just very honored to be included with this year's class and I can't say enough how much [fellow inductee] Paul Strauch meant to me as a teenage kid in Hawaii. I learned the message of sharing aloha to the world."
Strauch, an early Hawaiian standout and inventor of the "cheater five", followed Abellira on stage to accept his Surf Pioneer plaque, while the unspoken feeling of aloha swirling through the crowd. He shared many memories of his long-standing career, while crediting his inspiration to Duke Kahanamoku, George Downing, Tom Blake, the Waikiki Beach Boys as well as Honor Roll inductee David Nuuhiwa Sr.
"I was so lucky to have special people guiding me along the way when I was growing up," Strauch said. "I started surfing on a redwood plank that I couldn't carry to the water. But it was truly a miracle to have that experience in my life. Surfing is a spiritual connection with nature and riding waves gives you a sense of pride and accomplishment."
The Surf Culture honor went to Surfing Magazine founder Dick Graham, who along with photographer Leroy Grannis founded the waveriding legacy that has now reached 50 years in circulation.
"A lot of memories come forth from some of the faces in the crowd here," Graham admitted. "I see a lot of old friends including the 'fastest guy on a wave'." (A reference to his famous quip in Surfing Magazine about a young Reno Abellira.)
International Surfing Association President Fernando Aguerre accepted the Woman of the Year award on behalf of Sofia Mulanovich. The one and only Peruvian World Champion wasn't present at the ceremony because she was surfing in the Maldives at a specialty event honoring a host of past World Champions.
"Sofia is like a female George Washington for South American surfing," Aguerre stated. "She's inspired a lot of women to achieve their dreams not only in Peru but all over South America."
Also honored in this year's ceremony, former Huntington mainstay and Hole-in-the-Wall Gang member John Boozer was recognized as the Local Hero. And ambassador of aloha to the Southern California contest scene David Nuuhiwa Sr. earned the Honor Roll spot.
The Surfing Walk of Fame is the only tribunal in surfing to award specific categories as well as require a 10-year margin since the commemorating achievement. This year's recipients will be cemented alongside past inductees, earning their immortal place in the pavement on the corner of PCH and Main Street, directly across from the famous pier in Surf City USA — Huntington Beach, California.
Past recipients of the Surfing Walk of Fame honors include Duke Kahanamoku, Kelly Slater, Lisa Anderson, Tom Curren, Bruce Brown, Eddie Aikau and more.