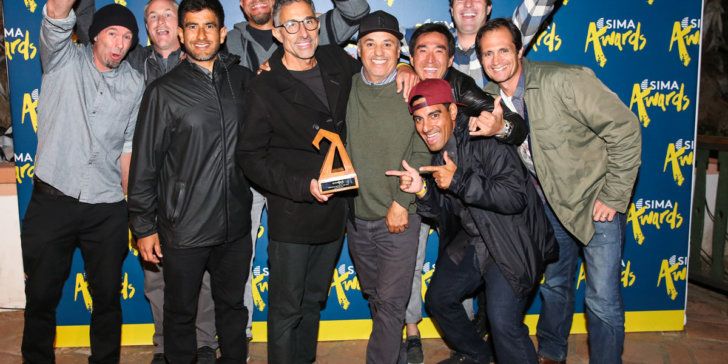 Firewire's Slater Designs wins Breakout Brand of the Year Award
© Renee Bones
 4th Annual SIMA Awards Given to Surf Industry's Best Brands & Products
Surf News Network, 31 March, 2017 – Last night more than 400 people gathered at the 14th annual SIMA Awards which were held in Silverado California to honor 75 nominees for their outstanding innovations and contributions to the surf industry.
"I'm so thrilled with the turnout at last night's event. It was incredible seeing everyone come together and celebrate the amazing brands and products that define our industry," said Johnny Gehris, SIMA Awards Chairman and President of Vestal. "The SIMA Awards is not just a celebration of the brands nominated, but also a celebration of all the people behind those nominated brands. Coming together under the stars last night was the perfect setting for this annual industry gathering."
The SIMA Awards nominees and winners were recognized throughout the lively ceremony, hosted by multi-media action sports personality, Greg "GT" Tomlinson and pro surfer, Rosy Hodge. The event moved to a new outdoor venue, Rancho Las Lomas, which provided an idyllic and intimate setting that was reminiscent of the SIMA Awards' beginnings in Cabo San Lucas during Surf Summit. The ceremony also served to honor specialty surf shops that have been in business for more than 50 years. Now in its third year, the 2017 SIMA Surf Shop Gold Wave Award was given to Wave Riding Vehicles of Virginia Beach, Calif. and Mitch's Surf Shop of La Jolla, Calif.
As the only awards program of its kind, the goal of the SIMA Awards is to identify the surf industry's most influential companies and products, and recognize their efforts to advance and grow the industry over the past year. The following companies were recognized in 15 categories for the 2016 calendar year. The evening was made possible by Surf Expo and Audi, both supporting the event with generous sponsorships.
2017 SIMA AWARDS WINNERS
Accessory Product of the Year- winner: The Mission Smartwatch by Nixon
HERO5 Black by GoPro
The Mission Smartwatch by Nixon*
Rifles Tide Watch by RIP CURL
Saigon Special Pocket Knife by The Roark Revival
Stance Crew Socks by Stance
Environmental Product of the Year- winner: Patagonia Fall 16 – Yulex Wetsuits by Patagonia
Waterman Collection by Corkcicle
Patagonia Fall 16 – Yulex Wetsuits by Patagonia*
Algae Traction Pads by Slater Designs
Upcycled Coconut Boardshorts by Vissla
ECO Infiniti Comp by Xcel Wetsuits
Footwear Product of the Year- winner: Reef Rover with Swellular Technology by REEF
Men's Ohana by OluKai
Quiksilver AG47 Amphibian Shoe by Quiksilver
Reef Rover with Swellular Technology by REEF*
Yoga Sling by Sanuk
VANS SK8-HI by Vans
Hardgoods Accessory Product of the Year- winner: SurfEars 2.0 by Creatures of Leisure
SurfEars 2.0 by Creatures of Leisure*
Alpha by Futures
CORDUROY GRIP by OCTOPUS
Smuggler Bag by Pro-Lite
Drylock TDC Boot by Xcel Wetsuits
Wetsuit of the Year- winner: Infiniti Comp TDC by Xcel Wetsuits
Furnace Carbon X by Billabong
M's R1 Yulex Front-Zip Full Suit by Patagonia
Flash Bomb Plus Zip Free by RIP CURL
7 Seas Wetsuit by Vissla
Infiniti Comp TDC by Xcel Wetsuits*
SURFBOARD
Performance Shortboard of the Year- winner: SCI-FI by Slater Designs
Bastard by Pyzel Surfboards
Rusty Twin Fin by Rusty Surfboards
SCI-FI by Slater Designs*
Spam by Superbrand
El Jefe by Wave Riding Vehicles
Longboard of the Year- winner: The Wingnut Noserider by Firewire
Australian Slasher by CJ NELSON DESIGNS by Carve Sports, Inc.
Champion by Dewey Weber Surfboard
The Wingnut Noserider by Firewire*
Redline 11 by Stewart
Donald Takayama In the Pink 9'3 by Surftech
Alternative Surfboard Model of the Year- winner: Bonzer Biscuit by Channel Islands Surfboards
Bonzer Biscuit by Channel Islands Surfboards*
Padillac by Pyzel Surfboards
The Heckler by Rusty Surfboards
Fling by Superbrand
MEN'S
Men's Marketing Campaign of the Year- winner: Volume 11: "Hellbound In Clayoquot Sound" by The Roark Revival
LIFE'S SHORT by Billabong
THE SEARCH by RIP CURL
Volume 11: "Hellbound In Clayoquot Sound" by The Roark Revival*
wildly comfortable, comfortably wild by Stance
Creators & Innovators Dream Steeple Campaign by Vissla
Men's Apparel Brand of the Year- winner: Vissla
Billabong
The Roark Revival
RVCA
VANS
Vissla*
Men's Boardshort of the Year- winner: Vissla Upcycled Boardshorts by Vissla
TRIBONG by Billabong
HyperFreak by O'Neill
Mirage MF Focus Ultimate by RIP CURL
Vissla Upcycled Boardshorts by Vissla*
Stripey Slinger by Volcom
WOMEN'S
Women's Marketing Campaign of the Year- winner: A BIKINI KINDA Life by Billabong Women's
A BIKINI KINDA Life by Billabong Women's*
Anywhere Aloha by OluKai
MY BIKINI by RIP CURL
#ROXYFITNESS by ROXY
The Uncommon Thread by Stance
Women's Apparel Brand of the Year- winner: Billabong Women's
Billabong Women's*
O'Neill
RIP CURL
ROXY
RVCA
Women's Swim Brand of the Year- winner: Billabong Women's
Billabong Women's*
Issa de' mar
L*Space
RIP CURL
Seea
OVERALL
Breakout Brand of the Year- winner: Slater Designs
Corkcicle
OTIS
Richer Poorer
Seea
Slater Designs*