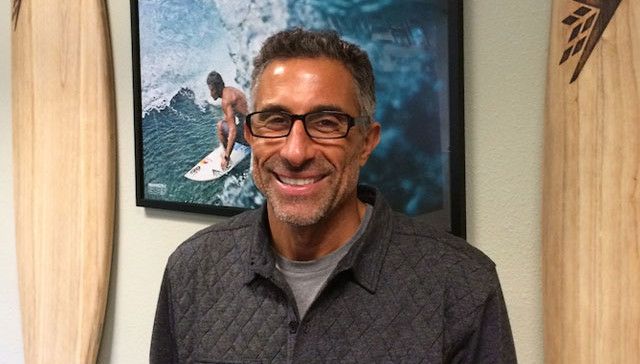 Mark Price, CEO of Firewire Surfboards © Firewire
Shred Show learns how Kelly Slater Surfboards came to be and more
Surf News Network, 10 July, 2016
In a departure from prior formulas, Shred Show adopts a sit-down-interview style that mirrors a Charly Rose episode more than frothy surfboard design exploration we've seen in prior episodes.
Chris talks with Mark about what it's like to work with Kelly Slater and how having the King's boards integrated into Firewire's catalog will affect sales. They also discuss how Mark has stayed surfing into his fifties and what he's learned in 30 years in the surf industry.
"One of the things that excited me about trying this new interview format with Mark is Kelly's recent investment in Firewire," says host Chris Grow. "I mean – imagine you start a surfboard company with no supply chain, no infrastructure, and the ability to make only about 10 boards a week – and you grow this company from full on start-up mode, to eventually selling ownership shares to Kelly Slater. What does that feel like?"
If you're not familiar with Mark Price, he is a soft-spoken Durbanite who cut his teeth in the surf industry during the garish eighties at Gotcha. Gotcha is the brand that created several templates for surf marketing with aggressive in-your-face advertisements ("If You Don't Surf Don't Start) and even wilder beach wear.  From there he's been instrumental in many industry projects.
"Mark's position in our industry is unique because he's been a Marketing Executive at many of the surf brands that have mattered over the last 30 years. Gotcha, Rip Curl, Reef and now Firewire. He even founded the Tavarua clothing line in the '90s. So getting his perception on the state of the surfboard and surf clothing industry seemed like a conversation that could fill 30 minutes.'