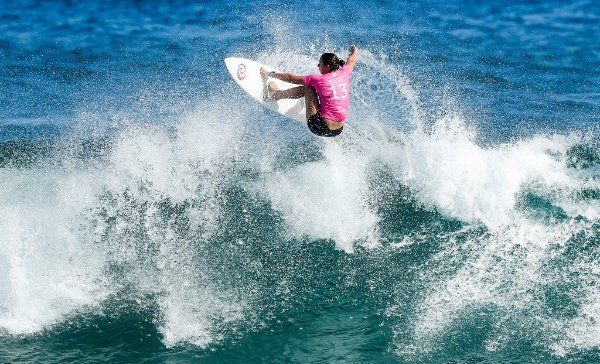 – DEFAY, VAN DIJK, WRIGHT & FITZGIBBONS TO BATTLE FOR EVENT TITLE
Reigning WSL Champion Tyler Wright (AUS) dominated the Praia de Itaúna lineup today to earn her place in the Semifinals of the Oi Rio Women's Pro presented by Corona.
Credit: © WSL / Poullenot
Saturday, May 13, 2017 (Saquarema, Rio de Janeiro/BRAZIL) – High drama continued today at the Oi Rio Pro presented by Corona, the fourth stop on the World Surf League (WSL) Championship Tour (CT). The day opened up with big upsets in men's elimination Round 3, and continued to see heated action with the completion of  women's Rounds 3 and 4, and the Quarterfinals. Six-time WSL Champion Stephanie Gilmore (AUS) will exit the Oi Rio Women's Pro with an Equal 5th place result after her loss to Nikki Van Dijk (AUS) in the Quarterfinals. Van Dijk landed huge frontside maneuvers to earn two 8-point rides for a 17.44 (out of a possible 20). Van Dijk's excellent-range scores forced Gilmore into a combination situation with ten minutes on the clock. The Jeep Frontrunner was not able to find the required scores and will leave with her worst result of the 2017 season.
"That is one up on Stephanie [Gilmore] and I am so excited to make the Semis," said Van Dijk. "I feel like sometimes I get in a Quarterfinal rhythm and, as great as that is, I want Semis and upwards from now on. I have been working hard and I felt in rhythm out there. I love Brazil and I've just been enjoying it everyday. Feeling comfortable and inspired here."
Reigning WSL Champion Tyler Wright (AUS) dominated her Quarterfinal heat against Sage Erickson (USA) with an authoritative 17.97 combined score. Wright unleashed a series of massive snaps to earn her place in the Semifinals against Sally Fitzgibbons (AUS).
"I feel a little bit sore and tired, but I'm happy to be continuing," Wright said. "This felt like the first time in the event that I had set a rail and pushed it further than what I have been doing. Keeping Sage [Erickson] off of those lefts was fifty percent of the game. The conditions are better than what I thought they would  be."
Earlier today, Erickson earned the highest combined score of the day with a commanding 18.26 in Round 3, but will be eliminated in 5th place. Erickson will head into the next event with another final series locked in, but she is still on the hunt for a Finals berth.
Fitzgibbons, current World No. 2, took down 2016 WSL Rookie of the Year Keely Andrew (AUS) in the last Quarterfinal heat to close out the day. Fitzgibbons found the waves to fire off two 7-point rides, while Andrew struggled to find a strong backup score. Fitzgibbons will advance to the Semifinals for the the third time this season. Andrew leaves with her second 5th place finish of the year.
The opening Quarterfinal saw close friends Johanne Defay (FRA) and Bianca Buitendag (ZAF) go head-to-head for the opportunity to advance to the next round. Defay looked unstoppable with a near-perfect 9.00 and 8.50 for the win. Injury replacement Buitendag fired a strong 7.77, but lacked a second-wave score to turn the heat.
"It is always hard to be against Bianca [Buitendag] and she usually beats me more than I beat her," Defay said. "But, it is our job so we have to deal with it. I was expecting much smaller waves, but we got some really good waves in my heat. I feel like these conditions in Brazil fit my surfing really well. At some breaks, I've felt out of position but I understand the break here so I hope to get a good result."
Courtney Conlogue (USA), current World No. 4 on the Jeep Leaderboard, was eliminated today by Van Dijk in Round 4 Heat 2. Conlogue will exit Rio with a 9th place finish despite her recent win the at third stop on the CT, the Rip Curl Pro Bells Beach. Conlogue will now look to the OK Fiji Pro to strengthen her World Title campaign.
Yago Dora (BRA), event wildcard, upset the competition today with the dramatic elimination of John John Florence (HAW), reigning WSL Champion and defending event winner, in Round 3 Heat 6. The heat was slow to start, but Dora found his rhythm as he took to the air for an excellent 8.33 and 7.17. Florence was not able to find the scores to combat the local favorite and will exit with his worst result of the 2017 season.
"I was feeling a little nervous," said Dora. "I was trying to not feel anything because it is my only CT event this year, but I was feeling nervous because everyone was talking about our heat. After that first wave, the nerves went away and I was pretty excited out there with the two waves back-to-back. I am taking things round-by-round and hope to continue to do well in the event."
"The result is obviously not what I wanted, but I'm not super bummed," said Florence. "The waves were fun, but Yago [Dora] surfed really well and things didn't go my way this morning. If anything, it's motivation to refocus and get prepared for the next event in Fiji."
Jordy Smith (ZAF), current World No. 2, was next up after Florence's elimination against Brazilian threat Jadson Andre (BRA) in Round 3 Heat 6. In a close heat, Smith took the win with a narrow 0.63-point lead. With Florence out of the draw, Smith will try to make a break at the coveted Jeep Leader Jersey at this event.
"I knew I had to go out there and pick my waves," Smith said. "Jadson [Andre] was obviously feeling the vibe out there with Yago [Dora] winning in the heat before ours. I knew he would go to the airs on the left, but I just had to stick to the game plan and choose the best waves. It is a tricky wave so you really have to be focused and paying attention."
Tied with Smith for second on the rankings is Owen Wright (AUS), who will also continue to the next round after his win over injury replacement Nat Young (USA). Wright will also have his eye on the Jeep Frontrunner position as he advances in the event.
Kanoa Igarashi (USA) made his way through to Round 4 with his elimination of 2017 World Title contender Filipe Toledo (BRA). The heat opened with a tense exchange as both surfers tried to paddle into the first wave, but with an interference called on Toledo for hindering Igarashi's takeoff. With the interference call, Toledo was not able to find the scores to combat Igarashi and will leave Saquarema in 13th place.
"That wave was pretty good, so of course I wanted to go," said Igarashi. "I was kind of confused why Filipe [Toledo] even paddled for that wave. He kind of bumped my rail and I was off balance the whole wave. I did not have the rhythm that I wanted, but I think that was the best wave of the heat. It was a slow heat and I'll take it. That is not the way I want to win a heat, but I am going to put that behind and keep going."
Frederico Morais (PRT), the last rookie in the draw, was not able to overcome his Round 3 heat against Julian Wilson (AUS) and will be eliminated from the event.
Matt Wilkinson (AUS) and Adrian Buchan (AUS) will also compete in Round 4 after winning their match-ups today against Josh Kerr (AUS) and Caio Ibelli (BRA), respectively.
Event organizers will reconvene tomorrow morning at 6:45 am local time to assess conditions and make the next call.
Lingering swell mix expected for the weekend with conditions looking most favorable in the mornings both Saturday and Sunday. Larger SSW/S swell builds in on Monday but W-SW winds look to be an issue. Solid S swell peaks on Tuesday with lighter winds. Solid S/SSE swell is due for mid/late next week. Surfline.
Oi Rio Pro Remaining Men's Round 3 Results:
Heat 6: Yago Dora (BRA) 15.50 def. John John Florence (HAW) 10.16
Heat 7: Jordy Smith (ZAF) 14.90 def. Jadson Andre (BRA) 14.27
Heat 8: Adrian Buchan (AUS) 13.16 def. Caio Ibelli (BRA) 11.24
Heat 9: Matt Wilkinson (AUS) 13.00 def. Josh Kerr (AUS) 12.73
Heat 10: Kanoa Igarashi (USA) 11.73 def. Filipe Toledo (BRA) 8.57
Heat 11: Julian Wilson (AUS) 16.23 def. Frederico Morais (PRT) 16.13
Heat 12: Owen Wright (AUS) 17.00 def. Nat Young (USA) 15.86
Oi Rio Pro Men's Round 4 Match-Ups:
Heat 1: Adriano de Souza (BRA), Wiggolly Dantas (BRA), Gabriel Medina (BRA)
Heat 2: Joel Parkinson (AUS), Mick Fanning (AUS), Yago Dora (BRA)
Heat 3: Jordy Smith (ZAF), Adrian Buchan (AUS), Matt Wilkinson (AUS)
Heat 4: Kanoa Igarashi (USA), Julian Wilson (AUS), Owen Wright (AUS)
Oi Rio Women's Pro Round 3 Results:
Heat 1: Bianca Buitendag (ZAF) 15.44, Johanne Defay (FRA) 14.74, Courtney Conlogue (USA) 11.60
Heat 2: Stephanie Gilmore (AUS) 17.33, Nikki Van Dijk (AUS) 16.50, Coco Ho (HAW) 11.10
Heat 3: Sage Erickson (USA) 18.26, Tyler Wright (AUS) 15.03, Keely Andrew (AUS) 13.23
Heat 4: Sally Fitzgibbons (AUS) 16.57, Lakey Peterson (USA) 16.04, Laura Enever (AUS) 12.07
Oi Rio Women's Pro Round 4 Results:
Heat 1: Johanne Defay (FRA) 14.96 def. Coco Ho (HAW) 13.50
Heat 2: Nikki Van Dijk (AUS) 14.93 def. Courtney Conlogue (USA) 12.77
Heat 3: Tyler Wright (AUS) 16.07 def. Laura Enever (AUS) 8.33
Heat 4: Keely Andrew (AUS) 13.43 def. Lakey Peterson (USA) 10.63
Oi Rio Women's Pro Quarterfinal Results:
QF 1: Johanne Defay (FRA) 17.50 def. Bianca Buitendag (ZAF) 13.44
QF 2: Nikki Van Dijk (AUS) 17.44 def Stephanie Gilmore (AUS) 13.43
QF 3: Tyler Wright (AUS) 17.97 def. Sage Erickson (USA) 12.74
QF 4: Sally Fitzgibbons (AUS) 14.80 def. Keely Andrew (AUS) 11.30
Oi Rio Women's Pro Semifinal Match-Ups:
SF 1: Johanne Defay (FRA) vs. Nikki Van Dijk (AUS)
SF 2: Tyler Wright (AUS) vs. Sally Fitzgibbons (AUS)