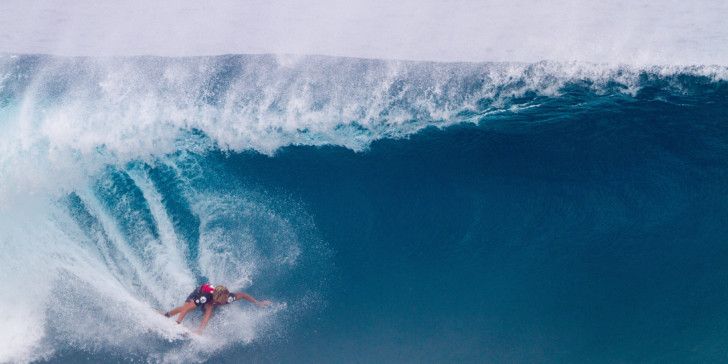 FLORENCE, IRONS AND ROTHMAN ADVANCE TO ROUND 4
Image: Current World Champion John John Florence (HAW) advanced from Round 3 today in perfect Pipe conditions.
Credit: WSL/Freesurf/Donahue
| | |
| --- | --- |
| Location:    | Pipeline, North Shore, Oahu                                                   |
| Rating: | Men's QS3,000  |
| Event Window:    | January 29 – February 10 |
| | |
RESULTS
Surfers shown 1st through 4th, all athletes from Hawaii unless otherwise noted. Round of 64, 1st and 2nd advance, 3rd = 33rd place, 4th = 49th place
H1: Nathan Florence, Kiron Jabour, Dean Bowen (AUS), Taichi Wakita (JPN)
H2: Griffin Colapinto (USA), Jeronimo Vargas (BRA), Kai Mana Henry, Manuel Selman (CHL)
H3:
Soli Bailey (AUS), Leandro Usuna (ARG), Joshua Moniz, Wyatt McHale
H4:
Brian Toth (PRI), Billy Kemper, Luis Diaz (CNY), Kaimana Jaquias
H5:
Tom Whitaker (AUS), Koa Rothman, Olamana Eleogram, Jack Robinson (AUS)
H6:
Koa Smith, Hank Gaskell, Joshua Burke (BRB), Bino Lopes (BRA)
H7:
O'Neill Massin (PYF), Mitch Coleborn (AUS), Kaito Ohashi (JPN), Nomme Mignot (FRA)
H8:
John John Florence, Balaram Stack (USA), Kaito Kino, Ezra Sitt
H9:
Seth Moniz, Bruce Irons, Kelly Slater (USA), Imaikalani deVault
H10:
Mason Ho, Yago Dora, Maxine Huscenot (FRA), Cody Young
H11:
Aritz Aranburu (ESP), David do Carmo (BRA), Reo Inaba (JPN), Taumata Puhetini (PYF)
H12:
Makuakai Rothman, Miguel Tudela (PER), Jesse Mendes (BRA), Carlos Munoz (CRI)
H13:
Marco Giorgi (URY), Wiggolly Dantas (BRA), Shayden Pacarro, Kekoa Cazimero
H14:
Lucas Silveira (BRA), Makai McNamara, Gatien Delahaye (GLP), Torrey Meister
HALEIWA, Oahu/Hawaii (Saturday, February 4, 2017) — 
Pipeline came to play with explosive 15-foot barrels at the
Volcom Pipe Pro
with supreme conditions that many surfers deemed one of the best swells of the year. Honolulu's
Seth Moniz
was the breakout performer of the day and caused the biggest upset by taking out 11x World Champion and defending event winner
Kelly Slater (USA)
. The Volcom Pipe Pro is a World Surf League (WSL) Qualifying Series (QS) 3,000 event that features the best surfers in the world along with household Pipe names and up-and-comers from Hawaii.
Moniz, 19, opened his campaign in Round Three Heat 9 by dropping into one of the bigger waves of the day. With a confident backside approach at Pipe, he navigated a couple of barrel sections and was blasted out into the channel by a massive salt water spray. Judges awarded the hollow tube a 9.17 and from then on Moniz was on fire, throwing away 7's and securing the heat lead with a backup score of an 8.00.

Moniz tucks in for a smooth ride at Pipe. Image: WSL/Freesurf/Donahue
"I'm feeling so good right now, that last heat was amazing," said Moniz back on the beach. "I started off the heat with a 9 at pretty much the first minute and that's the best way you can start off a heat. I'm super happy with my performance… It's firing out there, about 6-8 feet, perfect Pipe and Backdoor."
One of the best in the business, Bruce Irons (HAW), scored the highest single wave score of the day, a 9.67 on his opening ride in the same heat for a disappearing act behind a deep curtain of white water. Meanwhile, Slater found a nice ride and seemed to get into rhythm with a 7.23, but Moniz used priority toward the end of the heat and held Slater off from the wave that could have changed the outcome. Slater bowed out with a combined heat total of a 13.06 while Moniz and Irons both advanced onto Round 4.

Irons opts for a frontside barrel at Backdoor. Image: WSL/Freesurf/Heff
"That was a cool heat for me, my first heat with Kelly," continued Moniz. "I've had Bruce out here last year actually, but I was really happy to surf with them. No pressure going against guys like that, they're like the best surfers in the world, they're legends, and so I was going out there just to have fun. I still wanted to win, I was still competing against them and wanted to beat them really bad, but I'm really happy that I won."
Current World Champion and Pipeline native John John Florence (HAW) had an entertaining heat and demonstrated his adaptability and savant-like sense of his backyard break. After a couple low scores and exchanges with competitors Balaram Stack (USA), Kaito Kino (HAW) and Ezra Sitt (HAW), Florence broke out with a 7.93 and then backed it up with an excellent 8.60.

Nothing less than perfect positioning from Pipe prodigy Florence. Image: WSL/Freesurf/Donahue
"I think my first wave had a little bit of a warble when I came out, and then I just couldn't see anything, I got lipped I think," said Florence in a post-heat studio interview. "After that I just tried to get a little one. And then towards the end of the heat some really fun waves started coming through and it really kind of started just pulsing."
Another Hawaii high-profile was North Shore's Makuakai Rothman, who scored the only 10-point ride of the event during Day 2 and went on to add another excellent score, a 9.50, to build momentum and stay in the race.

Rothman stays focused on the blue room. Image: WSL/Freesurf/Keoki
"This is a dream come true for anybody in the world that surfs, even people that sit on the beach it's a dream come true to come and watch this," said Rothman. "We're just here to put on a good show and do our best and have fun with our friends and hope everybody goes home safely to their families."