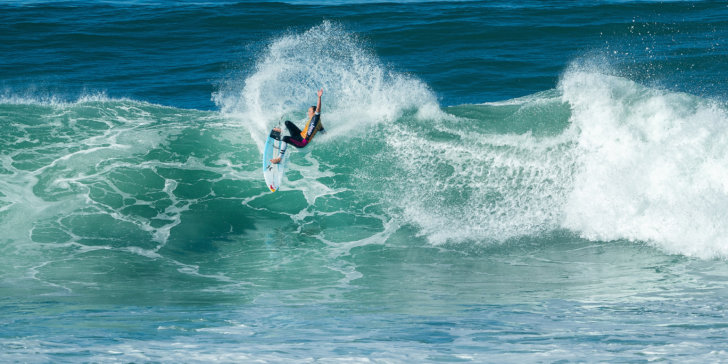 Peterson, Moore, Defay, and Marks Through to Finals Day

No Competition Tomorrow, Next Call: Thursday, October 10
World No. 1 Carissa Moore (HAW) put on a dominant performance at La Nord.
Credit
: WSL/ Poullenot
SEIGNOSSE / HOSSEGOR / CAPBRETON, Landes, Nouvelle-Aquitaine, France (Tuesday, October 8, 2019) – The Roxy Pro France resumed today and completed the Quarterfinals in excellent, six foot plus waves on the outside peak of La Nord to decide the last four surfers in contention for the prestigious French event title.
The Quiksilver and Roxy Pro France, stop No. 8 and 9 on the women and men's 2019 World Surf League (WSL) CT respectively, have been graced with excellent conditions since the first day of the event waiting period, showing everything France has to offer with playful peaks on the first day at Culs Nus, heavy barrels at La Graviere and long open walls today at La Nord.
Lakey Peterson (USA) and Malia Manuel (HAW) took it to the lineup in the opening Quarterfinal of the Roxy Pro France, and rode the long rights on their forehand. They both attacked the sections in a similar fashion but the difference was made by wave choice as Manuel's were slightly softer and mostly allowed cutback maneuvers. On the other hand, current No. 2 on the Jeep Leaderboard Peterson connected with the lip a few times on her way to a solid 12.60 total for her spot into Semifinal 1.
"I rode that same board at Bells, it's a little bit similar out there," said Peterson. "There's more water than you think, the wave face may not be that big but there's a lot of water moving so it felt nice to be on a bigger board and do bigger turns. I was really nervous this whole heat, Malia only ever needed a 6 and she's very capable in those waves. I'm really stoked to be in the semis and to get Carissa it should be fun!"
In the second Quarter, World No. 1 Carissa Moore (HAW) came firing out of the gates with a three-turn combination and a clinic of surfing on the rail to open her account with an excellent 8.67. The Hawaiian completed her scoring board with a powerful display on a single closeout turn and never really gave opponent Tatiana Weston-Webb (BRA) any room, eliminating her in 5th place.
"I guess it does have a little bit of a Sunset air cause you're pretty far out there," said Moore. "But nothing really compares, this is a beach break and the lineup is constantly moving, it's so unique and special. It's rare to see the number 1 and 2 match up before the Final and it should be fun. Lakey's been surfing so well and I'm excited to have a match up with her."
Defay Continues to Impress on Home Turf
 Johanne Defay (FRA) posted the day's biggest score with a 9.40.
Credit
: WSL/ Poullenot
After posting a 9.00 point ride for a deep barrel yesterday at La Graviere, Johanne Defay (FRA) confirmed her repertoire includes every move in the book as she dismantled a big righthander of La Nord with two massive turns for a near-perfect 9.40. The Reunion Island surfer attacked the almost double-overhead set just like it was a 3 foot wave and showed no mercy for World No. 3 Sally Fitzgibbons (AUS) as she eliminated the Australian World Title contender in equal 5th place.
After a somewhat slow start to her 2019 campaign, Defay started to turn her season around with a Quarterfinal in J-Bay this summer, before posting an impressive runner-up result at the Freshwater Pro pres. by Outerknown, and is guaranteed another big finish in France this week.
"I had a great time out there," said Defay. "I was a bit sceptical when they sent us out at La Nord on the incoming tide but with 50mn heats we really had time to find the right waves and I got that very nice one with the 9. That wave just had a great wall and I didn't need a huge score so I focused on the first turn and gave it everything. Then I saw I actually had time to hit it a second time and I was stoked to land that re-entry at the end."
In the final heat of the day, Caroline Marks (USA) upset yesterday' standout Courtney Conlogue (USA). Marks' lethal backhand proved efficient on the Gold Coast, at Bells Beach and J-Bay and once again looked flawless on the big rights of La Nord, as she posted an impressive 8.17 on two solid hacks to take out the final slot in the Semis.
"I free surfed out there this morning but it double in size and I was on a completely different board in my heat," said Marks. "It was super fun out there and we had nice, long heats so it was awesome to surf it out and get a bunch of opportunities. Courtney's been on fire and she doesn't have a weakness, she beat me at the US Open and that one really stung."
Fitzgibbons, Stephanie Gilmore (AUS) and Jordy Smith (ZAF) have qualified through the WSL CT for selection for the Tokyo 2020 Olympic Games. Following their results at the Roxy Pro and Quiksilver Pro France, Fitzgibbons and Gilmore are guaranteed to finish as the top two Australian women and Smith is confirmed to finish in the Top 10 on the WSL Rankings and each have earned their provisional place to compete in Tokyo.
Surfing will make its Olympic debut in Tokyo in 2020 and the 2019 WSL CT, the elite year-long tour that crowns the World Champions each season, will be an important qualification pathway for the world's best surfers.
Following the final CT events of 2019 (the Hawaii Pro from November 25 to December 6, 2019 and the Billabong Pipe Masters from December 8 to 20, 2019), the WSL rankings will determine the first 18 eligible Olympic qualifiers (10 men and 8 women), subject to all qualified surfers meeting the ISA's and IOC's eligibility requirements and being selected by their respective National Olympic Committee.
There is a maximum of two men and two women for each country that can qualify for the 2020 Games so this year's CT sees surfers not only battle for the World Title and requalification for the tour but also to finish as one of the top two ranked surfers from their nation.
The remaining 22 places are being determined through the 2019 and 2020 ISA World Surfing Games, the 2019 Pan American Games in Lima, and a single slot (each for men and women) for the host nation, Japan.
Competition was called off for the rest of the day after the fourth Quarterfinal and the next call will be on Thursday, October 10 as conditions are expected to be bad with strong onshore winds tomorrow.
The Quiksilver and Roxy Pro France will be broadcast LIVE on WorldSurfLeague.com, the WSL's Facebook page, and the WSL app. Also, check local listings for coverage from the WSL's broadcast partners.
Brief Surfline Overview

TUESDAY 8th: Midsize west-northwest swell overtaken by solid new swell. Possible run day.
WEDNESDAY 9th: Significant west-northwest swell and onshore wind. Likely off day.
THURSDAY 10th: Easing west-northwest swell and improving wind. Likely run day.
FRIDAY 11th: Leftover west-northwest swell, favorable wind. Likely run day.
SATURDAY 12th: Fun-size leftovers. Manageable wind. Event likely finished.
Roxy Pro France Semifinal Match-Ups:
SF 1: Lakey Peterson (USA) vs. Carissa Moore (HAW)
SF 2: Johanne Defay (FRA) vs. Caroline Marks (USA)
Roxy Pro France Quarterfinal Results:
QF 1: Lakey Peterson (USA) 12.60 def. Malia Manuel (HAW) 9.77
QF 2: Carissa Moore (HAW) 15.60 def. Tatiana Weston-Webb (BRA) 8.83
QF 3: Johanne Defay (FRA) 15.40 def. Sally Fitzgibbons (AUS) 9.26
QF 4: Caroline Marks (USA) 12.57 def. Courtney Conlogue (USA) 8.16
Quiksilver Pro France Round of 16 (Round 4) Match-Ups:
HEAT 1: Jordy Smith (ZAF) vs. Jeremy Flores (FRA)
HEAT 2: Ezekiel Lau (HAW) vs. Ryan Callinan (AUS)
HEAT 3: Marc Lacomare (FRA) vs. Wade Carmichael (AUS)
HEAT 4: Julian Wilson (AUS) vs. Jack Freestone (AUS)
HEAT 5: Gabriel Medina (BRA) vs. Adrian Buchan (AUS)
HEAT 6: Seth Moniz (HAW) vs. Leonardo Fioravanti (ITA)
HEAT 7: Kolohe Andino (USA) vs. Yago Dora (BRA)
HEAT 8: Michel Bourez (FRA) vs. Italo Ferreira (BRA)