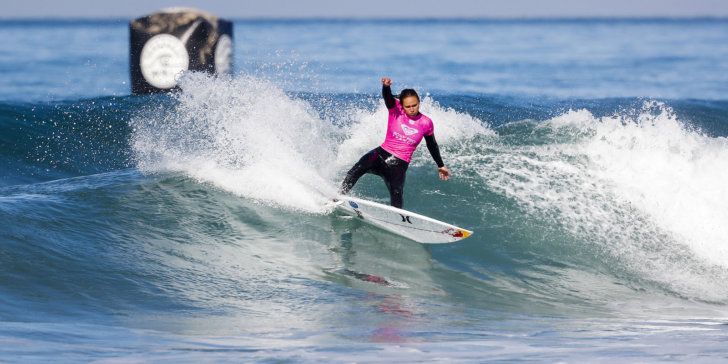 3X WSL CHAMPION CARISSA MOORE GETS SOME 'PAYBACK WHEN IT COUNTED' (POTTS) TAKING DOWN 6X WORLD CHAMPION STEPHANIE GILMORE.
WITH TYLER WRIGHT AND SALLY FITZGIBBONS MOVING FORWARD TO BIG SEMI FINAL POINTS, STEPH'S TITLE CAMPAIGN JUST GOT APPROXIMATELY IMPOSSIBLE.  

LAKEY PETERSON ELIMINATES JEEP LEADERBOARD NO. 2 COURTNEY CONLOGUE IN QUARTERFINAL CLASH
Image: 3X World Champion Carissa Moore of Hawaii advances to the Quarterfinals of the 2017 Roxy Pro France after defeating Silvana Lima of Brazil in Heat 1 of Round Four at Hossegor, Landes, France today Sunday

Current World No.1 Sally Fitzgibbons (AUS) continued to perform and advanced into the semifinals of the Roxy Pro France.
Credit:
 © WSL / Poullenot
Location:   
Capbreton, Hossegor, Seignosse / France
Event window:
October 7-

18, 2017

Today's Call:   
Women's RD 3 – 4 and Quarterfinals Completed
Conditions:
Clean three-to-four foot
 Roxy Pro France Round 3 Results:
Heat 1: Stephanie Gilmore (AUS) 12.34, Carissa Moore (HAW) 12.27, Bianca Buitendag (ZAF) 10.00
Heat 2: Sally Fitzgibbons (AUS) 12.96, Keely Andrew (AUS) 12.93, Silvana Lima (BRA) 12.70
Heat 3: Lakey Peterson (USA) 12.37, Courtney Conlogue (USA) 12.20, Malia Manuel (HAW) 7.50
Heat 4: Tyler Wright (AUS) 14.10, Johanne Defay (FRA) 11.17, Bronte Macaulay (AUS) 7.00
Roxy Pro France Round 4 Results:
Heat 1: Carissa Moore (HAW) 16.00 def. Silvana Lima (BRA) 7.97
Heat 2: Bianca Buitendag (ZAF) 11.77 def. Keely Andrew (AUS) 11.16
Heat 3: Courtney Conlogue (USA) 14.13 def. Bronte Macaulay (AUS) 12.44
Heat 4: Malia Manuel (HAW) 13.60 def. Johanne Defay (FRA) 11.60
Roxy Pro France Quarterfinal Results:
QF 1: Carissa Moore (HAW) 16.13 def. Stephanie Gilmore (AUS) 14.17
QF 2: Sally Fitzgibbons (AUS) 13.77 def. Bianca Buitendag (ZAF) 13.50
QF 3: Lakey Peterson (USA) 14.83 def. Courtney Conlogue (USA) 12.90
QF 4: Tyler Wright (AUS) 16.47 def. Malia Manuel (HAW) 13.30
Roxy Pro France Semifinal Match-Ups:
SF 1: Carissa Moore (HAW) vs. Sally Fitzgibbons (AUS)
SF 2: Lakey Peterson (USA) vs. Tyler Wright (AUS)
Quiksilver Pro France Round 1 Match-Ups:
Heat 1: Adriano De Souza (BRA), Conner Coffin (USA), Stuart Kennedy (AUS)
Heat 2: Owen Wright (AUS), Bede Durbidge (AUS), Nat Young (USA)
Heat 3: Matt Wilkinson (AUS), Wiggolly Dantas (BRA), Josh Kerr (AUS)
Heat 4: Julian Wilson (AUS) Caio Ibelli (BRA), Ethan Ewing (AUS)
Heat 5: John John Florence (HAW), Italo Ferreira (BRA), Keanu Asing (HAW)
Heat 6: Jordy Smith (ZAF), Kanoa Igarashi (USA), Marc Lacomare (FRA)
Heat 7: Filipe Toledo (BRA), Joan Duru (FRA), Miguel Pupo (BRA)
Heat 8: Gabriel Medina (BRA), Jeremy Flores (FRA), Leonardo Fioravanti (ITA)
Heat 9: Joel Parkinson (AUS), Michel Bourez (PYF), Jack Freestone (AUS)
Heat 10: Connor O'Leary (AUS), Sebastian Zietz (HAW), Jadson Andre (BRA)
Heat 11: Frederico Morais (PRT), Mick Fanning (AUS), Ian Gouveia (BRA)
Heat 12: Kolohe Andino (USA), Adrian Buchan (AUS), Ezekiel Lau (HAW)
HOSSEGOR, France (Sunday, October 8, 2017) – The Roxy Pro France resumed in excellent conditions and ran through Rounds 3, 4 and the Quarterfinals to see the top four women emerge in clean three-to-four foot surf at La Graviere.
The first Quarterfinal match-up featured a total of nine WSL titles in an intense battle between Stephanie Gilmore (AUS) and Carissa Moore (HAW). The two surfers engaged in a back-and-forth exchange of the lead, each slowly improving their scoreboard until Moore dropped the hammer on the superheat, with an incredible wave scored at 9.10 in the dying moments for the win.
"That was a very stressful heat especially because there was a moment when we both weren't catching any waves," Moore said. "I'm just so thankful I got that last wave, at that point I know it's my last opportunity and I have to let go of everything and just have fun."
Moore had previously dispatched yesterday's top performer Silvana Lima (BRA) in their Round 4 match-up.
No. 6 on the Jeep Leaderboard Gilmore surfed against the Hawaiian for the third time in France after Round 1 and Round 3 but this time couldn't contain the repeated assaults of the defending event champion. The Australian claimed her third equal 5th place result in France and will look for a strong finish in Hawaii to turn her season around.
"Surfing against Carissa you have to get two nines to win basically and I knew that," Gilmore said. "I had one semi-decent score but I never really felt comfortable. It's really disappointing to get that score and feel good about it and to paddle back out and just see Carissa stroke into the dreamiest wave, I knew it was over, she doesn't falter under pressure like that."
Sally Fitzgibbons (AUS) had an extremely close call in the second Quarterfinal against injury replacement Bianca Buitendag (ZAF). The South African's quiet start took a turn for the better when the powerful goofyfoot scored a massive 8.67 for her backhand vertical attack on a set wave. Unfortunately, the ocean went quiet and Fitzgibbons who had stayed much more active took an important win and spot in the semifinals.
"It feels awesome to be through to the semis," Fitzgibbons said. "Bianca kind of had the home court advantage, she's been living here for a while and I knew she knows the shifty beach breaks pretty well. But I could only do my best, I was making decisions under pressure, a few paid off and a few didn't. In the end, I was there and ready to surf more sets if they came, unfortunately, it went a little quiet for Bianca."
California's Lakey Peterson (USA) and Courtney Conlogue (USA) battled in the third Quarterfinal in a battle of progression vs. power. While some of the previous heats had been slow, Peterson found a great wave right on the opening buzzer and went for an air to post a 7.83 and push the current World No. 2 against the ropes. Conlogue trailed the whole heat and despite two good efforts towards the end of the thirty-minute bout, was unable to fill the gap and get back in the lead. The result sees Peterson reach the Semifinals for the fourth time this season while Conlogue is eliminated from the event.
"Going up against Courtney who's fighting for a World Title you kind of have to go for the knockout shot," Peterson said. "I wasn't really expecting to go for an air or anything on my first wave but I switched boards for the same model but epoxy and it's got a little pop to it."
With two event wins this season, Conlogue seemed well on her way to a maiden WSL title but a poor showing in the two European events could radically alter her chances with fellow World Title contenders and direct competition Fitzgibbons and Tyler Wright (AUS) both through to the Semifinals.
"Conditions changed and I re-adjusted but probably too late," Conlogue reflected. "I was looking for the inside waves probably a little too long and finally sat a little wider and got back in the heat. I gave it everything I had and it wasn't enough in that heat. The season's not over and I still have a lot to improve on, I'm not exactly where I want to be with my surfing but I'm optimistic, we still have another event."
Tyler Wright (AUS) dominated the last heat of the day, taking on Malia Manuel (HAW) for the final spot in the Semifinals. The reigning WSL Champion looked in total control and seemed to have forgotten all about her knee injury as she showcased her powerful turns on the long walls of La Graviere.
"I do want to get rid of the brace but I've been advised that I can't just yet," Wright said. "I feel good, I'm competing sharp again and putting heats together I've been absolutely loving this week."
Manuel had previously upset the local crowds by eliminating local favorite Johanne Defay (FRA) in their Round Four match-up.
"It's so nice to have everyone down here at the beach," Defay said. "I'm doing my own thing before my heat but coming in, I like to take my time with the people on the beach and give back a little bit. Malia had longer waves and more maneuvers, I had a good score on a single turn but my wave died after. I'm going to go home and rest for a couple of days and forget about that result, then get back to work for Maui. It's a great event there, just between us girls and with really good waves."
With the event forecast showing very little swell for the next two days of competition, contest officials will reconvene at 8 a.m Wednesday.
The opening weekend of the event (Oct 7-8) will see a modest WNW swell with clean conditions. Early to mid next week looks slow at this time with fading leftovers from the weekend swell. A larger swell looks increasingly likely for the end of next week, Wednesday afternoon through Friday, easing over the weekend of the 14th-15th. Beyond that, an even larger NW swell is possible for the very end of the waiting period. Surfline.
The Quiksilver and Roxy Pro France will be webcast LIVE on WorldSurfLeague.com as well as the WSL app.