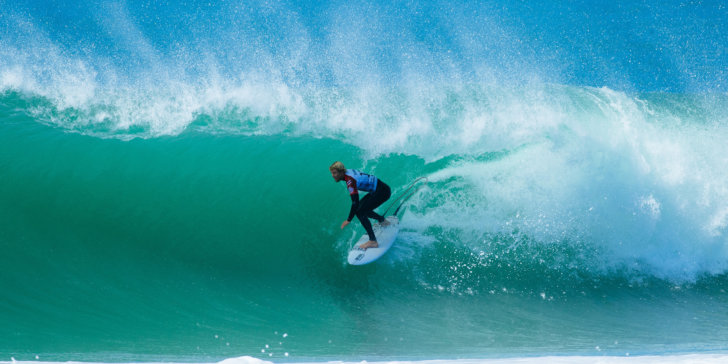 Lakey Peterson and Carissa Moore Vie for Yellow Jersey
Aerial Skills on Full Display for Men's Semifinalists
Igarashi Grabs World No.1 Spot Ahead of Australian Leg
Next Call: Monday, March 7, 2022 at 6:50 a.m GMT (830pm Sunday HI Time)
Pictured front page: John John Florence (HAW) in a perfect Portuguese pit this morning. Credit: © WSL / Poullenot
PRAIA DE SUPERTUBOS, Peniche / Portugal (Sunday, March 6, 2022) – The MEO Pro Portugal presented by Rip Curl, the third stop on the World Surf League (WSL) 2022 Championship Tour (CT), completed a massive day of competition to finish the men's Round of 32 and complete the men's Round of 16 as well as the Quarterfinals of both the men and women's events.

Waves absolutely pumped for most of the day and the crowds lit up every time a surfer got a clean exit on a spitting Supertubos barrel. Huge crowds gathered on a picture-perfect Sunday in Portugal to watch the world's best surfers thread tubes and throw big maneuvers in and above the lip.
Peterson, Moore Vie for Yellow Jersey, Gilmore and Weston-Webb Guaranteed a Move Up the Ranks
Seven-time WSL Champion Stephanie Gilmore (AUS) and Johanne Defay (FRA) went head-to-head in the opening Quarterfinal, and the Australian got the nod to take the first spot into the Semifinals. Gilmore navigated through a clean barrel punctuated by a turn on the closing section to post a near-excellent 7.83 (out of a possible 10) and the French surfer could never overcome her deficit.

"When we're surfing here in Peniche, it's just constantly adapting to what's happening out there," Gilmore said. "I watched the boys get so many great waves all morning and I was so excited to get out there and try to get one myself. I'm happy I got one little one and I was lucky that Johanne didn't get the score in the end, but it was close. I lost to Johanne in the very first heat at the WSL Finals at Trestles last year and that one really stung a lot, so I definitely wanted to get that heat win over her today."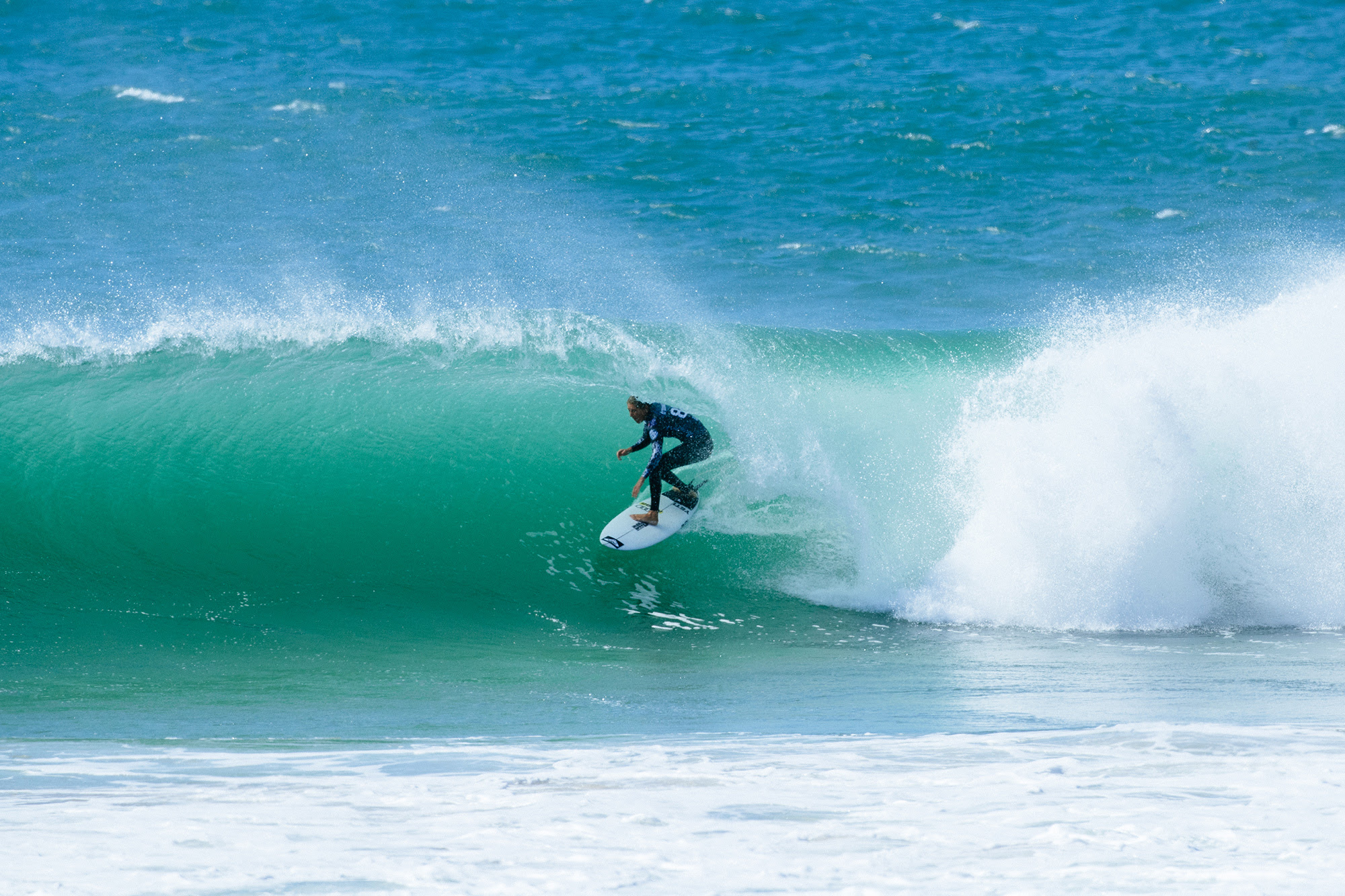 Pictured: Gilmore cruising under the lip at Supertubos. Credit: © WSL / Poullenot
As the wind picked up and more texture on the wave face closed most barrels, surfers took it to the lip with turns and Lakey Peterson (USA) took the win over compatriot Courtney Conlogue (USA). Peterson will join Gilmore in the first Semifinal.
"I've surfed against Courtney my whole life and she always brings the best out of me," Peterson stated. "I really admire her grit and determination. There's so much experience to gain from each event, that's something I learnt after stepping back last year. I really want to enjoy every event whether I win or lose. A wave like Supertubos is so incredible, but it's really tricky, it's shifting around and it's hard to read and learning lineups is probably one of the harder things for me so it's a great wave to learn a lot from."
Five-time WSL Champion Carissa Moore (HAW) didn't have any problems reading the lineup as she found a long barrel to post an excellent 8.50 (out of a possible 10) and eliminate two-time WSL Champion Tyler Wright (AUS). The Hawaiian is on the hunt to put on the Yellow jersey again and ready to strike as she eyes a big result in Portugal.
"It felt nice to get out there and just have a rhythm to myself," Moore said. "There was a lot of room to move. I'm just here, I'm present, and I'm happy to have my husband and coach here with me. I just want to enjoy every moment and put forth my best surfing."
Pictured: Moore right in the pocket on a clean left. Credit: © WSL / Poullenot
But Moore will have a tough matchup when the event resumes, against last year's Rip Curl WSL Finals runner-up Tatiana Weston-Webb (BRA).
"Tati is really strong and she's hungry and I know she's fired up so it will be a great battle." Moore added.
In the last Quarterfinal, Weston-Webb put on a clinic with radical forehand turns on a meaty left for an 8.83 (out of a possible 10), the highest single-score of the round. The Brazilian backed it up nicely with a couple of backhand gauges to reach the Semifinals at Supertubos for the second time in as many events.
"I'm really happy with that heat," Weston-Webb reflected. "When you start the heat with an 8, you just feel so good. Congrats to India (Robinson), she's been ripping. All the rookies have been doing so well, I'm glad I got one off the rookies! This year on tour the surfing is elevated to another level and it's really exciting to be a part of this generation and continue to push my surfing."
Both Moore and Peterson have a mathematical chance to leave Portugal wearing the Yellow jersey ahead of the Australian leg. Peterson needs to win the event to overtake Brisa Hennessy (CRI) but Moore only needs to advance into the Final if Peterson does not win. For Gilmore and Weston-Webb, it's an opportunity to put a first big result on the board after a disappointing start in Hawaii and a chance to distance themselves from relegation at the mid-season cut.
Aerial Skills on Full Display for Men's Semifinalists
In a remake of the 2019 Final in Peniche, Italo Ferreira (BRA) took on Jordy Smith (ZAF) in the first men's Quarterfinal and the result was the same, an overwhelming victory from the former World Champion. Ferreira's flair over the lip on the lefts kept the crowds on their feet and entertained in a chilly windy afternoon.

"That was a good heat, a lot different from this morning with more rippable waves and no more barrels," Ferreira said. "It's always fun to surf against Jordy, he's a good competitor and he inspired me and I'm so stoked for that. I love this place, it's special to have all this support here in Portugal."

Pictured: Ferreira, high up in the air has become a common sigth in Peniche. Credit: © WSL / Poullenot
Filipe Toledo (BRA) took out the second Quarter against Conner Coffin (USA) in similar fashion, building house on turns but eventually letting go of his inhibitions to fly high on his backhand.
"I'm happy to be in the semis," said Toledo. "The conditions were tricky, but it's just a matter of trusting your equipment and trusting yourself and that's what I'm doing, it's going to be a sick battle with Italo. He's been flying around and putting in an amazing performance. I'm happy, I feel strong and confident, it's going to be a good battle."
Another usually high-flying athlete, the two-time WSL Champion John John Florence (HAW) stuck to his rail game in Quarterfinal 3 to advance past newly minted World No. 1 Kanoa Igarashi (JPN). Florence, who had been scoring barrels in the previous two heats today quickly adapted and found scoring opportunities going both left and right for the win.
"I do love coming here, I love the people and the waves," Florence said. "This wave is amazing, the way it reforms up on the beach, so I really enjoy surfing here. Griffin (Colapinto) and Kolohe (Andino) are ripping right now so it's going to be fun to surf against either of them."
Griffin Colapinto (USA) claimed the last ticket for the Semifinals in an all-Californian matchup with Kolohe Andino (USA). Colapinto took his game to the air as well and was in total control of the heat when he eventually threw a massive backside full rotation, landed critically in the flats for a perfect 10 point ride, the first in this event.
 Pictured: Before his aerial antics, Colapinto spent serious time in the tube as well. Credit: © WSL / Poullenot
"It feels amazing. Anytime you get a ten it's like a trophy, so I'm over the moon," Colapinto said. "This is like one of the best crowds we come to every year so to do it in front of everyone here is really special. After that air it almost felt like I won the contest for a second, but then I realized I still have more heats to surf! Bring it back, enjoy the moment, but once I go to bed tomorrow is a new day."
The next Call will be at 6:50 a.m GMT on Monday, March 7, 2022 for a potential Finals day at Supertubos.
Remaining MEO Pro Portugal Presented by Rip Curl Men's Round of 32 Results:
HEAT 10: Frederico Morais (PRT) 11.67 DEF. Ezekiel Lau (HAW) 10.73
HEAT 11: Nat Young (USA) 15.60 DEF. Ethan Ewing (AUS) 12.00
HEAT 12: John John Florence (HAW) 14.43 DEF. Ryan Callinan (AUS) 8.50
HEAT 13: Jackson Baker (AUS) 15.43 DEF. Seth Moniz (HAW) 13.27
HEAT 14: Kolohe Andino (USA) 15.77 DEF. Lucca Mesinas (PER) 9.83
HEAT 15: Griffin Colapinto (USA) 14.33 DEF. Jadson Andre (BRA) 8.77
HEAT 16: Kelly Slater (USA) 14.57 DEF. Caio Ibelli (BRA) 13.37

MEO Pro Portugal Presented by Rip Curl Men's Round of 16 Results:
HEAT 1: Italo Ferreira (BRA) 14.17 DEF. Miguel Pupo (BRA) 12.84
HEAT 2: Jordy Smith (ZAF) 17.34 DEF. Connor O'Leary (AUS) 12.33
HEAT 3: Filipe Toledo (BRA) 15.33 DEF. Jake Marshall (USA) 8.10
HEAT 4: Conner Coffin (USA) 13.50 DEF. Callum Robson (AUS) 10.50
HEAT 5: Kanoa Igarashi (JPN) 15.17 DEF. Frederico Morais (PRT) 13.56
HEAT 6: John John Florence (HAW) 15.30 DEF. Nat Young (USA) 6.93
HEAT 7: Kolohe Andino (USA) 14.33 DEF. Jackson Baker (AUS) 7.60
HEAT 8: Griffin Colapinto (USA) 13.57 DEF. Kelly Slater (USA) 7.86

MEO Pro Portugal Presented by Rip Curl Men's Quarterfinals Results:
QF 1: Italo Ferreira (BRA) 14.67 DEF. Jordy Smith (ZAF) 11.33
QF 2: Filipe Toledo (BRA) 14.00 DEF. Conner Coffin (USA) 5.00
QF 3: John John Florence (HAW) 12.93 DEF. Kanoa Igarashi (JPN) 10.37
QF 4: Griffin Colapinto (USA) 17.83 DEF. Kolohe Andino (USA) 10.34

MEO Pro Portugal Presented by Rip Curl Women's Quarterfinal Results:
QF 1: Stephanie Gilmore (AUS) 12.50 DEF. Johanne Defay (FRA) 11.76
QF 2: Lakey Peterson (USA) 12.84 DEF. Courtney Conlogue (USA) 10.33
QF 3: Carissa Moore (HAW) 16.17 DEF. Tyler Wright (AUS) 9.00
QF 4: Tatiana Weston-Webb (BRA) 14.66 DEF. India Robinson (AUS) 9.73

Upcoming MEO Pro Portugal Presented by Rip Curl Men's Semifinals Matchups:
SF 1: Italo Ferreira (BRA) vs. Filipe Toledo (BRA)
SF 2: John John Florence (HAW) vs. Griffin Colapinto (USA)

Upcoming MEO Pro Portugal Presented by Rip Curl Women's
Semifinal Results:
SF 1: Stephanie Gilmore (AUS) vs. Lakey Peterson (USA)
SF 2: Carissa Moore (HAW) vs. Tatiana Weston-Webb (BRA)