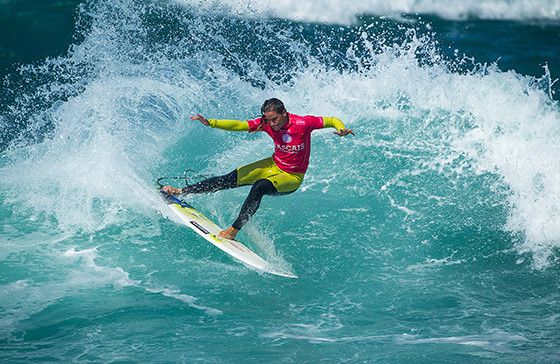 An incredible performance from Courtney Conlogue (USA) in the Quarterfinals saw her post big scores to secure her place in the Semifinals of the Cascais Women's Pro.
Image:

 

WSL / Poullenot
| | |
| --- | --- |
| Location:    | Cascais, Portugal |
| Event window: | September 22 – 28, 2015 |
| Today's call: | Rounds 3, 4 and Quarterfinals complete |
| Conditions: | Four-to-Six foot (1.5 – 2 metre) at Guincho |
CASCAIS, Portugal (Saturday, September 26, 2015) – Stop No. 8 on the 2015 Samsung Galaxy World Surf League (WSL) Championship Tour (CT), the Cascais Women's Pro, completed Rounds 3, 4 and the Quarterfinals today in solid four-to-six foot (1.5 – 2 metre) waves at Guincho. With variable wind conditions throughout the day, the famed Portuguese beachbreak saw moments of perfection today and played host to high drama as the WSL Title Race and battle for requalification saw some major shakeups.
Lakey Peterson (USA) was the first to secure her place in the Semifinals of the Cascais Women's Pro. She defeated Alessa Quizon (HAW) in a low-scoring affair and will move on to face Tatiana Weston-Webb (HAW) to fight for her first Final appearance of the year. The result marks the third Semifinal berth for Peterson this season, who is currently in fifth place on the Jeep Leaderboard, and Quizon's best result of 2015.
"It's really hard out there and it's a big test for us, which is great," said Peterson. "You have to be really patient and not freak out. You need to search for the waves that's how you win. Alessa's been surfing amazing so I really feel for her, but I'm so happy to make it through."
Peterson caused the day's major upset in Round 4 by eliminating 2X WSL Champion Carissa Moore (HAW). Peterson took control from the outset and left the current Jeep Leaderboard front-runner trailing.
An all-Hawaiian clash played out in Quarterfinal No. 2 as Tatiana Weston-Webb (HAW) battled Malia Manuel (HAW). After a slow start it was the rookie that built her scoreline with a heat-high 7.00. Weston-Webb took the win to make her second Semifinal of the season where she will match-up against Peterson.
"That was probably the hardest heat I've ever surfed in my life," said Weston-Webb. "I'm super stoked to take the win in such tough conditions and be back in the Semifinals. Lakey's a great competitor and I'm looking forward to facing her."
Earlier in the day Manuel dispatched World No. 4 Bianca Buitendag (ZAF) in a high-scoring Round 4 match-up. Manuel had Buitendag on the ropes for most of the heat. One big score from the South African, an 8.83, put her back in contention but Manuel found a wave in the final moments to regain her lead and take the win.
A strong start from Nikki Van Dijk (AUS) in her Quarterfinal clash against World No. 2 Courtney Conlogue (USA) saw her net a 15.17 heat total to leave her opponent in a combination situation. Conlogue found an excellent 8.23 of her own to break the combination and put herself back in the heat. In the final minutes Conlogue put together a series of major maneuvers and was rewarded with a near-perfect 9.67, the highest score of the competition so far, to take her place in the Semifinals with a 17.90 two-wave heat total. The win takes Conlogue one step closer to her first World Title and a Finals berth in Portugal will see her reclaim the Jeep Leader Jersey.
"I actually didn't even know that I was comboed," said Conlogue. "Surprisingly I had fun out there once I found my rhythm. I've been having a tough morning but I'm really happy to make it through to the Semifinals."
The last heat of the day saw Sally Fitzgibbons (AUS) face Johanne Defay (REU), each battling for their place in the Semifinals. Defay was out in front with half the heat gone, but Fitzgibbons held the highest score of the heat. The Australian was able to find a solid back-up, a 7.93, and took the lead, leaving Defay searching for a 9.43.
"What a battle," said Fitzgibbons. "Out there all the elements are against you and Johanne's been surfing so good all day, so I was sure she would get two good scores."
Defay previously got the better of Tyler Wright (AUS) in Round 4, eliminating the Australian with a 16.23 heat total.
"Conditions were so tricky," said Wright. "It's such a physical workout — paddling and duck diving. The girls that are getting through are the ones that are finding the waves. You have to make opportunities where there aren't too many."
The Cascais Women's Pro is webcast LIVE via WorldSurfLeauge.com and via the WSL mobile app.
Cascais Women's Pro Round 3 Results:
Heat 1: Alessa Quizon (HAW) 11.57, Lakey Peterson (USA) 11.17, Bianca Buitendag (ZAF) 5.00
Heat 2: Tatiana Weston-Webb (HAW) 12.83, Malia Manuel (HAW) 11.30, Carissa Moore (HAW) 7.77
Heat 3: Nikki Van Dijk (AUS) 9.84, Courtney Conlogue (USA) 9.17, Johanne Defay (REU) 8.40
Heat 4: Sally Fitzgibbons (AUS) 12.20, Tyler Wright (AUS) 9.90, Dimity Stoyle (AUS) 8.43
Cascais Women's Pro Round 4 Results:
Heat 1: Lakey Peterson (USA) 9.33 def. Carissa Moore (HAW) 7.73
Heat 2: Malia Manuel (HAW) 15.54 def. Bianca Buitendag (ZAF) 15.00
Heat 3: Courtney Conlogue (USA) 12.50 def. Dimity Stoyle (AUS) 11.66
Heat 4: Johanne Defay (REU) 16.23 def. Tyler Wright (AUS) 10.34
Cascais Women's Pro Quarterfinal Results:
QF 1: Lakey Peterson (USA) 9.80 def. Alessa Quizon (HAW) 8.04
QF 2: Tatiana Weston-Webb (HAW) 12.00 def. Malia Manuel (HAW) 8.73
QF 3: Courtney Conlogue (USA) 17.90 def. Nikki Van Dijk (AUS) 15.17
QF 4: Sally Fitzgibbons (AUS) 16.43 def. Johanne Defay (REU) 13.67
Cascais Women's Pro Semifinal Results:
SF 1: Lakey Peterson (USA) vs. Tatiana Weston-Webb (HAW)
SF 2: Courtney Conlogue (USA) vs. Sally Fitzgibbons (AUS)
– PETERSON, WESTON-WEBB, CONLOGUE AND FITZGIBBONS SECURE SEMIFINAL SPOTS
– BIG UPSET AS WORLD NO. 1 AND 2X WSL CHAMPION CARISSA MOORE ELIMINATED IN ROUND 4