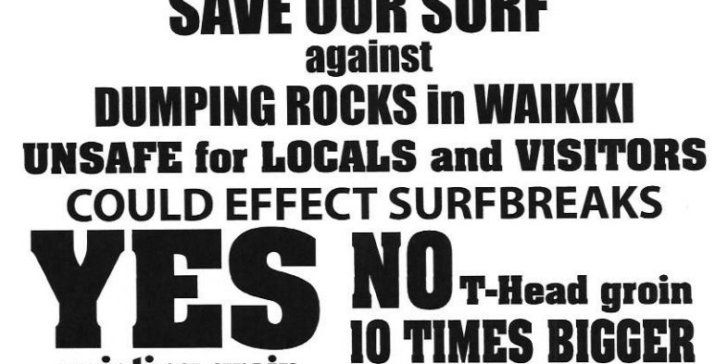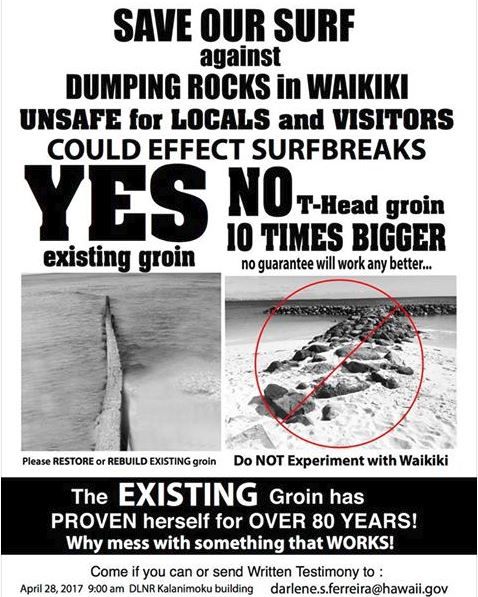 Aloha Friends,
SAVE OUR SURF (SOS) NEEDS YOUR HELP
SOS is opposing a proposed T- Head Groin to be built on Waikiki Beach to keep the sand stabilized.
It has a footprint that is 10 times bigger  than the existing groin.  It will definitely impact the shoreline and possibly the surf.
The scary part is that the impacts are not fully known.
Four of these T-Head Groins were installed at the Iroquois Point Beach.  In less than 4 years the sand is eroding away.   Erosion photos
This is proof that these T-head Groins do not work.
Instead, SOS is proposing to Restore or Rebuild the existing groin which had proven herself for over 80 years.
How you can help:  DLNR will be holding a public hearing on Friday, April 28, 2017 @ 9:00 am at the Kalanimoku Building.
Please come to testify in opposition to the T-head Groin or if you cannot attend please submit written testimony by Wednesday, April 26.

See Flyer for email address

See Testimony by George Downing
Please pass this on to all of your ohana.
Mahalo,
Friends of Kewalos
PROTECT, PRESERVE, MALAMA