FULL STORY AND RESULTS COMING AS SOON AFTER THEY POST 'EM…MAHALO
THOUGHTS AND PRAYERS FOR KALA GRACE WHO'S IN THE HOSPITAL AFTER HIS WIPEOUT EARLIER.
ALSO SENDING POSITIVE VIBES FOR A FAST RECOVERY TO MAKUA ROTHMAN AND BILLY KEMPER WHO WERE ALSO INJURED.
NO AWARDS CEREMONY FOR SUNDAY. SNN
SO MANY GOOD WAVES. A1 NW SWELL DROPPED EARLY THEN REINFORCED LATER TO 6-8′ occ 10' …pulsing in the afternoon…lite trades. INSANE.
HEAT 1 KICKED OFF ~8AM with the likes of Kelly Slater, Carissa Moore and Kai Lenny et al.
Team Da Hui Japan
Team Da Hui Wax
Team Quiksilver
Team Volcom
Team A New Earth Project
Team Snapt5
Team Tubos Surf School Peru
Team Pipeline Hammerz
The Da Hui Backdoor Shootout offers a unique take on the Pipeline surf contest concept.
It begins with eight teams of four before whittling down to the finals.
Further unlike WSL surf contests, which have a 10-point ride at the top of the scoring scale, the Backdoor Shootout recognizes that there needs to be room for those extra-throaty barrels, and therefore adjusts the scale to include 12-point spitters (10 is not enough).
WATCH 'EM LIVE  HERE
PRIOR UPDATE BELOW
4:45pm. AN EPIC STATURDAY IS PAU. SAT. SAW HEAVY SCORING WITH A BUILDING 8-12'++ NW W/ GOOD CONDITIONS AS TRADES HELD UP ALL DAY. SNN
SUNDAY WILL BE FINALS DAY!
WATCH 'EM HERE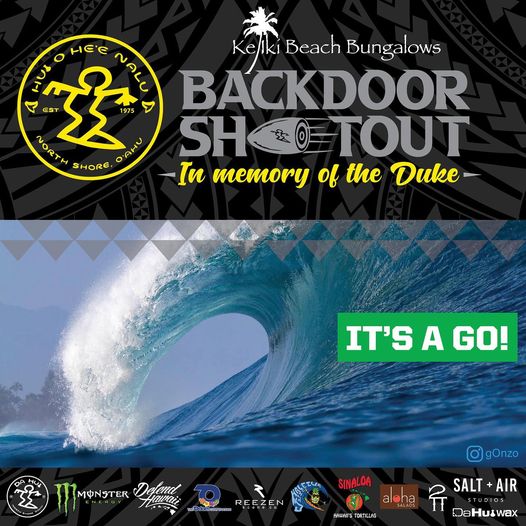 Team Da Hui Japan
Team Da Hui Wax
Team Quiksilver
Team Volcom
Team A New Earth Project
Team Snapt5
Team Tubos Surf School Peru
Team Pipeline Hammerz