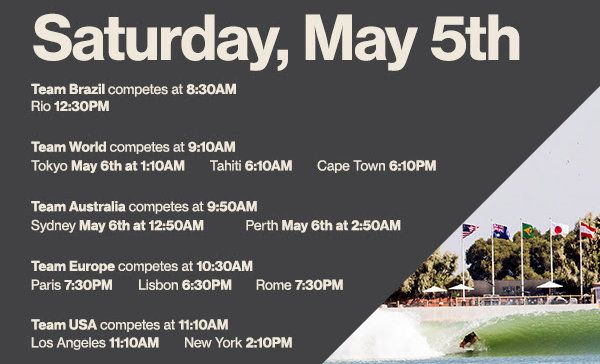 news wire on John John Florence, Carissa Moore, Gabriel Medina (BRA), Stephanie Gilmore (AUS), Jordy Smith (ZAF), Kelly Slater (USA), Paige Hareb (NZ), Filipe Toledo and more –
USA Team Finishes Opening Day With A Dominant Lead
Tomorrow's Finals Day Set For Epic Finish
Capacity Crowds at Historic Day 1 at WSL Surf Ranch
Lemoore, California/USA (Saturday, May 5, 2018) – An amazing day of surfing at the Founders' Cup of Surfing as the world's best surfers pushed the performance levels of surfing to the maximum as they competed for their nations or regions in a bid to make the final top three positions and qualify for tomorrow afternoons final.
Surfing absolutely perfect waves at the WSL Surf Ranch in Lemoore California (60 miles inland from the ocean), scores consistently went into to 9 to 10 point range as each team strived to stay in the top three placings on the leaderboard.
Some highlights to accompany today's newsfeeds –
Filipe Toledo (BRA) posted a perfect 10 point ride,
John John Florence (USA) found form for a 9.8
Carissa Moore (USA) dominated all day with two excellent 9.27 and 9.4 point plus rides
Kolohe Andino (USA) scored an excellent 8.80 for team USA to take the lead.
Paige Hareb (NZ) was dominating with excellent 8 point plus rides for the World Team
Italian Surfer Leonardo Fioravanti stirred the crowds' passion with an outstanding 9.67 ride
Kelly Slater, Stephanie Gilmore, Tyler Wright and Mick Fanning all posted excellent scores for their teams.
Tomorrow, all five teams will surf their final set and the top three teams will then surf the final in the afternoon to decide the inaugural Founders' Cup Of Surfing Champion Team for 2018
About WSL Surf Ranch
The WSL Surf Ranch facility, which was revealed online to the public in December 2015, boasts the best man-made wave in history – a 700-yard, high-performance, bi-directional wave featuring barrel sections and maneuver sections. Primarily existing as a testing facility, the Lemoore site has spent the past two years dialing in the technology under the guidance of 11-time WSL Champion Kelly Slater (USA) and feedback from visiting WSL surfers. A private test event last September proved very successful, paving the way for the Founders' Cup of Surfing presented by Michelob ULTRA Pure Gold to be the first time the public will be allowed onto the grounds.