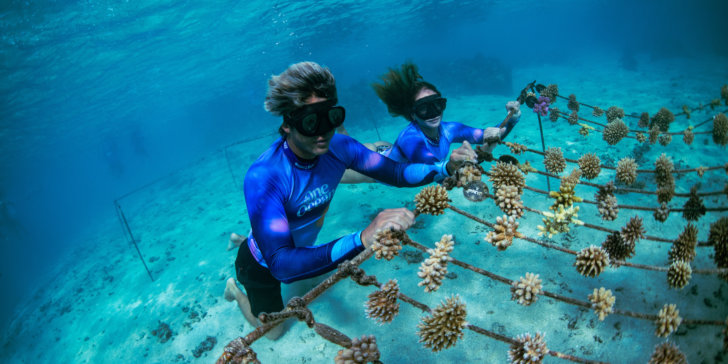 Presented by Outerknown
Two Lay Days Called Due to Small and Inconsistent Surf on Offer at Teahupo'o
WSL One Ocean, Coral Gardeners, and Tahiti Iti Surf Club Help Restore the Reef in Teahupo'o
WSL Rising Tides Reserves Teahupo'o Lineup for Tahiti's Up-And-Coming Talents
Pictured: Kanoa Igarashi (JPN) participates in the WSL One Ocean Activation with Coral Gardeners and Tahiti Iti Surfclub ahead of the SHISEIDO Tahiti Pro Presented by Outerknown Credit: © WSL /  Ryder
TEAHUPO'O, Tahiti, French Polynesia (Saturday, August 12, 2023) – Competition has been called OFF for the day at the SHISEIDO Tahiti Pro Presented by Outerknown, the penultimate stop on the World Surf League (WSL) 2023 Championship Tour (CT) season. With small and inconsistent conditions on offer at the world-renowned Teahupo'o, the WSL Tours and Competition team will await better waves to run the next heats.
"We are off for today and tomorrow here at the SHISEIDO Tahiti Pro," said Renato Hickel, WSL Director of Tours and Competition. "Today the waves are two-to-three feet, which is smaller than anticipated and very inconsistent. This is also a dying swell, which is why we are calling the event off tomorrow as well. We'll continue to review the forecasts, but we're currently targeting Tuesday, August 15th, with a new medium-size swell arriving in Tahiti."
When competition recommences, the first heat of the men's Elimination Round will see current world No. 3 Griffin Colapinto (USA) take on the winner of the Shiseido Tahiti Pro Trials, Matahi Drollet (PYF).

Joao Chianca (BRA) is hoping to secure his spot as the second-highest seed going into the Rip Curl WSL Finals. He will have to overcome dangerous event wildcard Kauli Vaast (FRA) in Elimination Round, Heat 3, in order to do so.

World Champions Tyler Wright (AUS) and Carissa Moore (HAW) are both in contention for the No. 1 spot at the Rip Curl WSL Finals, and their Quarterfinal results could decide who takes it. Wright will face event threat Tatiana Weston-Webb (BRA) in Heat 1. Moore will meet experienced Teahupo'o surfer and event wildcard Vahine Fierro (FRA) in Heat 3.

Reigning World Champion Stephanie Gilmore (AUS) still has a chance of clinching a spot in the WSL Final 5 with a big result here in Tahiti. She must first eliminate Caroline Marks (USA) in Quarterfinal 2.
Pictured: Johanne Defay (FRA) plants a coral fragment during the WSL One Ocean Activation with Coral Gardeners and Tahiti Iti Surfclub ahead of the SHISEIDO Tahiti Pro Presented by Outerknown Credit: © WSL /  Ryder
WSL One Ocean, Coral Gardeners, and Tahiti Iti Surf Club Help Restore the Reef in Teahupo'o 
To kick off the SHISEIDO Tahiti Pro Presented by Outerknown, WSL One Ocean teamed up with WSL PURE Grantee Coral Gardeners and Tahiti Iti Surfclub to help restore the reef in Teahupo'o.  WSL CT athletes and volunteers helped outplant coral fragments, which were put in nurseries during last year's activation, onto a damaged reef in order for them to grow and restore biodiversity.
Join WSL One Ocean and share how you're protecting our one ocean by posting to social media highlighting a sustainability action you're taking and tag @WSL @WSLOneOcean #WSLOneOcean in your post!
Pictured: Local up-and-coming girls and WSL CT women participate in the WSL Rising Tides activation prior to the commencement of the SHISEIDO Tahiti Pro Presented by Outerknown. Credit: © WSL /  Ryder
WSL Rising Tides Closes Teahupo'o Lineup for Tahiti's Up-And-Coming Talents 
On August 10th, WSL Rising Tides reserved the Teahupo'o lineup to give Tahiti's up-and-coming surfers and CT stars a chance to showcase their skills and share waves. Event wildcard and local hero Vahine Fierro (FRA) led the group. Fierro won her Opening Round Heat yesterday and will now surf against current world No. 1, Carissa Moore (HAW) in the Quarterfinals. The session was a special birthday treat for Kelia Gallina, who turned 11 years old that day. WSL Rising Tides is a cornerstone of WSL's values, providing young surfers access to the world's best surfers and a platform to explore and learn from their heroes about pursuing their dreams in and out of the water.
For more information, please visit WorldSurfLeague.com.
SHISEIDO Tahiti Pro Presented by Outerknown Men's Elimination Round Matchups: 
HEAT 1: Griffin Colapinto (USA) vs. Matahi Drollet (PYF)
HEAT 2: Kanoa Igarashi (JPN) vs. Rio Waida (INA)
HEAT 3: Joao Chianca (BRA) vs. Kauli Vaast (FRA)
HEAT 4: Barron Mamiya (HAW) vs. Callum Robson (AUS)
HEAT 5: Ryan Callinan (AUS) vs. Kelly Slater (USA)
HEAT 6: Ian Gentil (HAW) vs. Matthew McGillivray (RSA)
HEAT 7: Connor O'Leary (AUS) vs. Seth Moniz (HAW)
HEAT 8: Caio Ibelli (BRA) vs. Liam O'Brien (AUS)SHISEIDO Tahiti Pro Presented by Outerknown Women's Quarterfinal Matchups: 
HEAT 1: Tyler Wright (AUS) vs. Tatiana Weston-Webb (BRA)
HEAT 2: Caroline Marks (USA) vs. Stephanie Gilmore (AUS)
HEAT 3: Carissa Moore (HAW) vs. Vahine Fierro (FRA)
HEAT 4: Molly Picklum (AUS) vs. Caitlin Simmers (USA)