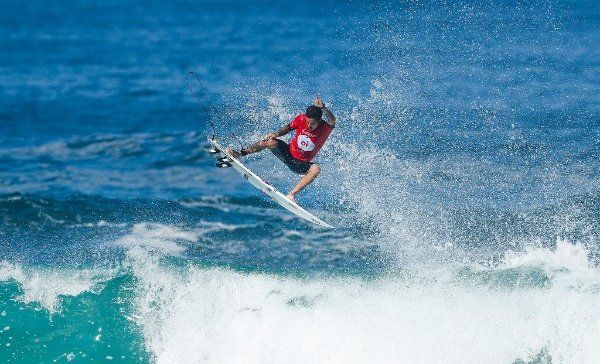 MEN'S WORLD CHAMPIONS FLORENCE, DE SOUZA, FANNING & PARKINSON LIGHT UP COMPETITION
ROOKIE GOUVEIA EARNS ROUND 1 WIN WITH DRAMATIC BUZZER-BEATER FINISH
WSL CHAMPIONS MOORE & WRIGHT RELEGATED TO ELIMINATION ROUND 2

Filipe Toledo (BRA) put on a stunning performance today at the Oi Rio Pro pres. by Corona with his Round 1 win against CT rookies Ethan Ewing (AUS) and Frederico Morais (PRT).
Credit: © WSL / Poullenot
Tuesday, May 9, 2017 (Saquarema, Rio de Janeiro/BRAZIL) – The Oi Rio Pro presented by Corona commenced today with great performances in men's and women's Round 1 at the celebrated beach of Praia de Itaúna in Saquarema. The competition saw the world's best surfers kickoff the event in four-to-six foot (1 -2 metre) waves at the fourth stop on the World Surf League (WSL) Championship Tour (CT).Reigning WSL Champion John John Florence (HAW) edged through his Round 1 heat against Miguel Pupo (BRA) and event wildcard Yago Dora (BRA) with a 14.67 (out of a possible 20) two-wave combined score. In a dramatic matchup, the defending event winner unleashed a series of powerful snaps to earn the slight 0.03-point lead over Dora's 14.67 combined score. Florence will continue directly to Round 3 and skip elimination Round 2.
"It is cool to have the support like this with the crowd," said Florence. "Everyone is so passionate about surfing and it really gets you psyched up. Definitely a nervous heat because you did not know where to sit for the waves – the lefts are a bit cleaner but the right has more opportunities. I am stoked that I came out with a win."
2017 World Title contender Filipe Toledo (BRA) dominated the Praia de Itaúna lineup today with one of the highest heat scores of the day, an excellent 16.26. Toledo impressed the judges with his big wrapping carves to earn his place in Round 3 over 2017 CT Rookies Ethan Ewing (AUS) and Frederico Morais (PRT).
"I love the crowd and I love being here in Brazil," Toledo said. "There is definitely a crazy energy and that is definitely motivation for me. The waves are firing and super fun. When I was a young kid, I used to compete here a lot at amateur events. There was one special event where I broke my ribs in the Quarterfinals and the doctor said that I wouldn't be able to surf, but I surfed again and got to the Finals. It is really special to be here because of that and also because we are back in Brazil and the crowd is awesome."
Men's Round 1 commenced with a surprising upset with injury replacement Nat Young (USA) defeating 2014 WSL Champion Gabriel Medina (BRA) and 2017 CT Rookie Ezekiel Lau (HAW) in Heat 1. Medina kept busy throughout the 30-minute heat with nine attempts, including an air-reverse for a 7.10, but it was Young who captured the win by only 0.74 points over the top seed. The Californian will skip straight to Round 3, while Medina and Lau will surf again in elimination Round 2.
"I got lucky with one of the first heats of the day because the waves are clean," Young said.  "I know Gabriel [Medina] is capable of anything. I actually ended up giving him a wave at the end, and luckily he fell, but next time I cannot do that. I am excited to surf in these comps. I am trying to go as far as I can and enjoy it. There is less pressure right now so I am trying to have fun and beat some of these top seed."
Three-time WSL Champion Mick Fanning (AUS) won his heat against fellow CT veterans Bede Durbidge (AUS) and Michel Bourez (PYF) in Round 1 Heat 10. The Australian powerhouse garnered a 14.44 two-wave combined score for the opportunity to skip straight to Round 3 and improve his current 19th place ranking on the Jeep Leaderboard.
"It is tough out there, especially going up against guys like Bede [Durbidge] and Michel [Bourez]," said Fanning. "They excel in these kinds of conditions. I just tried to keep the head together and surf the waves that I could get. It is incredible to see the level of competition and it really leaves no room for error."
2015 WSL Champion Adriano de Souza (BRA) carried his success from the Australian leg into his Round 1 matchup in Brazil against compatriots Jadson Andre (BRA) and Wiggolly Dantas (BRA). De Souza's win advances him through to Round 3.
"Wiggolly [Dantas] and Jadson [Andre] know this wave well, so I just tried to do my thing and not worry about them," said De Souza. "I am so glad to make this heat. Round 2 in Brazil is such a pressure, especially with being at home I want to do well. I am glad that the contest moved to Saquarema. I am happy for this town to get the recognition it deserves. We are the future of Brazil so to see the event move here is exciting."
Julian Wilson (AUS), current World No. 16, earned an incredible 16.34, the highest two-wave score of the day, including a near-perfect 9.77 to close out men's Round 1. Wilson's excellent performance will help put his 2017 World Title campaign back on track.
Current World No. 2 Jordy Smith (ZAF) brought his momentum from his win at the Rip Curl Pro Bells Beach into Round 1 Heat 5 to earn a narrow victory over injury replacement Bino Lopes (BRA) and Jack Freestone (AUS). Smith collected a strong 6.53 and 4.67 to win by just 0.14 points.
Ian Gouveia (BRA) represented the men's rookie class today as the only rookie to win in Round 1. In a nail-biting finish, Gouveia chased down a left in the last minute to earn the win over Australians Adrian Buchan (AUS) and Matt Wilkinson (AUS) with a 6.73 just before the buzzer sounded.
"I am super stoked to make that one," said Gouveia. "Since I saw that wave, I knew I just needed to make it. I only needed a 5.50 and knew that I just needed to finish the wave. I stayed pretty calm and I was happy to make it. I was more nervous for this heat than my first one at Snapper because it is Brazil and the whole crowd is watching and supporting and you want to do well in front of all these people."
Josh Kerr (AUS) and Kanoa Igarashi (USA) earned their first Round 1 wins of the 2017 season today and will skip elimination Round 2 for the first time this year. Both surfers will look to continue their rhythm to surpass their throwaway results from the Australian leg.
The day continued with Round 1 of the Oi Rio Women's Pro. After the Australian leg, the women's title race is anyone's game. This event will give all surfers an opportunity to climb the rankings and potentially break away from the pack. Today witnessed the competitors battle to jump-start their hunt for an event win in Rio and saw six surfers advance straight through to Round 3.
Six-time WSL Champion Stephanie Gilmore (AUS) will move through to Round 3 after her Round 1 win against 14-year old wildcard Taina Hinckel (BRA) and 2016 WSL Rookie of the Year Keely Andrew (AUS). Gilmore has kept the coveted Jeep Leader Jersey since her win on the Gold Coast at the start of year and will battle to keep her lead over the Top 17 with a strong result in Brazil.
"You can have a strategy and try to stick to it, but things can change a lot," said Gilmore. "I just wanted to sit out the back and get into one of the bigger waves a bit earlier, but those bigger sets stopped. It felt good to get on a bigger board out there and there is so much power out there. It is nice to get a Round 1 win and I look forward to Round 3."
Current World No. 2 Sally Fitzgibbons (AUS) pulled off last-minute heroics to earn her Round 1 heat win against Tatiana Weston-Webb (HAW) and Pauline Ado (FRA). Fitzgibbons will join rival Gilmore in Round 3 for the chance to surpass the six-time Champion on the Jeep Leaderboard.
"I just love being here in Brazil," Fitzgibbons said. "The waves were definitely challenging, but you have have to have those heat smarts and know you are in the battle. It was great to go back-and-forth with Tatiana [Weston-Webb]. It was a bit of a rollercoaster ride out of Bells to get that kind of fin-chop to the foot. There is a little more nerve-damage than I thought, but it is good because the cut sealed."
Courtney Conlogue (USA), who currently sits fourth on the Jeep Rankings after her win at Bells Beach, looked fired-up in her Round 1 matchup as she defeated Nikki Van Dijk (AUS) and 2017 CT Rookie Bronte Macaulay (AUS). Conlogue exhibited her signature power surfing with an excellent 8.67 to advance her to the next non-elimination round of the event.
"Obviously every single competitor wants to win and that is the end goal," Conlogue said. "I am working on this process and trying to be in the moment when the pressure is on. I am definitely learning a lot and, coming off of that last event, there are still some things that I need to work on. I love the power of Saquarema and getting to surf on my backhand. To be at a different spot is always exciting."
Three-time WSL Champion Carissa Moore (HAW) was not able to secure the win in Round 1 as Sage Erickson (USA) proved once again to be a serious threat in the women's draw. Erickson navigated the challenging conditions to find two solid waves for a strong 7.50 and 4.50 Moore and Laura Enever (AUS) were not able to find the second waves scores to challenge the Californian.
Coco Ho (HAW) upset the competition today with a big win over reigning WSL Champion and defending event winner, Tyler Wright (AUS), and injury replacement Bianca Buitendag (ZAF) in Round 1 Heat 4. This win marks Ho's first Round 1 victory of the 2017 season.
Silvana Lima (BRA) could not overcome her Round 1 matchup and will have to fight her way out of elimination Round 2 when competition resumes. Johanne Defay (FRA) clinched the heat win to earn her spot in Round 3 and skip Round 2.
Event organizers will reconvene tomorrow morning at 6:45 am local time to assess conditions and make the next call.
Oi Rio Pro Men's Round 1 Results:
Heat 1: Nat Young (USA) 13.84, Gabriel Medina (BRA) 13.10, Ezekiel Lau (HAW) 10.60
Heat 2: Adriano de Souza (BRA) 12.26, Jadson Andre (BRA) 10.16, Wiggolly Dantas (BRA) 8.97
Heat 3: Jeremy Flores (FRA) 14.44, Owen Wright (AUS) 13.97, Leonardo Fioravanti (ITA) 10.10
Heat 4: Josh Kerr (AUS) 14.27, Jesse Mendes (BRA) 12.63, Kolohe Andino (USA) 11.84
Heat 5: Jordy Smith (ZAF) 11.20, Bino Lopes (BRA) 11.06, Jack Freestone (AUS) 8.16
Heat 6: John John Florence (HAW) 14.67, Yago Dora (BRA) 14.64, Miguel Pupo (BRA) 13.40
Heat 7: Filipe Toledo (BRA) 16.26, Ethan Ewing (AUS) 10.84, Frederico Morais (PRT) 7.70
Heat 8: Ian Gouveia (BRA) 14.40,  Adrian Buchan (AUS) 13.53, Matt Wilkinson (AUS) 6.23
Heat 9: Joel Parkinson (AUS) 16.20, Joan Duru (FRA) 15.70, Connor O'Leary (AUS) 7.00
Heat 10: Mick Fanning (AUS) 14.44, Bede Durbidge (AUS) 12.60, Michel Bourez (PYF) 9.13
Heat 11:  Kanoa Igarashi (USA) 13.77, Conner Coffin (USA) 13.60, Sebastian Zietz (HAW) 11.26
Heat 12: Julian Wilson (AUS) 16.34, Stuart Kennedy (AUS) 12.86, Caio Ibelli (BRA) 3.17
Oi Rio Pro Men's Round 2 Match-Ups:
Heat 1: Kolohe Andino (USA) vs. Yago Dora (BRA)
Heat 2: Owen Wright (AUS) vs. Bino Lopes (BRA)
Heat 3: Gabriel Medina (BRA) vs. Jesse Mendes (BRA)
Heat 4: Matt Wilkinson (AUS) vs. Leonardo Fioravanti (ITA)
Heat 5: Michel Bourez (PYF) vs. Jadson Andre (BRA)
Heat 6: Sebastian Zietz (HAW) vs. Ethan Ewing (AUS)
Heat 7: Caio Ibelli (BRA) vs. Joan Duru (FRA)
Heat 8: Conner Coffin (USA) vs. Bede Durbidge (AUS)
Heat 9: Connor O'Leary (AUS) vs. Stuart Kennedy (AUS)
Heat 10: Adrian Buchan (AUS) vs. Miguel Pupo (BRA)
Heat 11: Frederico Morais (PRT) vs. Jack Freestone (AUS)
Heat 12: Ezekiel Lau (HAW) vs. Wiggolly Dantas (BRA)
Oi Rio Women's Pro Round 1 Results:
Heat 1: Sage Erickson (USA) 12.00, Carissa Moore (HAW) 3.50, Laura Enever (AUS) 2.50
Heat 2: Courtney Conlogue (USA) 13.07, Nikki Van Dijk (AUS) 11.00, Bronte Macaulay (AUS) 6.57
Heat 3: Stephanie Gilmore (AUS) 6.33, Taina Hinckel (BRA) 1.50, Keely Andrew (AUS) 0.50
Heat 4: Coco Ho (HAW) 14.67, Bianca Buitendag (ZAF) 12.43, Tyler Wright (AUS) 11.83
Heat 5: Sally Fitzgibbons (AUS) 12.70, Tatiana Weston-Webb (HAW) 11.70, Pauline Ado (FRA) 7.40
Heat 6: Johanne Defay (FRA) 15.60, Silvana Lima (BRA) 12.33, Lakey Peterson (USA) 8.27
Oi Rio Women's Pro Round 2 Match-Ups:
Heat 1: Tatiana Weston-Webb (HAW) vs. Laura Enever (AUS)
Heat 2: Nikki Van Dijk (AUS) vs. Bronte Macaulay (AUS)
Heat 3: Tyler Wright (AUS) vs. Taina Hinckel (BRA)
Heat 4: Carissa Moore (HAW) vs. Bianca Buitendag (ZAF)
Heat 5: Lakey Peterson (USA) vs. Pauline Ado (FRA)
Heat 6: Keely Andrew (AUS) vs. Silvana Lima (BRA)