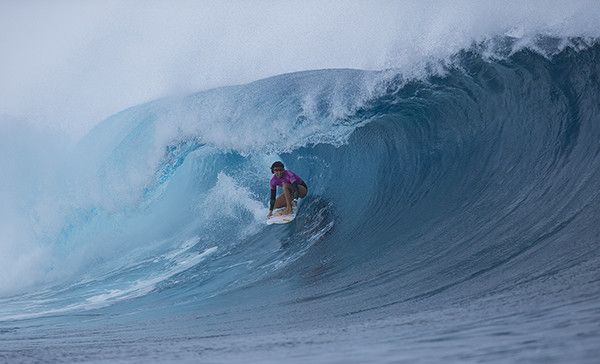 Sally Fitzgibbons (AUS) claimed an impressive victory today, defending her title in Fiji. Image: WSL / Kirstin
| | |
| --- | --- |
| Location:    | Tavarua, Fiji |
| Holding period: | May 31 – June 19, 2015 |
| Call: | Event complete, congratulations Sally! |
| Conditions: | 8' – 10' and pumping |
SNN: TAVARUA, Fiji (Tuesday, June 2, 2015) – Sally Fitzgibbons (AUS) wins the fifth stop on the 2015 Samsung Galaxy WSL Championship Tour (CT), the Fiji Women's Pro, in challenging and sizable surf. Fitzgibbons defeated Bianca Buitendag (ZAF) in the Final after a day of big upsets which saw the world's best female surfers battle one another in solid eight-to-10-foot (3 – 3.5 metres) waves at Cloudbreak.
Today's victory is Fitzgibbons' first of the year and the ninth elite CT win of her career. The result sees the Australian move up three places to third on the Jeep Leaderboard, putting her firmly back in the world title race. The 2014 event winner was able to defend her title, claiming back-to-back wins in Fiji despite suffering a perforated eardrum in Round 2.
"I'm so exhausted the tears came out," said Fitzgibbons. "It's been such a big couple of days and quite a bit of pain. I just thought whatever the ocean is going to deal up to me I'll be happy with it. At this stage to have a win is so amazing and I'm just so happy. Credit to the medical staff for taping me up and to everyone supporting me back home – I love you guys, we did it. In the face of adversity this is definitely one of the most special wins I've ever had."
Fitzgibbons showed commitment, focus and resolve throughout the Final and was the first competitor to post a significant score, a 9.23, to put Buitendag in a combination situation with only 2 points on the board. With twelve minutes remaining the South African broke the combination with a 6.90, now looking for an 8.67. An exciting final exchange saw Buitendag claim a 7.50 while an excellent 9.33 from Fitzgibbons for two big, committed turns, sealed her victory and left Buitendag searching for two huge scores that she was unable to find.
Fitzgibbons looked determined and fearless throughout the competition, powering through heavy conditions on her way to the Final. Even with her injury she sailed through her Quarterfinal match-up earlier today, eliminating one of the event standouts Laura Evener (AUS) with a near-perfect 9.73 in the final minutes.
Fitzgibbons went on to face Lakey Peterson (USA) in the first Semifinal. After a heavy wipeout the Australian came back to secure an 8.73 and quickly followed up with an 8.10 under Peterson's priority for a commanding lead. The American had only 3.33 on the board as the clocked ticked down and Fitzgibbons moved through to the Final.
"All those years of training and that mental strength really helped today, you just know that you've got it in you," Fitzgibbons continued. "I really like connecting with the ocean out here in Fiji. It's go so much power and it's the biggest challenge. It threw me around a couple of times today but I just told myself to relax, you only near one ear so it's okay!"
"Starting the year I was on such a high because I felt like my surfing was there and I got a bit down a couple of times not getting the results that I was working for," Fitzgibbons said. "Over the years of experience I learned to go with the flow, have patience and enjoy that some heats don't go your way. You just have to work harder and that's what all the girls on Tour are doing and they're really pushing me and teaching me that."
Today is Buitendag's second Final appearance of 2015, after a match-up with Courtney Conlogue (USA) in Rio, and the third of her CT career. The South African earns 8,000 points for the runner-up result and jumps up three places on the Jeep Leaderboard to 6th.
"It's been an incredible day for women's surfing and I'm very proud of Sally (Fitzgibbons)," Buitendag said. "She is a true warrior and deserves this win. Of course, I'm a little disappointed to not come out on top, but it was a great event for the WSL. We had excellent waves and all the girls stepped up. It was impressive to see and another Runner-Up finish puts me in a great position for the back half of the year."
Buitendag was in devastating form today, posting three nine-point rides on her way to the Final. The South African got the better of Malia Manuel (HAW) in Round 4 and Nikki Van Dijk (AUS) in the Quarterfinals, where she began her heat by breaking her favorite board but quickly recovered, posting a 9.70 on her back-up. An 8.33 left Van Dijk in a combination situation and saw the South African through to the Semifinals where she faced good friend Johanne Defay (FRA). Defay has delivered incredible performances throughout the competition however, it was the South African that dominated the heat with two consecutive nine-point rides for an 18.40 heat total. Despite posting an 8.70 and an 8.27 Defay she wasn't able to find the near-perfect score needed and takes home a third-place finish.
Bianca Buitendag (ZAF) reached her second consecutive Final today at the Fiji Women's Pro. Image: WSL / Kirstin
Defay looked electrifying, eliminating world no. 5 Tyler Wright (AUS) in Round 4 with two excellent scores, a 9.27 and a 9.33, and the highest heat total of the entire competition, an 18.60. The 2014 rookie of the year also took down American powerhouse Courtney Conlogue (USA) in the Quarterfinals. Today marks the third CT Semifinal berth for Defay and her best result this year.
"Bianca (Buitendag) did so good and picked the right waves," said Defay. "I think she's going to win and I really hope so. It was a great heat with Bianca, one of my best friends, with perfect waves and great scores. I'm going to go back home now to train. Huntington will be very different but I'm looking forward to it."
Peterson, who went down to eventual winner Fitzgibbons, goes home in equal third place. Today was her first Semifinal appearance since the Rio Pro last year and her best result of 2015. Peterson previously delivered two big upsets, first by defeating event standout Tatiana Weston-Webb (HAW) in Quarterfinal 2. The rookie looked dominant through the opening four rounds of competition, posting two nine-point rides before succumbing to Peterson. The American also took down two-time World Champion and current no. 1 on the Jeep Leaderboard Carissa Moore (HAW) in Round 4. The 9th place finish is Moore's worst result since the Swatch Women's Pro last year, where she was also defeated by Peterson in Round 4.
"It was so good to get into the Semifinals and get my best result of the year, especially here," said Peterson. "This isn't a wave that I'm too comfortable in so it's a big personal goal of mine. I wish I could have gone further but I'm really happy with it. The next event, Huntington, is one I've won so it will be really good to be there and be back in California. I'm excited going into the back half of the year and some strong waves for me."
Fiji Women's Pro Final Results:
1 – Sally Fitzgibbons (AUS) 18.56
2 – Bianca Buitendag (ZAF) 14.40
Fiji Women's Pro Semifinal Results:
SF 1: Sally Fitzgibbons (AUS) 16.83 def. Lakey Peterson (USA) 3.33
SF 2: Bianca Buitendag (ZAF) 18.40 def. Johanne Defay (FRA) 16.97
Fiji Women's Pro Quarterfinal Results:
QF 1: Sally Fitzgibbons (AUS) 17.06 def. Laura Enever (AUS) 11.34
QF 2: Lakey Peterson (USA) 12.57 def. Tatiana Weston-Webb (HAW) 11.73
QF 3: Johanne Defay (FRA) 13.00 def. Courtney Conlogue (USA) 4.26
QF 4: Bianca Buitendag (ZAF) 18.03 def. Nikki Van Dijk (AUS) 9.57
Fiji Women's Pro Round 4 Results:
Heat 1: Laura Enever (AUS) 13.67 def. Coco Ho (HAW) 9.00
Heat 2: Lakey Peterson (USA) 14.67 def. Carissa Moore (HAW) 14.60
Heat 3: Johanne Defay (FRA) 18.60 def. Tyler Wright (AUS) 10.76
Heat 4: Bianca Buitendag (ZAF) 14.70 def. Malia Manuel (HAW) 12.36
Ratings Now….
37,800

110,000 Points

110,000 Points

28,000 Points

36,500 Points

93,300 Points

–
–
–
–
–
$171,750
2
–

36,900

55,200 Points

36,500 Points

110,000 Points

110,000 Points

55,200 Points

–
–
–
–
–
$160,750
3

3

29,600

93,300 Points

36,500 Points

36,500 Points

93,300 Points

110,000 Points

–
–
–
–
–
$113,500
4

1

27,300

55,200 Points

55,200 Points

55,200 Points

55,200 Points

36,500 Points

–
–
–
–
–
$65,250
5

-2

Tyler Wright

AUS

26,700

36,500 Points

55,200 Points

55,200 Points

36,500 Points

93,300 Points

–
–
–
–
–
$67,500
6

3

26,250

131,750 Points

93,300 Points

55,200 Points

28,000 Points

28,000 Points

–
–
–
–
–
$81,750
7

1

23,500

36,500 Points

93,300 Points

55,200 Points

93,300 Points

55,200 Points

–
–
–
–
–
$61,750
8

-4

22,800

28,000 Points

28,000 Points

93,300 Points

INJ 1,750 Points

INJ 1,750 Points

–
–
–
–
–
$60,500
9

-2

Malia Manuel

HAW

21,950

55,200 Points

131,750 Points

36,500 Points

55,200 Points

93,300 Points

–
–
–
–
–
$60,250
10
–

Coco Ho

HAW

20,300

93,300 Points

55,200 Points

93,300 Points

55,200 Points

93,300 Points

–
–
–
–
–
$56,000