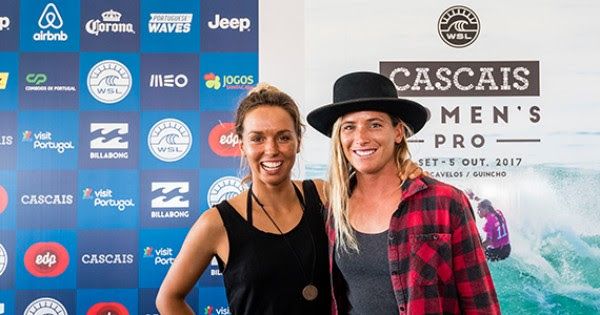 – WSL TOP 17 JOINED BY MEN'S CT & QS STARS FOR EDP BILLABONG PRO CASCAIS
– TERESA BONVALOT, WSL EUROPEAN JUNIOR CHAMPION, CONFIRMED AS WILDCARD
No. 1 and 2 on the Jeep Leaderboard, Sally Fitzgibbons (AUS) and Courtney Conlogue (USA), at the press conference for the Cascais Women's Pro.
Credit: © WSL / Pedro Mestre
Location:   
   Casais, Portugal
Event window:
   

September 27

 – 55, 2017
Today's call:
Conditions:         Upcoming
 CASCAIS, Portugal (Monday, September 25, 2017) – The world's best female surfers are heading to Portugal for the first event on the European leg of the 2017 World Surf League (WSL) Championship Tour (CT), the Cascais Women's Pro, which runs from September 27 until October 5, 2017. With just three events remaining on this year's CT, Stop No. 8 will be a crucial event in the hunt for this year's world surfing crown and the race to requalify for next year's elite tour.
The Women's World Title race is extremely tight at the top this season and there are just 400 points separating the top three surfers on the Jeep Leaderboard – Sally Fitzgibbons (AUS) leads the way closely followed by Courtney Conlogue (USA), both on the hunt for their maiden world title, and reigning WSL Champion Tyler Wright (AUS) sits just behind in third place.
Current No. 1 on the Jeep Leaderboard Fitzgibbons has been runner-up to the WSL Title three times in her career. Now wearing the Jeep Leader Jersey and with only three events left, the Australian has an opportunity to strengthen her lead over the Top 17 in Cascais.
FOR FULL RANKINGS GO HERE
"Cascais is a place where I've had a lot of success competitively over the years and I really have a great relationship with the beach breaks and the waves here," Fitzgibbons said. "The title race this year is really exciting and inspiring to be apart of. I feel like at some stage if you want to be the World Champion you have to grab hold of the leader's jersey and not let go, so that's the plan!"
Two-time defending event winner Conlogue will look for a historic third-straight win at the Cascais Women's Pro. The current World No. 2 has posted impressive results this year, including two event wins. The Californian will now look to close the 300-point gap on Fitzgibbons, but will first need to defeat 2017 Swatch Pro runner-up Keely Andrew (AUS) and injury replacement Bianca Buitendag (ZAF) in Round 1.
"The level of surfing from the women this year has been so amazing," Conlogue stated. "I'm really excited to be in another title race. Last year it was possibly going to end here, and this time it's really great to have Sally [Fitzgibbons], Tyler [Wright], Steph [Gilmore] and I still going this far into the season and it's going to be exciting. I love this place, I love Portugal and it's always great to come back."
Teresa Bonvalot (PRT), 2017 WSL European Junior Champion, has been awarded the wildcard. 2017 will mark her fifth appearance at the event and she will face Fitzgibbons and Coco Ho (HAW) in Round 1 Heat 3.
"I've been here a few times in this position, but it always feels different each time," Bonvalot said. "It's always so great to be surfing against the best surfers in the world and to be able to get some knowledge and experience from them. This season wasn't the best for me on the QS but my main goal was still on the Juniors to qualify for Kiama and try to win there in my last year. I have a few years ahead of me, but ideally, I'd love to qualify for the CT  in the next two or three years."
Laura Enever (AUS) has withdrawn from the event due to sinus issues and has been replaced by Buitendag.
The Cascais Women's Pro runs in conjunction with the Men's Qualifying Series (QS) 10,000 event, the EDP Billabong Pro Cascais 2017, which runs from September 26 – October 5, 2017.
The EDP Billabong Pro Cascais will close an intense seven-events leg of the QS across Europe with the biggest competition of all and 10,000 ranking points up for grabs. Some of the world's best surfers and up-and-coming talents will converge to the iconic Cascais coastline for ten days of high-performance surfing running in conjunction with the women's Championship Tour Stop No. 8, the Cascais Women's Pro.
Jorgann Couzinet (FRA), 23, will lead the European field as the current QS No.8 looks to secure a maiden season on the Championship Tour in 2018. The Frenchman who caught a big break winning 6,000 points all at once in Pantin this summer, will try to back up this result before the season moves out of his region and onto Brazil and Hawaii.
"I really feel like the qualification is close and that I'm on the right path to it," Couzinet said. "I feel great and super determined to find the missing points. I don't really know the waves there so I've come early to practice. Of course I feel some pressure, I would love to go to Hawaii without needing a result there but either way, I'll fight my way through it."
Current World No. 11 and Championship Tour rookie Frederico Morais (PRT), 25, will be back on home turf competing in this week's QS event, leading a stacked field of 112 athletes battling for the precious ranking points. Morais is having a great first year amongst the World's Elite, and while requalification through the QS is not the main focus of the Portuguese star, representing the country's flag will definitely be on his mind when the event starts tomorrow morning.
"It's amazing to be back home, it's been a really busy year and being here in Cascais is so cool," Morais said. "On such a small coastline we have all types of waves from beach breaks to slabs and reefs, big waves, you can surf every day here. I love everything about home, the cool restaurants and places to hang, we have an awesome town."
Small, leftover swell is currently expected for the first day of the waiting period. A mid size NW swell is possible for the Thursday the 28th and Friday the 29th, showing primarily at Guincho, easing very gradually over the following weekend. A larger NW swell is possible for the end of the waiting period. Surfline.
The events will be broadcast LIVE via WorldSurfLeague.com, the WSL app and on Facebook LIVE via the WSL's Facebook page.
For more information, check out WorldSurfLeague.com.
Cascais Women's Pro Round 1 Match-Ups:
Heat 1: Sage Erickson (USA), Lakey Peterson (USA), Pauline Ado (FRA)
Heat 2: Stephanie Gilmore (AUS), Carissa Moore (HAW), Malia Manuel (HAW)
Heat 3: Sally Fitzgibbons (AUS), Coco Ho (HAW), Teresa Bonvalot (PRT)
Heat 4: Courtney Conlogue (USA), Keely Andrew (AUS), Bianca Buitendag (ZAF)
Heat 5: Tyler Wright (AUS), Tatiana Weston-Webb (HAW), Bronte Macaulay (AUS)
Heat 6: Johanne Defay (FRA), Nikki Van Dijk (AUS), Silvana Lima (BRA)
EDP Billabong Pro Cascais Round 1 Match-Ups:
Heat 1: Peterson Crisanto (BRA), Nomme Mignot (FRA), Marcos Correa (BRA), Miguel Blanco (PRT)
Heat 2: Jordy Collins (USA), Leandro Usuna (ARG), Manuel Selman (CHL), Michael Dunphy (USA)
Heat 3: David Van Zyl (ZAF), Kilian Garland (USA), Kalani Ball (AUS), Samuel Pupo (BRA)
Heat 4: Santiago Muniz (ARG), Mihimana Braye (PYF), Nathan Yeomans (USA), Adrien Toyon (FRA)
Heat 5: David Do Carmo (BRA), Diego Mignot (FRA), Joshua Burke (BRB), Tomas Fernandes (PRT)
Heat 6: Brett Simpson (USA), Maxime Huscenot (FRA), Tanner Hendrickson (HAW), Dylan Goodale (HAW)
Heat 7: Lliam Mortensen (AUS), Jacob Willcox (AUS), Jackson Baker (AUS), Jack Robinson (AUS)
Heat 8: Robson Santos (BRA), Shun Murakami (JPN), Mateus Herdy (BRA), Titouan Boyer (FRA)