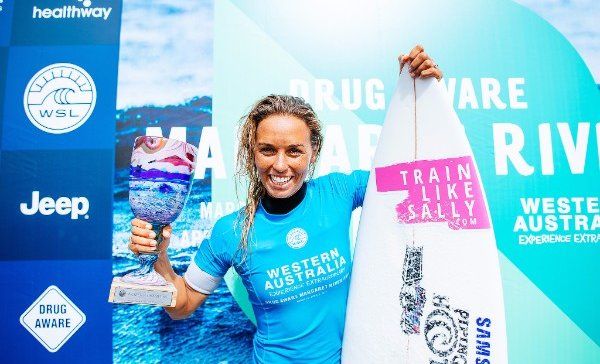 – GILMORE AND FITZGIBBONS SHARE FRONTRUNNER SPOT HEADING INTO BELLS
– REIGNING WSL CHAMPION WRIGHT EARNS RUNNER-UP RESULT, MOVES TO 3RD ON RANKINGS
– MEN'S EVENT SET FOR FINISH TOMORROW
Sally Fitzgibbons (AUS) took down WSL Champions Tyler Wright (AUS) and Stephanie Gilmore (AUS) today en route to her victory at the Drug Aware Margaret River Pro.
Credit: © WSL / Sloane
MARGARET RIVER, Western Australia/AUS (Saturday, April 8, 2017) – Sally Fitzgibbons (AUS) has won the Drug Aware Margaret River Pro today after taking down 2016 WSL Champion Tyler Wright (AUS) in the Final. The Final Day of the women's event witnessed the remaining four competitors compete in three-to-five foot (1 – 1.5 metre) conditions at Main Break in Western Australia.
The second stop of the World Surf League (WSL) Championship Tour (CT), the Drug Aware Margaret River Pro, saw Fitzgibbons claim her first ever win in Margaret River, marking her 10th CT victory. Fitzgibbons' success today now ties her for World No. 1 on the Jeep Leaderboard with six-time WSL Champion Stephanie Gilmore (AUS).
"I'm so over the moon to be holding this trophy," Fitzgibbons said. "When I heard my name being called out as the champion, I really felt a sense of belonging and calm. It's been an amazing couple of weeks here in the West and to finish it off with a win is the best feeling. I love coming to Margaret River. I feel like it's a place that I am super comfortable and familiar with, so it's a special event win for me."
The Final saw the heated all-Australian battle unfold between Fitzgibbons and Wright at Main Break. Fitzgibbons kicked off the Final with an authoritative 7.83 on her opening ride. Wright fired back on multiple attempts, but was only able to lock in mid-range scores. Fitzgibbons continued to better her position with a strong 7.07, forcing Wright to chase an excellent 8.30. On her last attempt, Wright was not able to challenge Fitzgibbons' 14.90 combined score.
"The town of Gerroa is so small and it was well represented today in the final with Tyler [Wright] and myself, which is really cool," continued Fitzgibbons. "Holding equal first on the rankings is a special feeling for me. It's a long year, so I just need to keep focused and keep to my goals and hopefully hold on to the top spot."
Sally Fitzgibbons (AUS) charged through her Final and Semifinal matchups to earn her 10th CT event win.
Credit: © WSL / Dunbar
Defending event winner Wright had a dominating run on her way to the Final at the Drug Aware Margaret River Pro, posting a number of the event's highest heat totals along the way. Wright's focus and determination was evident throughout the event and she will exit with a runner-up finish.
"I was actually pretty happy with the way I ran the heat," said Wright. "Just the waves, I thought, were a little bit trickier towards the end there and I just didn't get a clean line, but I am stoked for Sally [Fitzgibbons] to come away with the win. I've known Sally since I was 9-years-old,  we live in the same town now, and we are both from the South Coast. I am stoked that both of us were in the Final."
Wright's result will improve her ranking from 5th to 3rd on the Jeep Leaderboard. Although the 2016 WSL Champion was not able to defend her event win in WA, Wright will look to best last year's 5th place finish at Bells to close out the Australian leg.

 Reigning WSL Champion and defending event winner Tyler Wright (AUS) earned a runner-up finish today and will move up to 3rd on the Jeep Leaderboard.
Credit: © WSL / Dunbar
Fitzgibbons had the mammoth task of overcoming six-time WSL Champion Gilmore in Semifinal 2. Gilmore played a patient game waiting for the sets, but was not able to post required scores, leaving her only 0.50-points short of the heat win. Gilmore was frustrated by her performance, but will remain atop the Jeep Leaderboard.
"That really didn't go to plan," Gilmore said. "Before the heat, my plan was to stay really active and then once I was out there, it didn't really work out that way. I couldn't really find a decent wave that would offer an excellent score. In conditions like this you can't expect to find those waves that easily, so you need to keep busy, and I didn't do that. Third is definitely a keeper. It would be nice to win them all, that's what we are here for, but third is definitely nice."
Six-time WSL Champion Stephanie Gilmore (AUS) will exit with a 3rd place result at the Drug Aware Margaret River Pro.
Credit: © WSL / Dunbar
On her way to the final, Wright came up against Californian Sage Erickson (USA) who had been on a tear all event. Erickson was put in a combination early, but put up a great fight to come back into contention in the second half of the heat. Erickson's 3rd place finish matches her best result on the elite CT level and stamps her best ever finish at the Drug Aware Margaret River Pro. Erickson now moves to 10th place on the Jeep Rankings.
"It was pretty tricky out there, but there were definitely opportunities, which Tyler [Wright] took advantage of," Erickson said. "I feel like where I fell down was letting her take good waves and not choosing the better ones myself. I never really felt in-tune with the conditions and she definitely was. This event has been a really great learning experience for me."
With the men's final series still remaining, event organizers will reconvene tomorrow at 6:45 a.m. local time to make the next call.
Drug Aware Margaret River Pro Women's Final Results:
1 – Sally Fitzgibbons (AUS) 14.90
2 – Tyler Wright (AUS) 12.53
Drug Aware Margaret River Pro Women's Semifinal Results:
SF 1: Tyler Wright (AUS) 16.00 def. Sage Erickson (USA) 12.17
SF 2: Sally Fitzgibbons (AUS) 11.43 def.  Stephanie Gilmore (AUS) 10.93
2017 WSL Women's Jeep Leaderboard (After Drug Aware Margaret River Pro):
1 – Stephanie Gilmore (AUS) 16,500 pts
1 – Sally Fitzgibbons (AUS) 16,500 pts
3 – Tyler Wright (AUS) 13,200 pts
4 – Carissa Moore (HAW) 10,400 pts
4 – Nikki Van Dijk (AUS) 10,400 pts
Drug Aware Margaret River Pro Men's Quarterfinal Match-Ups:
QF 1: Owen Wright (AUS) vs. Jack Freestone (AUS)
QF 2: John John Florence (HAW) vs. Michel Bourez (PYF)
QF 3: Adriano de Souza (BRA) vs. Filipe Toledo (BRA)
QF 4: Kolohe Andino (USA) vs. Jordy Smith (ZAF)