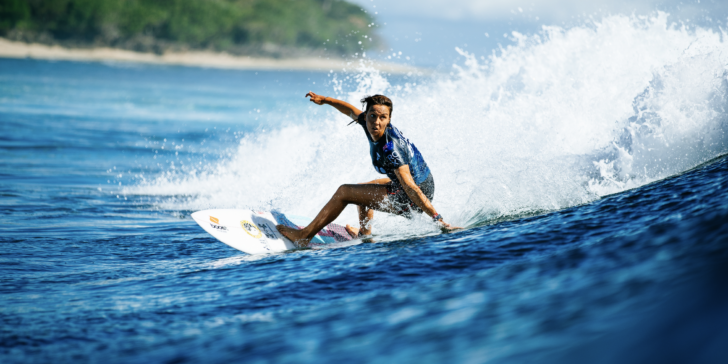 Macaulay, Defay, Fitzgibbons, and Peterson Cement Spots in Quarterfinals
Toledo and Moore Win Quiksilver Iconic For A Reason Expression Session
Promising Forecast to See Consecutive Days of Competition Run From Tomorrow
More Available at WorldSurfLeague.com
front page:

 I

njury replacement Sally Fitzgibbons (AUS) won her Elimination Round heat to book herself a spot in the Quarterfinals at the ROXY Pro G-Land. Credit: © WSL / Sloane
ROXY Pro G-Land Elimination Round 2 Results:
HEAT 1: Bronte Macaulay (AUS) DEF. Tyler Wright (AUS) INJ
HEAT 2: Johanne Defay (FRA) 13.97 DEF. Courtney Conlogue (USA) 10.13
HEAT 3: Sally Fitzgibbons (AUS) 11.83 DEF. Isabella Nichols (AUS) 7.67
HEAT 4: Lakey Peterson (USA) 12.43 DEF. Gabriela Bryan (HAW) 10.83

ROXY Pro G-Land Quarterfinal Matchups:
HEAT 1: Carissa Moore (HAW) vs. Sally Fitzgibbons (AUS)
HEAT 2: Lakey Peterson (USA) vs. Tatiana Weston-Webb (BRA)
HEAT 3: Brisa Hennessy (CRI) vs. Bronte Macaulay (AUS)
HEAT 4: Johanne Defay (FRA) vs. Stephanie Gilmore (AUS)

Quiksilver Pro G-Land Elimination Round 2 Matchups:
HEAT 1: Filipe Toledo (BRA) vs. Yago Dora (BRA)
HEAT 2: Caio Ibelli (BRA) vs. Matthew McGillivray (ZAF)
HEAT 3: Kanoa Igarashi (JPN) vs. Jackson Baker (AUS)
HEAT 4: Jordy Smith (ZAF) vs. Connor O'Leary (AUS)
HEAT 5: Barron Mamiya (HAW) vs. Jadson Andre (BRA)
HEAT 6: Kelly Slater (USA) vs. Samuel Pupo (BRA)
HEAT 7: Callum Robson (AUS) vs. Jake Marshall (USA)
HEAT 8: Kolohe Andino (USA) vs. Nat Young (USA)
G-LAND, Banyuwangi, Indonesia (Thursday, June 2, 2022) – The Quiksilver/ROXY Pro G-Land,
Stop No. 6 on the World Surf League (WSL) 2022 Championship Tour (CT), continued today after four consecutive off days in two-to-three foot waves at G-Land.
The competition said goodbye to the first competitors following the women's Elimination Round.
With more favorable winds forecasted and a long period swell expected to fill in overnight, the event should see back-to-back days running with event winners to be crowned this weekend.
The WSL Tours and Competition team will make the next call tomorrow, Friday, June 3, at 7:15 a.m. WIP for a possible 7:35 a.m. start.
Defay and Fitzgibbons Bounce Back in Elimination Round 
Both having had wins in left-hand coral reef breaks in the past, Johanne Defay (FRA) and Sally Fitzgibbons (AUS) came into the Roxy Pro G-Land as competitors to watch and no one expected to see them in the Elimination Round.
Up against Courtney Conlogue (USA), Defay came out of the gates strong, posting the highest two-wave combination of the day to progress into the Quarterfinals and dispatch the American, who leaves Indonesia with an equal 9th place finish.
"We all have a lot of energy today," Defay said. "After all of these lay days it feels like I have been doing nothing for three day so it was really exciting to get the competition back underway but also really stressful because it's been really hard to predict the forecast here and know if we're all making the right call to not run or run – I think the call today was a good one and I hope all of us continue to get opportunities. It's fun to be here at this event where we are all staying together and spending time with each other."
Similar to Defay, Sally Fitzgibbons (AUS) took one of the most memorable wins of her career in Fiji and when she got the call up to compete as an injury replacement here in G-Land, she was never going to let the opportunity pass her by. Fitzgibbons needed to dig deep to overcome good friend Isabella Nichols (AUS) who is fresh off a win at the Margaret River Pro and she did so, taking the heat and a spot in the Quarterfinals.
Pictured:

 

Good friends Sally Fitzgibbons (AUS) and Isabella Nichols (AUS) on their way to their Elimination Round matchup today at the ROXY Pro G-Land. Credit: © WSL / Dunbar
Macaulay and Peterson Both Through to Quarterfinals at Grajagan 
After a start to the year including some mixed results, Lakey Peterson (USA) is sitting at sixth on the rankings and outside of the Final 5. The World Title hopeful is in search of a big result here in Indonesia and today she avoided a last-place finish, overcoming the in-form rookie, Gabriela Bryan (HAW). Bryan led the heat in its entirety while Peterson struggled to find a rhythm, that was until her last two waves where she took the lead with one, then consolidated with a backup to progress into the Quarterfinals for the third time this season.
"That was a hard heat, it's been a tough week to mentally stay in it," Peterson said. "Gabriela has been on fire and the waves were tricky so that was a really tough one. I didn't do too well at the Australian events and really need a solid result here. I'm actually happy I lost my first heat and got the opportunity to surf in that round just to get a little bit more comfortable out there and I feel like I loosened up in the end. It's nice to get things going again."
Tyler Wright (AUS) was set to compete in Heat 1 of the Elimination Round but entered the WSL COVID-19 Health and Safety protocols on Monday, May 30. With the competition running today, within Wright's five-day timeframe in the COVID-19 Health and Safety Protocols, she did not continue to compete in this event. ROXY wildcard Bronte Macaulay (AUS) had a walk-through in the Quarterfinals and will face Defay in Quarterfinal 1 when the competition resumes.
World's Best Surfers Join Quiksilver Iconic For A Reason Expression Session
After the competition wrapped for the day at G-Land, some of the world's best surfers joined Quiksilver for their Iconic For A Reason Expression Session, riding iconic surfboards that have helped shape the future of surfing in one way or another.
Stephanie Gilmore (AUS), Carissa Moore (HAW), Kanoa Igarashi (JPN), Filipe Toledo (BRA), Jackson Baker (AUS), Isabella Nichols (AUS), Tatiana Weston-Webb (BRA), and Caio Ibelli (BRA) got to surf in a one 35-minute heat format where the commentators picked one male and one female winner based on overall performance. Competitors rode boards that helped shape the surfing in one way or another, and that have historical significance to G-Land and Indonesian surfing, as well as to Quiksilver.
The winners of the Quiksilver Iconic For A Reason Expression Session were Moore and Toledo. Moore rode a replica of the original 'Simon Anderson Thruster,' while Toledo rode a Terry Fitzgerald single fin. Toledo picked the same board he rode in the session, while Moore opted for the Gerry Lopez single fin.
Watch LIVE
The next call for the Quiksilver/ROXY Pro G-Land will be tomorrow at 7:15 a.m. WIP. Once called on, the competition will be broadcast LIVE on WorldSurfLeague.com, WSL's YouTube channel, and the free WSL app. Check local listings for coverage from the WSL's broadcast partners. For fans watching in Brazil, coverage of the competition's Quarterfinals and beyond will continue exclusively on WorldSurfLeague.com and SporTV.