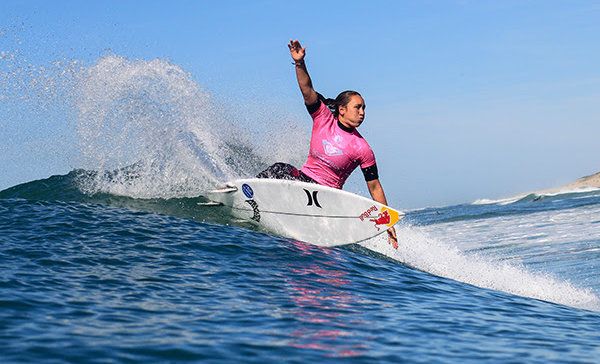 REIGNING WSL CHAMPION TYLER WRIGHT COMES BACK FROM MCL INJURY WITH ROUND 1 WIN 
WORLD TITLE CONTENDERS ADVANCE TO ROUND 3
Carissa Moore (HAW) claimed the day's top performances in Round Two of the Roxy Pro France.
Credit:
 © WSL / Masurel
| | |
| --- | --- |
| Location:    | Capbreton, Hossegor, Seignosse / France |
| Event window: | October 7-18, 2017 |
| Today's Call:    | Women's RD1 & 2 Completed |
| Conditions: | Clean three-to-four foot |
HOSSEGOR, France (Saturday, October 7, 2017) – The Roxy Pro France launched today in great conditions to run Rounds 1 and 2 of competition in clean three-to-four foot surf at the main break of La Graviere. Crowds gathered on the water's edge to witness a full day of high-performance surfing from the world's best surfers.
French surfer Johanne Defay (FRA) took out the day's opening heat over recent event winner in Cascais Nikki Van Dijk (AUS) and Malia Manuel (HAW), and advanced straight into Round 3. The Reunion Island athlete surfed a good lefthander and performed three backhand turns on the clean face of the wave for her best score of 7.00.
"I lost to Malia (Manuel) in Cascais and Nikki (Van Dijk) won the event so it was definitely a good win over them in that first round," Defay said. "It was a complicated heat with not so many waves so I'm stoked to make it. I really like the power of the waves here and all the people on the beach, and it's just so beautiful. I'm in a good mindset and really enjoying being here."
Current No. 5 on the Jeep Leaderboard, Van Dijk, went on to be eliminated in Equal 13th in Round 2 at the hands of Bronte Macaulay (AUS) while Manuel won her heat and advances on to Round 3.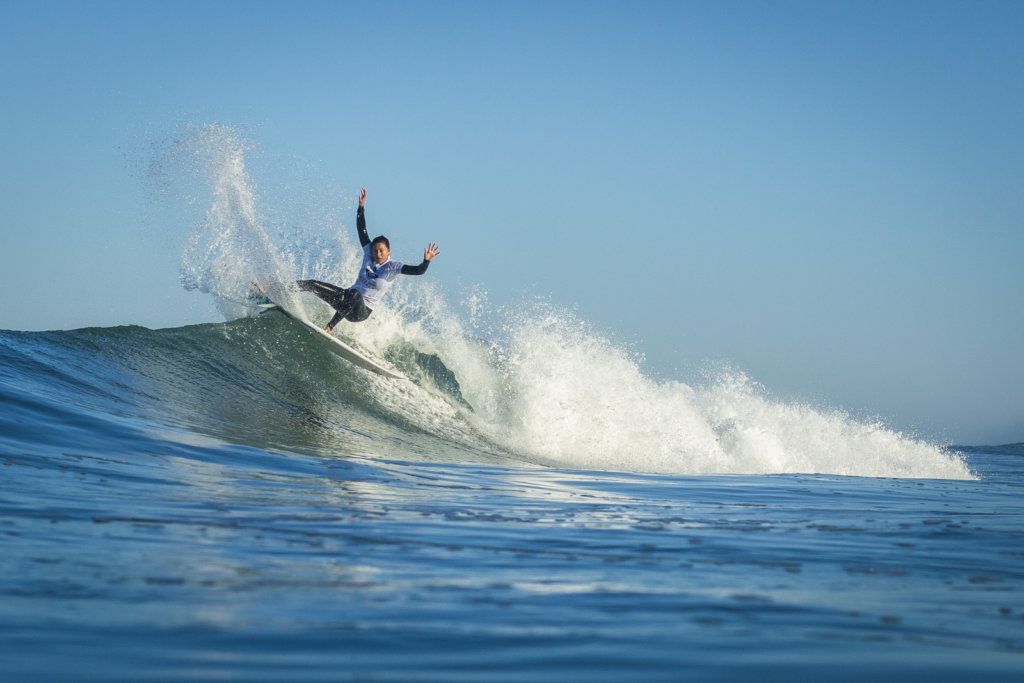 Malia Manuel of Hawaii placed second in Round One, Heat 1 of the 2017 Roxy Pro France today Saturday October 7, 2017.  PHOTO: © WSL / Poullenot
The rights started to pump as Lakey Peterson (USA) paddled out in Round 1 Heat 2 alongside Pauline Ado (FRA) and Sage Erickson (USA). Currently ninth on the Jeep Leaderboard, Peterson comes from two excellent results in California and Portugal and brimmed with confidence as she laid down her powerful carves to build a solid 15.16 heat total.
"I was really stoked to get that last 8 point ride, on the outgoing tide the waves got fun and there were some good little corners," Peterson said. "I just tried to be ready to adapt, everyone knows the banks change a lot with the extreme tides here. There were some good lefts in the previous heats so I kept an open mind for those as well but it seemed like the rights turned on for us in that heat."
In Heat 3, Brazil's Silvana Lima tore the lineup apart with clean radical carves to post the round's biggest performance and relegate the current World No. 1 Sally Fitzgibbons (AUS) and event wildcard Caroline Marks (USA) to elimination Round 2. Lima's best ride came in as an incredible 8.93 for a combination of gauges on a perfect righthander.
"It was really good to start with that wave and I felt really confident for the rest of the heat to find a second one," Lima said. "I always love coming here to France, today we have clean super fun waves and I have other boards for when the swell picks up and we get big barrels."
Courtney Conlogue (USA) got very busy scouring the Graviere lineup, surfing a total of nine waves to dispatch Keely Andrew (AUS) and Bianca Buitendag (ZAF) in Heat 4. The World No. 2 dominated the Round 1 heat and found herself on the best waves, surfing long rights and committing to the final big maneuvers on the closeout section.
"I've had a week to kind of wash that last event off and I'm feeling great," Conlogue said. "I've been coming here for over ten years now and it's a place that's really close to my heart. I'm excited and really optimistic, a lot went down in this event last year and I'm really looking forward to this event."
Despite being limited by an MCL injury sustained in Portugal last week, reigning WSL Champion Tyler Wright (AUS) managed to win her opening Roxy Pro France heat over Tatiana Weston-Webb (HAW) and Bronte Macaulay (AUS). Wright claimed her maiden world title in France last year and is still in a close race with Fitzgibbons and Conlogue with just two events remaining in the season.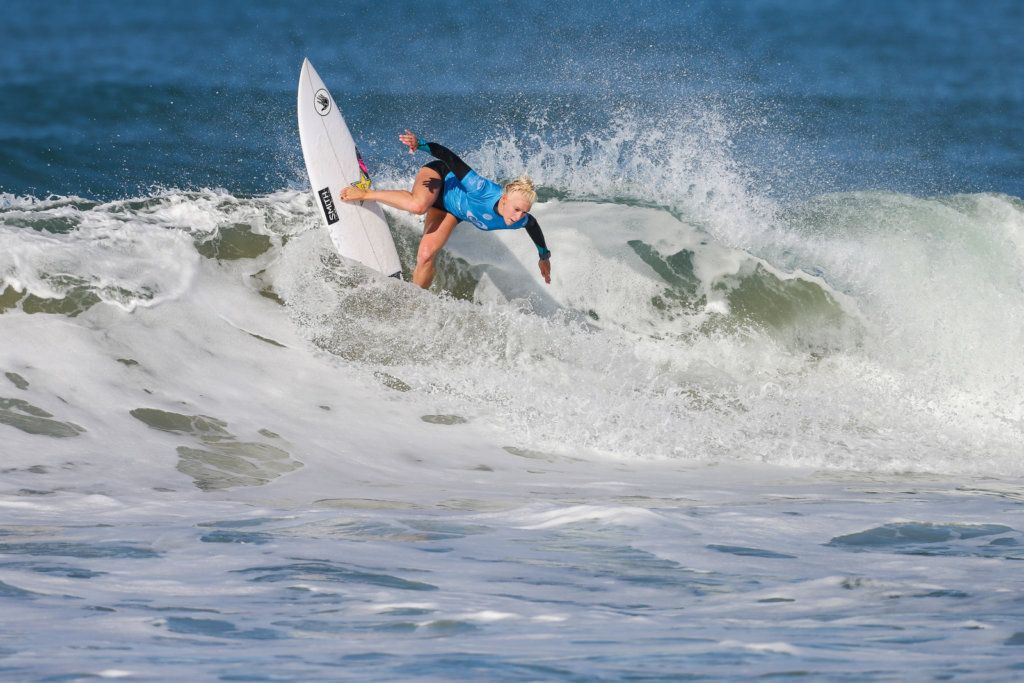 Tatiana Weston-Webb of Hawaii placed equal 13th at the 2017 Roxy Pro France today Saturday October 7, 2017.  PHOTO: © WSL / Masurel
"We've had a week now and I feel like a lot of healing has happened," Wright admitted. "My whole week has been about healing and eating well and doing everything I can to get as much reattached to the bone as possible. I have an incredible working with me, I'm very lucky to have this entourage. I'm here to win and try to get that second world title, that's what all this last week is about and that's what I'm here to do."
Six-time WSL Champion Stephanie Gilmore (AUS) took out the final win of Round 1 over Hawaiians Carissa Moore and Coco Ho in a heated battle of big scores. Gilmore and Moore went blow for blow to post excellent rides and ultimately it was the Australian's flow and aggressive snaps that claimed her a ticket straight into Round Three.
"There are so many awesome fans here, I looked back at the beach and there were so many people it felt like a final!" Gilmore said. "It was a tough heat, Carissa and Coco are some of my favorite surfers. I just had to wait for the best ones, that was my plan and it worked. I'm having so much fun, sometimes even a little too much and I have to move into a more serious mode. It's the first year I've really worked with a coach, with Jake Patterson, and it's good to have him there and actually strategize before heats, normally I'd just go out there and try to figure it out."
Defending event champion Moore bounced back in Round 2 with an incredible performance to eliminate local surfer Pauline Ado (FRA). The Hawaiian surfed two waves to near-perfection to build an incredible 18.17 combined heat total.
"Conditions were just beautiful, the best we can ask for coming to France really," Moore stated. "I had a great time, I was actually bummed I didn't get one more just to surf and express myself. I was a little anxious because we only had one day really after Portugal to figure the spot out but I know a lot of the girls were in the same position."
Fitzgibbons managed to escape a treacherous Round 2 match-up with event wildcard Caroline Marks (USA) as well and put on a convincing display to keep her French campaign alive. The Jeep Leader hasn't lost before the Quarterfinals so far this season will look to post another big result in France to hold on to the rankings pole position before the final event of 2017.
"It's interesting how conditions change every ten minutes when that tide comes in," Fitzgibbons said. "I knew I had a tough opponent, Caroline is doing well on the QS and I'm sure she'll be joining us next year. So I had to step it up and I'm happy to move through. We have long days here in France so you have to pace yourself and manage your energy, it's challenging but I'm really having a lot of fun with it."
World No. 4 Sage Erickson (USA) bowed out of competition in Round 2, eliminated by injury replacement Bianca Buitendag (ZAF). Erickson's title race could be seriously altered with a poor result in France as the current Top 3 surfers all made their way into Round 3 of competition.
"I don't know what I'm more frustrated about, the Round 2 loss itself or actually not being able to compete in this contest with the forecast that's coming," Erickson said. "There's a certain nerve about Round 2 that's different than any other heat, a part of it is you can see yourself exiting out early and it's tough."
Contest officials will reconvene at 8 a.m on Sunday to re-assess conditions for a potential start of the men's event or the women's third round.
 Opening weekend of the event (Oct 7-8) will see a modest WNW swell with clean conditions. Early to mid next week looks slow at this time with fading leftovers from the weekend swell. A larger swell looks increasingly likely for the end of next week, Wednesday afternoon through Friday, easing over the weekend of the 14th-15th. Beyond that, an even larger NW swell is possible for the very end of the waiting period. Surfline.
The Quiksilver and Roxy Pro France will be webcast LIVE on WorldSurfLeague.com as well as the WSL app.
The Quiksilver and Roxy Pro France will be broadcast LIVE via WorldSurfLeague.com, the WSL app and on Facebook LIVE via the WSL's Facebook page.  Also check the local listings for coverage on CBS Sports Network in the U.S., Fox Sports in Australia, ESPN in Brazil, Sky NZ in New Zealand, SFR Sports in France and Portugal, Sport TV in Portugal and the EDGEsport Network.
For all results, photos, video highlights, press releases and LIVE webcast, log on to worldsurfleague.com or the WSL mobile app.
Roxy Pro France Round 1 Results:
Heat 1: Johanne Defay (FRA) 11.87, Malia Manuel (HAW) 10.67, Nikki Van Dijk (AUS) 9.90
Heat 2: Lakey Peterson (USA) 15.16, Pauline Ado (FRA) 11.13, Sage Erickson (USA) 8.87
Heat 3: Silvana Lima (BRA) 16.26, Sally Fitzgibbons (AUS) 11.06, Caroline Marks (USA) 5.76
Heat 4: Courtney Conlogue (USA) 14.20, Keely Andrew (AUS) 12.00, Bianca Buitendag (ZAF) 8.74
Heat 5: Tyler Wright (AUS) 13.74, Tatiana Weston-Webb (HAW) 12.20, Bronte Macaulay (AUS) 11.73
Heat 6: Stephanie Gilmore (AUS) 15.60, Carissa Moore (HAW) 15.47, Coco Ho (HAW) 10.50
Roxy Pro France Round 2 Results:
Heat 1: Malia Manuel (HAW) 15.54 def. Tatiana Weston-Webb (HAW) 15.37
Heat 2: Carissa Moore (HAW) 18.17 def. Pauline Ado (FRA) 10.96
Heat 3: Sally Fitzgibbons (AUS) 15.70 def. Caroline Marks (USA) 9.53
Heat 4: Bianca Buitendag (ZAF) 12.10 def. Sage Erickson (USA) 11.20
Heat 5: Bronte Macaulay (AUS) 11.30 def. Nikki Van Dijk (AUS) 9.53
Heat 6: Keely Andrew (AUS) 11.44 def. Coco Ho (HAW) 11.30
Roxy Pro France Round 3 Match-Ups:
Heat 1: Stephanie Gilmore (AUS), Carissa Moore (HAW), Bianca Buitendag (ZAF)
Heat 2: Sally Fitzgibbons (AUS), Keely Andrew (AUS), Silvana Lima (BRA)
Heat 3: Courtney Conlogue (USA), Lakey Peterson (USA), Malia Manuel (HAW)
Heat 4: Tyler Wright (AUS), Johanne Defay (FRA), Bronte Macaulay (AUS)
Quiksilver Pro France Round 1 Match-Ups:
Heat 1: Adriano De Souza (BRA), Conner Coffin (USA), Stuart Kennedy (AUS)
Heat 2: Owen Wright (AUS), Bede Durbidge (AUS), Nat Young (USA)
Heat 3: Matt Wilkinson (AUS), Wiggolly Dantas (BRA), Josh Kerr (AUS)
Heat 4: Julian Wilson (AUS) Caio Ibelli (BRA), Ethan Ewing (AUS)
Heat 5: John John Florence (HAW), Italo Ferreira (BRA), Keanu Asing (HAW)
Heat 6: Jordy Smith (ZAF), Kanoa Igarashi (USA), Marc Lacomare (FRA)
Heat 7: Filipe Toledo (BRA), Joan Duru (FRA), Miguel Pupo (BRA)
Heat 8: Gabriel Medina (BRA), Jeremy Flores (FRA), Leonardo Fioravanti (ITA)
Heat 9: Joel Parkinson (AUS), Michel Bourez (PYF), Jack Freestone (AUS)
Heat 10: Connor O'Leary (AUS), Sebastian Zietz (HAW), Jadson Andre (BRA)
Heat 11: Frederico Morais (PRT), Mick Fanning (AUS), Ian Gouveia (BRA)
Heat 12: Kolohe Andino (USA), Adrian Buchan (AUS), Ezekiel Lau (HAW)