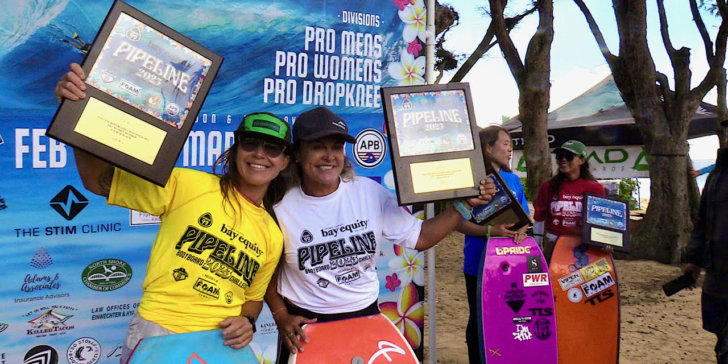 WOMEN'S PRO EVENT
DROP KNEE EVENT
Ehukai surf break was once again the hot spot for the Route 99 Bay Equity Pipeline Bodyboard Challenge.
Pipeline has not shown its teeth for a while now due to lots of sand build up so Ehukai was the site of a full day of competition for Women's Bodyboarding and the Drop Knee divisions. –Surf was a bit bigger today with a new swell sweeping into the break about 2-4 feet.
Conditions much improved also for the athletes and waves were very consistent.
In Drop Knee bodyboarding Sammy Morretino from Kauai got the drop on David Hubbard.
Just one point separated the two. Morretino won with a 12.34 and Hubbard right behind with a 11.34.
The surf was considered small for the competitors today.
The Women bodyboarders were the first to surf at Pipeline in a contest in 1990 and soon after women's short boarders took on the spot.
It was a long-time competitor from Brazil that placed first, Neymara Carvalho, with a 11.77 total score.
Carvalho has been surfing in the competition since the third year and is a former winner.
In second was Sari Ohhara from Japan. Ohhara is no stranger to Pipeline.
There has always been a strong contingent of Japanese women bodyboarders charging Pipeline.
Both pulled off double spins and completed rolls to score.
Rolls were done right into the sand, a very dangerous point getter!
One more event is slated to finish by March 9th, the end of the waiting period, the Mens Pro Bodyboarding. There is a swell slated to arrive the 8th that has some size and the event is most likely to finish up on that bigger swell.
Check
SurfNewsNetwork.com
for more information and the SNN Surf hotline,
808-596-7873
. Below are all scores and news video links. The Foam Company will be streaming the event live on last day of competition, 
thefoamco.com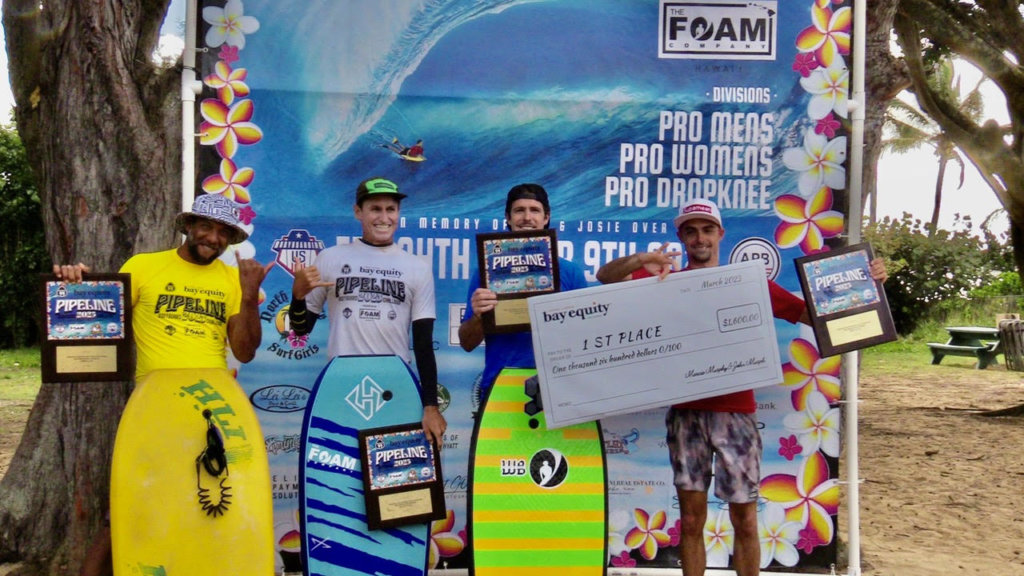 Drop Knee
Sammy Morretino 12.34 Hi
David Hubbard      11.34 Hi
Justin Cadiente        9.00 Hi
Mack Crilley             8.43 Hi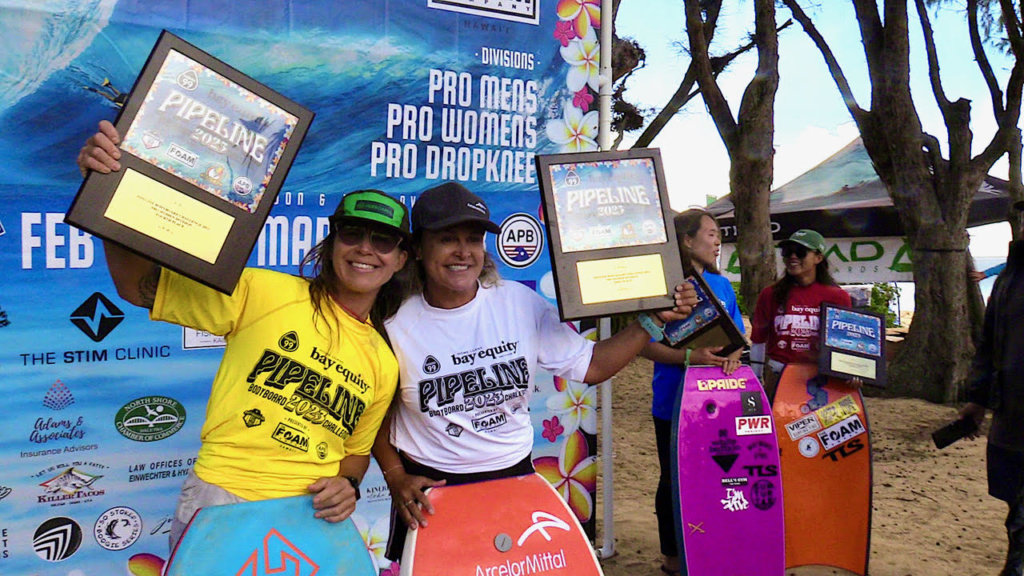 Brazils Jessica Becker and Neymara Carvalho (right)
Women's Pro Bodyboarding
Naymara Carvalho  11.77 BRZ
Sari Ohhara             10.74 JPN
Ayaka Suzuki Crilley 9.44 JPN/HI
Jessica Becker.         7.00 BRZ/HI
For More Information:
Betty Depolito / Banzai Enterprises / 808-781-2535
Betty Depolito
Banzai Enterprises
Pipeline Women's Pro 2023
Women's Waimea Bay Cultural Championship 2024