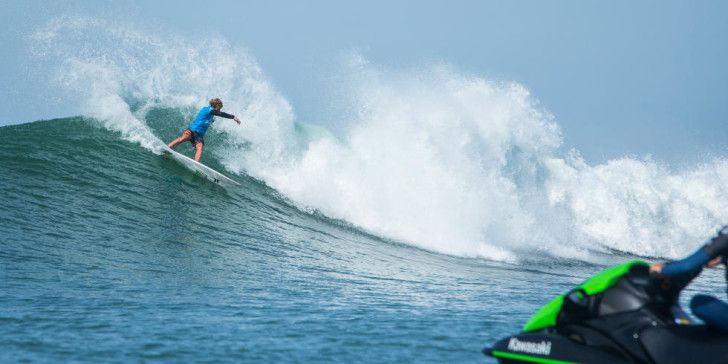 Photo:John John Florence (HAW) sends some spray in Round 3. WSL / Poullenot/Aquashot
SEIGNOSSE/HOSSEGOR/CAPBRETON, Landes, Aquitaine/France: (Saturday October 10 2015)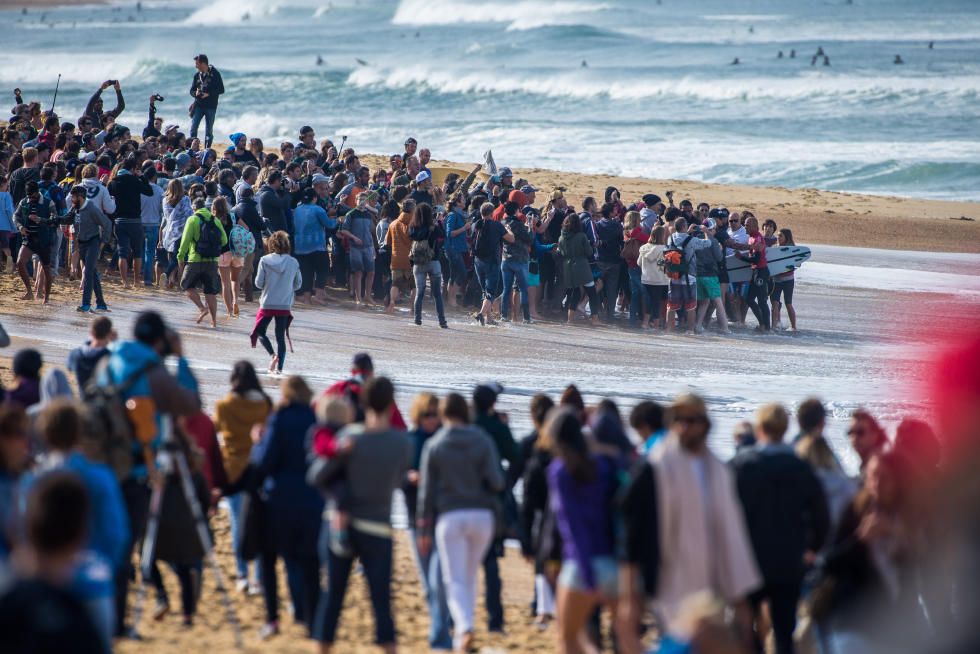 Crowd Pro france 15– WSL / Poullenot/Aquashot
Mick Fanning (AUS) V Maxime Huscenot (FRA): Super heat sees Mick Fanning steal the heat win in the final seconds against local wildcard Maxime Huscenot who lead for the entire heat only to see Fanning take the win with a 9 point final ride – critical heat win in his world title campaign.
Kolohe Andino (USA/SanClemente) V Kelly Slater (USA) : Andino goes to the air with high scoring high risk moves to defeat Slater in Round 3.
Jeremy Flores (FRA): Flores defeats Tahiti's Michel Bourez and is the last remaining French surfer in the Men's draw
Adriano de Souza (BRA): De Souza, the number 2 seed maintains his world title campaign by taking a very close Round 3 heat win over fellow Brazilian Tomas Hermes.
John John Florence (HAW): Florence is the defending event champion and he took a solid round 3 win over Australia's Kai Otton.
Stephanie Gilmore (AUS): Gilmore wins Round 2 heat after coming back from a 6 months injury lay-off. Great tube ride and Gilmore advances to Round 3 while Malia Manuel (HAW) is eliminated.
SEIGNOSSE/HOSSEGOR/CAPBRETON, Landes, Aquitaine/France (Saturday, October 10, 2015) – The Quiksilver and Roxy Pro France, stop No. 9 on the 2015 Samsung Galaxy World Surf League (WSL) Championship Tour (CT), continued today in clean 3 to 4 feet surf.
Kelly Slater faced Kolohe Andino  in Round 3 and the USA pair put on a show for the large crowds. Andino drew first blood with an outstanding high aerial move that was awarded an 8.5. Slater produced his own aerials and some good barrel rides but Andino's 8.5 was decisive and the 21-year- old Californian took an exciting heat win and eliminated Slater.
Number 1 seed Mick Fanning (AUS) faced local wild card Maxime Huscenot (FRA) in the heat of the day. Huscenot surfed brilliantly and lead the heat from the start until the final 5 seconds when Fanning found an outstanding 9 point ride to steal the heat win, advance to Round 4 and significantly enhance his world title campaign for 2015.
Other standouts before Round 3 was placed on hold due to high tides included John John Florence, Adriano De Souza and Julian Wilson who all impressively won their heats  and advanced to Round 4.
Local favourite Jeremy Flores (FRA) took a tight heat win over Michel Bourez (Tahiti).Flores moves through to Round 4 and is the last remaining French surfer in the Men's draw while Joanne Defay from France is into Round 3 in the Roxy Pro Women's draw.
Competition is expected to re commence early tomorrow morning (8 or 9pm HI Time)
GO LIVE HERE