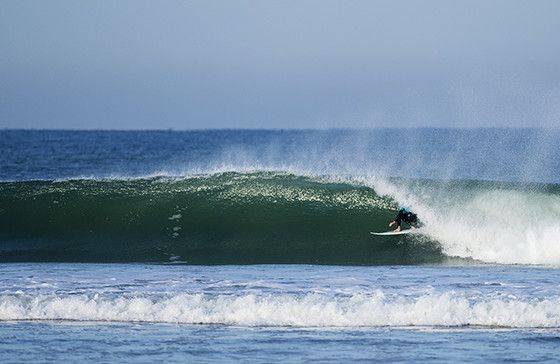 Stephanie Gilmore (AUS) will hunt the Hossegor barrels in Round 3 of the Roxy Pro. Image: WSL / Kirstin
ROXY PRO FRANCE ROUND 3 CALLED ON
QUIKSILVER PRO ROUND 4 TO FOLLOW
– SOUTHWEST FRANCE CONTINUES TO PROVIDE EXCELLENT CONDITIONS
– WOMEN'S ROUND 3 COMMENCES AT 9:15AM FRANCE TIME. 945pm HI Time.
– MEN'S ROUND 4 ON STANDBY TO START FOLLOWING COMPLETION OF WOMEN'S ROUND 3
| | |
| --- | --- |
| Location:    | Seignosse/Hossegor/Capbreton, Landes, Aquitaine, France |
| Event window: | October 6 – 17, 2015 |
| Today's call: | Women's R3 Starts @ 9:00AM, Men'd R4 on Standby |
| Conditions: | Three-to-Four foot + (1 metre) at Les Gardians |
SEIGNOSSE/HOSSEGOR/CAPBRETON, Landes, Aquitaine/France (Sunday, October 11, 2015) – Clean three-to-four foot (1 metre) surf at the backup venue of Les Gardians allow the Quiksilver and Roxy Pro France, stop No. 9 on the 2015 Samsung Galaxy World Surf League (WSL) Championship Tour (CT) to resume this morning. The Roxy Pro France will launch today's exciting action with the third round while the Quiksilver Pro France is on Standby for a later start.
"Really nice conditions on offer this morning and we'll commence women's Round 3 at 9:15am," said WSL Women's Commissioner, Jessi Miley-Dyer. "We have men's and women's Round 4 on standby for a possible start later. Good luck to all our competitors today."
Up first will be local favorite Johanne Defay (FRA), Tyler Wright (AUS) and Sage Erickson (USA) in Heat 1, Round 3 of the Roxy Pro France.
 Leftover WNW swell lingers into Saturday before inconsistent Joaquin swell shows during the afternoon/evening. Joaquin swell peaks Sunday before quickly dropping on Monday. Small surf for Tuesday and into Wednesday AM. New WNW swell begins to fill in later Wednesday, peaks Thursday and gradually eases on Friday and into Saturday. Surfline.
The Quiksilver and Roxy Pro France will be webcast LIVE on worldsurfleague.com and via the WSL app.
ROXY PRO FRANCE ROUND 3 MATCH-UPS:
Heat 1: Johanne Defay (FRA), Tyler Wright (AUS), Sage Erickson (USA)
Heat 2: Courtney Conlogue (USA), Stephanie Gilmore (AUS), Coco Ho (HAW)
Heat 3: Carissa Moore (HAW), Nikki Van Dijk (AUS), Alessa Quizon (HAW)
Heat 4: Sally Fitzgibbons (AUS), Tatiana Weston-Webb (HAW), Dimity Stoyle (AUS)
QUIKSILVER PRO FRANCE ROUND 4 MATCH-UPS:
Heat 1: Julian Wilson (AUS), Jadson Andre (BRA), Kolohe Andino (USA)
Heat 2: Italo Ferreira (BRA), Bede Durbidge (AUS), Mick Fanning (AUS)
Heat 3: Adriano De Souza (BRA), John John Florence (HAW), Jeremy Flores (FRA)
Heat 4: Gabriel Medina (BRA), Matt Wilkinson (AUS), Owen Wright (AUS)