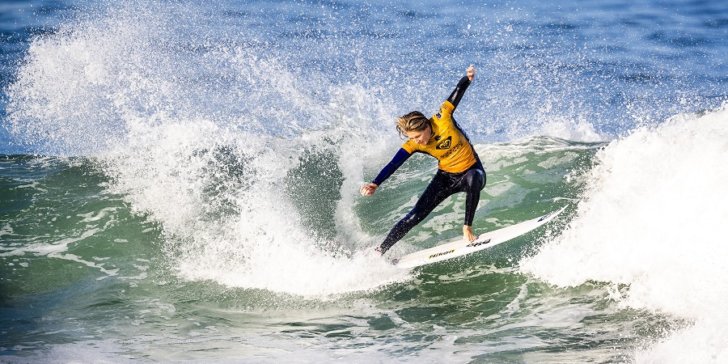 WORLD TITLE CONTENDERS GILMORE AND PETERSON ADVANCE TO ROUND 3
–  WESTON-WEBB POSTS DAY'S HIGHEST SCORES
– FRENCH FAVORITE DEFAY EARNS WIN IN OPENING ROUND
 Front page: Six-time WSL Champion Stephanie Gilmore (AUS) is off to a strong start at the Roxy Pro France with a Round 1 win over Sage Erickson (USA) and Vahine Fierro (PYF).
Credit: © WSL / Poullenot
| | |
| --- | --- |
| Location:    |    Seignosse/Hossegor/Capbreton, Landes, Nouvelle-Aquitaine, France |
| Event window: |    October 3 – 14, 2018 |
| Today's Call: |    Women's Round 1 complete |
| Conditions: |    2 – 3 foot  |
PLAGE DES CULS NUS – Hossegor, Landes, Nouvelle-Aquitaine, France (Wednesday, October 3, 2018 12 Hours ahead of Hawaii) – The Quiksilver and Roxy Pro France, Stop No. 9 on the World Surf League (WSL) Championship Tour (CT), launched today in clean three-foot surf on a moving A-frame peak that delivered rights and lefts alternately for the opening round of the Roxy Pro.
Jeep Frontrunner Stephanie Gilmore (AUS) had a really close Round 1 encounter with Sage Erickson (USA) and Roxy wildcard Vahine Fierro (PYF). The reigning World Junior Champion Fierro led the affair for most of the 30-minute heat, but Gilmore answered with back-to-back waves in the last five minutes to take back the lead and advance into Round 3.
"Of course there's pressure on me and Lakey (Peterson)," Gilmore said. "I think it's about who can deal with it properly. Sage (Erickson) and Vahine (Fierro) are such smart competitors and out there you need to be on the best waves so I just had to be patient and it worked out in the end. I have to be fierce right now, we've got a pretty intense competition and there's a lot on the line in this event."
World No. 2 Lakey Peterson (USA) suffered a similar slow and low-scoring matchup with Courtney Conlogue (USA) and French local Pauline Ado (FRA) but managed to squeeze through in pole position to match Gilmore. Locked in a tight race for the 2018 WSL Title, Peterson will need to finish above the Australian for a chance to send the Title showdown to Maui, the last stop on this year's Championship Tour.
"I just love it here so my fiance and I came a week before," Peterson said. "I had time to test boards and surf all the banks around. It was more for enjoyment but also good preparation. I'm excited and I hope I can push the title race to Hawaii, it's just super cool to be in this position."
Carissa Moore (HAW) was the first surfer to post a near-excellent score this morning as she found a longer wave to perform multiple backhand hacks for a 7.50 (out of a possible 10). A former event winner in France, Moore comes off a victory at the Surf Ranch Pro and could play spoiler in the world title race as she competes in conditions she enjoys.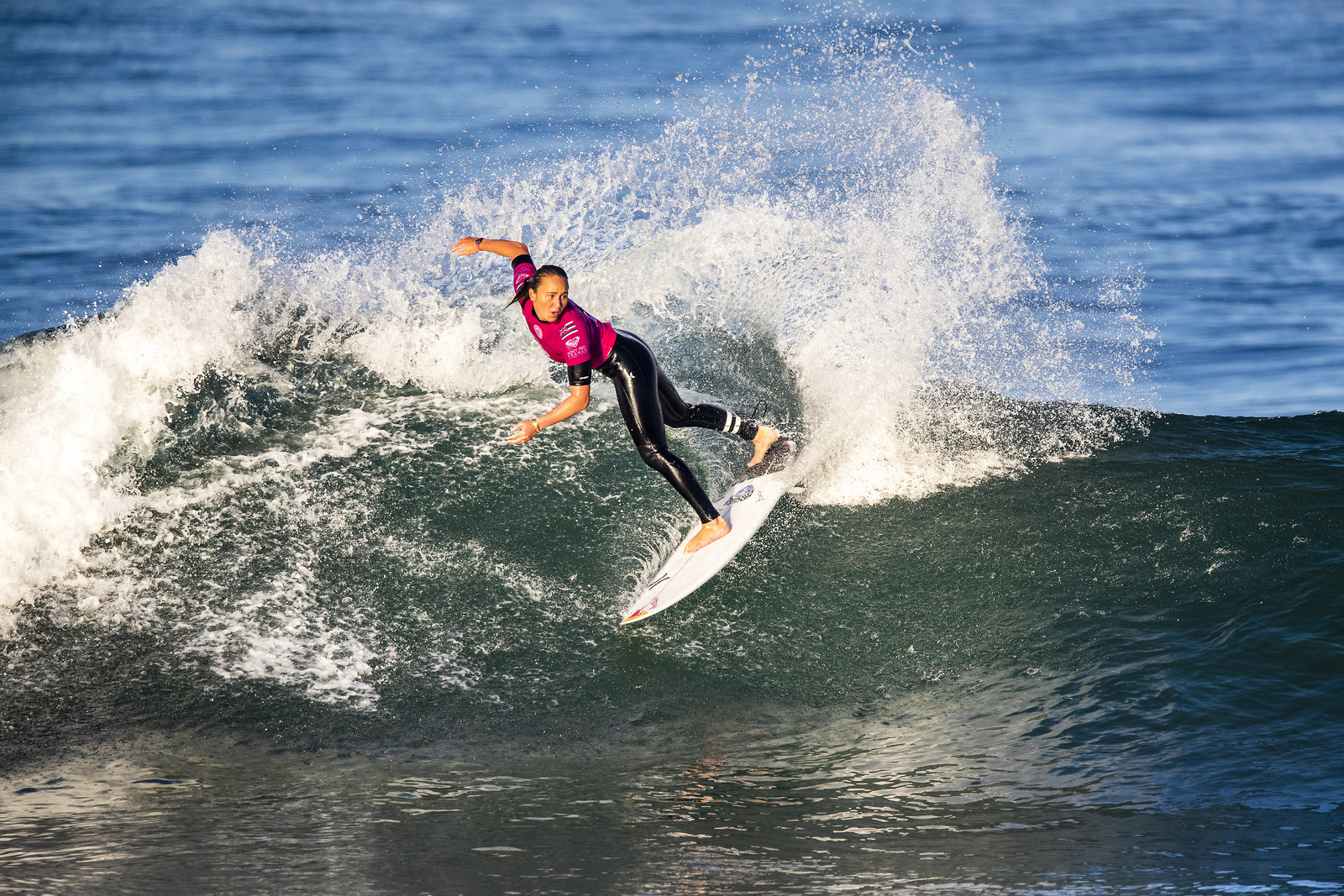 Carissa eyeballs her next move with style. Credit: © WSL / Poullenot
"I'm really happy to be happy and enjoying surfing," Moore said. "Each heat is always a clean slate and conditions change so much here you can never have too much confidence. I try my best to be adaptable and keep moving. The tide changed drastically in that heat I felt and the right I was looking at before fattened out so I thought I'd try something on the left and thankfully it worked out."
Her compatriot Malia Manuel (HAW) found similar lefts a few heats later and built a good 12.83 (out of a possible 20) scoreboard but it wasn't enough to contain Tatiana Weston-Webb's (BRA) assault. The Brazilian surfer locked in an 8.83 for some big turns on her forehand and a blow-tail to close it off. She later found a good little left as well to back up her main score, a 14.63 and the highest of the day, and moved on in the first position.
"I was stoked that there were a few lefts out there," Weston-Webb said. "I was a little behind on that good wave but it kind of helped me in the end cause I feel like my turns were a bit more critical. The bank is challenging as it changes a lot but I love it, the waves are super fun and I look forward to the rest of the event."
In a slow first heat early this morning, Bronte Macaulay (AUS) found a couple of fun rights to attack on her backhand. The Australian posted two average scores and it was enough to upset the current World No. 5 rookie Caroline Marks (USA) and Nikki Van Dijk (AUS) and make her way into Round 3.
Johanne Defay (FRA) took out the final heat of the day with a great display of backhand surfing on the clean lefts at Culs Nus and posted a strong Round 1 performance with a 14.14 heat total. Currently sitting sixth in the rankings, the winner in Uluwatu earlier this season is close behind Weston-Webb, Moore and Marks and could use a big result on home turf to climb a few spots before Hawaii. She relegated Sally Fitzgibbons (AUS) and Keely Andrew (AUS) to the elimination Round 2.
The World Title scenarios going into the Roxy Pro France are as follows:
*- Gilmore is the only surfer who can clinch the title in France
– If Gilmore wins the event, she takes the title
– If Peterson wins the event the title goes to Maui
– If Gilmore finishes 2nd (runner-up) and Peterson finishes 3rd or below, Gilmore wins the title
– If Gilmore finishes 3rd (Semifinalist) and Peterson finishes 5th or below, Gilmore below the title. If Peterson finishes 3rd or better the title goes to Maui for a potential surf off
– If Gilmore finishes 5th or below, the title goes to Maui *
Modest/fun size NW swell and favorable winds prevail on Wednesday. Decreasing surf is expected Thursday into the first half of Friday as favorable conditions continue. A slight bump in surf is possible Friday afternoon and Saturday. Increased onshore wind and building, wind affected, poor quality surf looks likely Sunday. The last few days of the event window look more promising for swell and wind/weather. Surfline
Event organizers will reconvene tomorrow morning to reassess the conditions and make the next call.
The Quiksilver and Roxy Pro France and the Red Bull Airborne will be broadcast LIVE on WorldSurfLeague.com, the WSL's Facebook page. Also, check local listings for coverage from the WSL's broadcast partners.
Local fans will be able to follow the event LIVE on a big screen on the Central square in Hossegor and enjoy movie screenings and music acts in various places during the event's waiting period.
Roxy Pro France Round 1 Results:
Heat 1: Bronte Macaulay (AUS) 11.20, Nikki Van Dijk (AUS) 10.50, Caroline Marks (USA) 4.74
Heat 2: Carissa Moore (HAW) 12.17, Coco Ho (HAW) 5.40, Paige Hareb (NZL) 4.63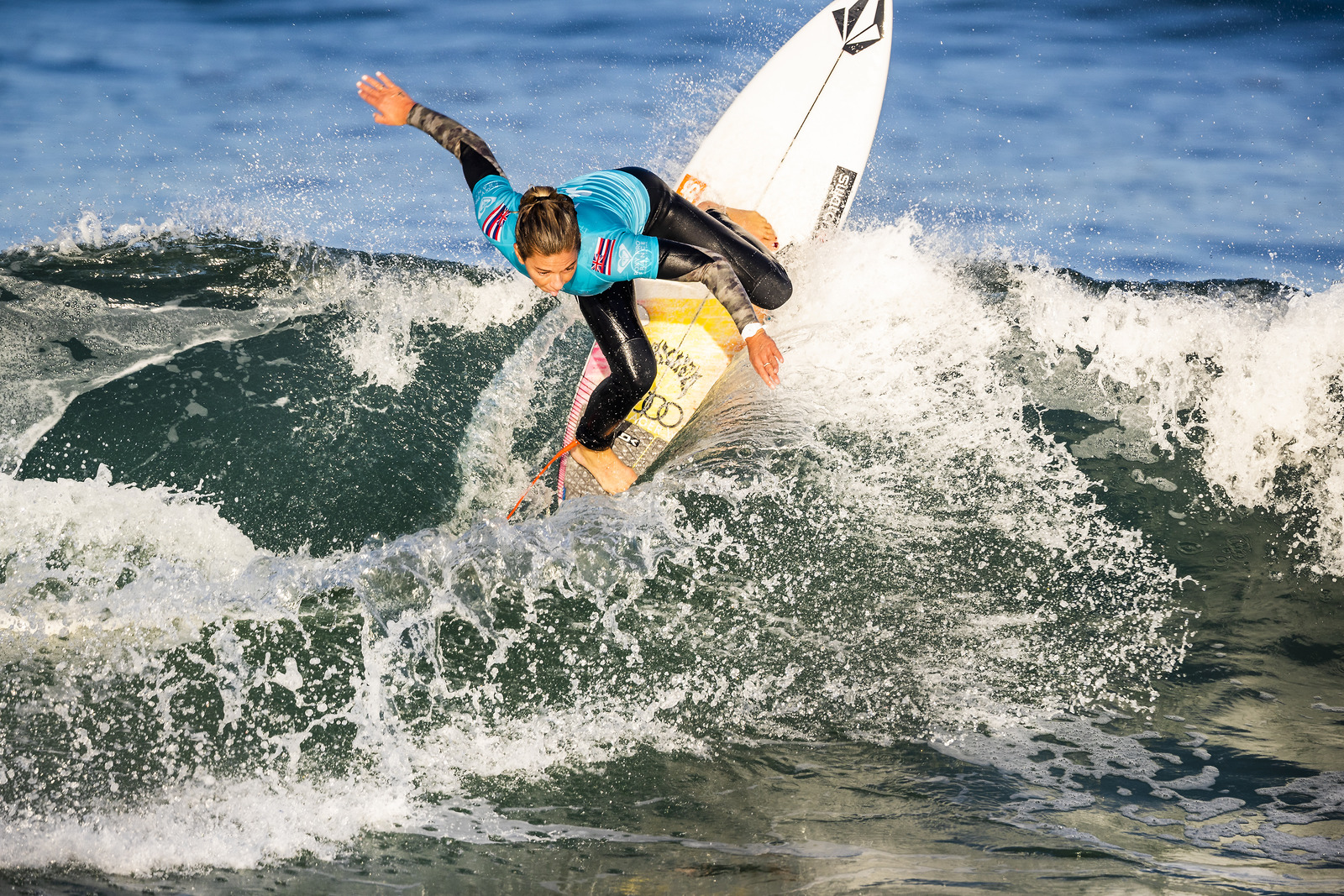 Coco cranking out a 2nd behind Carissa. Credit: © WSL / Poullenot
Heat 3: Stephanie Gilmore (AUS) 11.36, Sage Erickson (USA) 10.53, Vahine Fierro (PYF) 10.10
Heat 4: Lakey Peterson (USA) 9.67, Courtney Conlogue (USA) 9.03, Pauline Ado (FRA) 7.43
Heat 5: Tatiana Weston-Webb (BRA) 14.63, Malia Manuel (HAW) 12.83, Macy Callaghan (AUS) 10.77
Heat 6: Johanne Defay (FRA) 14.14, Sally Fitzgibbons (AUS) 9.97, Keely Andrew (AUS) 6.26
Roxy Pro France Round 2 Matchups:
Heat 1: Malia Manuel (HAW) vs. Keely Andrew (AUS)
Heat 2: Coco Ho (HAW) vs. Paige Hareb (NZL)
Heat 3: Caroline Marks (USA) vs. Vahine Fierro (PYF)
Heat 4: Sally Fitzgibbons (AUS) vs. Pauline Ado (FRA)
Heat 5: Nikki Van Dijk (AUS) vs. Macy Callaghan (AUS)
Heat 6: Courtney Conlogue (USA) vs. Sage Erickson (USA)
Quiksilver Pro France Round 1 Matchups:
Heat 1: Jordy Smith (ZAF), Ezekiel Lau (HAW), Matt Wilkinson (AUS)
Heat 2: Owen Wright (AUS), Sebastian Zietz (HAW), Joan Duru (FRA)
Heat 3: Italo Ferreira (BRA), Yago Dora (BRA), Keanu Asing (HAW)
Heat 4: Julian Wilson (AUS), Frederico Morais (PRT), Wiggolly Dantas (BRA)
Heat 5: Gabriel Medina (BRA), Tomas Hermes (BRA), Ryan Callinan (AUS)
Heat 6: Filipe Toledo (BRA), Connor O'Leary (AUS), Jorgann Couzinet (REU)
Heat 7: Wade Carmichael (AUS), Adriano de Souza (BRA), Miguel Pupo (BRA)
Heat 8: Kolohe Andino (USA), Adrian Buchan (AUS), Ian Gouveia (BRA)
Heat 9: Kanoa Igarashi (USA), Michael Rodrigues (BRA), Patrick Gudauskas (USA)
Heat 10: Michel Bourez (PYF), Griffin Colapinto (USA), Jesse Mendes (BRA)
Heat 11: Mikey Wright (AUS), Conner Coffin (USA), Michael February (ZAF)
Heat 12: Willian Cardoso (BRA), Jeremy Flores (FRA), Joel Parkinson (AUS)