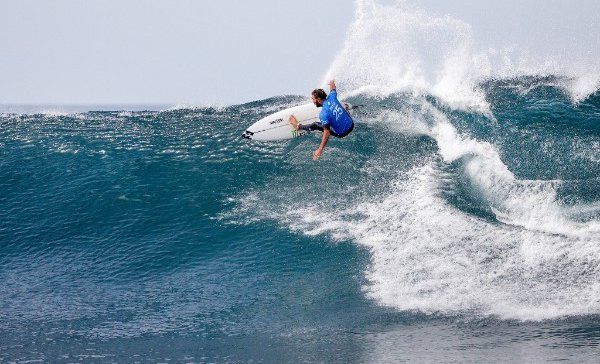 – WINKIPOP DELIVERS PRISTINE CONDITIONS FOR EASTER SUNDAY CROWDS
– ROOKIE MORIAS ELIMINATES WSL CHAMPION MEDINA
– WSL CHAMPIONS FANNING, SLATER CLASH IN ROUND 3
– NEWCOMER LAU DISPATCHES WORLD NO. 3 ANDINO 
 2017 CT Rookie Frederico Morais (PRT) upset the competition today by eliminating 2014 WSL Champion Gabriel Medina (BRA) in Round 3 Heat 1 of the Rip Curl Pro Bells Beach.
Credit: © WSL / Barripp
BELLS BEACH, Victoria/AUS (Sunday, April 16, 2017) – The Rip Curl Pro Bells Beach continued today with men's Round 2 and the first seven heats of Round 3. The day began with clean conditions at Bells Beach and again moved to Winkipop to capitalize on the incoming tide. The two elimination rounds produced incredible drama and action for the third stop of the World Surf League (WSL) Championship Tour (CT).
The all-star Round 3 match-up saw 11-time WSL Champion Kelly Slater (USA) take on three-time WSL Champion Mick Fanning (AUS) at Winkipop. Fanning looked far from composed early in the heat, struggling to find his trademark solidity. Despite the slow start, Fanning eventually settled to post a modest heat total of 13.50 (out of a possible 20). Slater also seemed to struggle with wave selection as he was unable to top Fanning's heat total. Both surfers are tied for four event wins here at Bells, but only Fanning will continue the hunt for a fifth event title.
"That was a pretty strange heat," Fanning said. "The waves slowed down a lot, so it ended up being a bit of a grind between the two of us. Kelly [Slater] and I have surfed a lot of heats together over the years and always really enjoy them, it's a great test. I definitely would have changed a few things about that heat, particularly my equipment. I should have been on a longer board. I'm excited to surf again. I love this place. It's the most special stop on tour for me, so a solid result is always what I'm after here."
Earlier today, Fanning also took down 2017 CT Rookie Ethan Ewing (AUS). In a battle between the new order and the veteran echelon, Fanning unleashed an incredible performance with a near-perfect 9.20 and 9.00. 2016 World Junior Champion Ewing was not able to combat the veteran and will be eliminated in Equal 25th place.
2017 CT Rookie Frederico Morais (PRT) upset the competition with a massive win over 2014 WSL Champion Gabriel Medina (BRA) in the opening heat of Round 3. Medina kicked things off with a 13.57 combined score, while Morais got to work with a 13.94. Medina was not able to find the 6.38 required to regain control and will fall out of the draw in Equal 13th place. This win marks Morais' first Round 4 berth of his rookie season.
"I knew it was going to be a really aggressive heat because Gabriel [Medina] is a formidable opponent," Morais said. "We were both hassling for the inside at the beginning of the heat so it was intense in the first few minutes. Luckily I got the first good wave. Getting an excellent score at the start put me in a comfortable position that I could just build on. I don't want to get to ahead of myself. I'm just really pumped to keep surfing because the waves are so fun. Hopefully I can continue to put a show on for all of the people that come down to Bells Beach."
2016 WSL Champion John John Florence (HAW) will march through to the next round after eliminating injury replacement Nat Young (USA) in Heat 6. Florence gained an early lead after dropping an excellent 8.17. The Jeep Frontrunner continued to better his situation with a 6.17 to take the win. Young, a former event runner-up at the Rip Curl Pro Bells Beach, did not give up until the final seconds but was unable to hang on to a finishing maneuver. Young bows out in Equal 13th.
"A little wind picked up in that heat, which made it difficult to surf out there," Florence said. "We pushed each other pretty deep at the start and then had to paddle back down. I would be stoked to win this event, but there are still a few more rounds to get through though. I am happy to make it through the first round and now this one."
Current World No. 2 Owen Wright (AUS) attacked Round 3 against Bede Durbidge (AUS) to continue his run in Victoria. Wright took advantage of the set waves to exhibit his trademark vertical snaps for a pair of 8.77s to put the pressure on Durbidge. Unable to escape the combination, Durbidge will leave this event with a 13th place result. Wright, who has yet to win at Bells, looks in great form moving into the next round.
"I didn't have any idea what to expect going into this heat," Wright said. "I really enjoy surfing against Bede [Durbidge]. He's a great surfer and competitor, and an awesome human. He was always going to be hard to beat. I'm just happy to get through and be able to surf another day at pumping Bells or Winki."
Powerhouse Ezekiel Lau (HAW) continued the rookie domination as he took down an in-form Kolohe Andino (USA). Lau only took off on two waves during the encounter to post a winning total of 14.00. Current World No. 3 Andino was in the hunt for a 7.50 single-wave score but was unable to get it done and finishes his run at Bells in Equal 13th place.
"I wasn't focused on anyone else out there, just me and my game plan," Lau said. "Everything was going my way in that heat, which felt nice for a change. I felt like I had a really good rhythm with the waves today. I've been working closely with Jake [Paterson] all year and he has some great tips on surfing here at Bells so it is great to have him in my corner."
Previously, Lau made a big statement in his Round 2 Heat 4 matchup against second-year charger Conner Coffin (USA) with a near-perfect 9.00 and 9.40. Lau found an early rhythm at Bells Beach to trap Coffin in a combination situation for the win. Lau will advance to Round 3 for the second time this season, while current World No. 7 Coffin faces his early exit this season with a 25th place finish.
2012 WSL Champion Joel Parkinson (AUS) will compete in the remaining Round 3 heats after taking out event wildcard Samuel Pupo (BRA) in Round 2 Heat 2. The CT veteran exhibited his clean, technical surfing to earn two excellent 8-point rides and the win. Pupo, who gained entry into the event after winning the trials, was not able to post the required scores and will exit his first ever CT event in 25th place.
"That was such a great heat," Parkinson said. "It was so fun out there. You sometimes forget how good of a wave Bells is. When it's like it is today, clean and four foot, you just get this nervous energy and feeling of excitement. That was my first heat in Round 2 at Bells, so I'm glad to have made it out. I feel like I have a good strategy when surfing Bells and my surfing suits the waves. It's been the same since I started surfing here and it seems to still be a winning formula."
Jordy Smith (ZAF) opened the day with a massive score, an incredible 18.40, to take down event wildcard Glyndyn Ringrose (AUS) in Round 2. Ringrose, a former CT competitor, was back on the world stage after 17 years away from the CT and showed his razor sharp backhand attack was still well and truly intact. It wasn't enough to match the raw power of Smith's rail carves as the South African continues into a Round 3 matchup with CT rookie Joan Duru (FRA).
"I couldn't have asked for a better Easter," Smith said. "To come down and score four-to-five foot Bells, super clean is amazing and the best thing is how consistent it is. There are so many opportunities, the conditions are incredible. It was awesome to have a heat with Glyndyn [Ringrose]. He is an amazing surfer and helps us here every year on the water patrol so I really take my hat off to him. I took a lot away from my heat at Margaret River and am feeling confident here at Bells."
Joan Duru (FRA) earned his first heat win of his rookie season today by eliminating CT veteran Josh Kerr (AUS). Duru locked in an excellent 8.67 and continued to move with a 7.57. Kerr, with a 7.17 on his opening ride, needed an 8.81 to secure the win. With one last opportunity, Kerr unleashed a big reverse but was not able to land his closing maneuver for the score. Duru will be against Smith in Round 3 Heat 12.
"It's amazing to be surfing here at such an iconic event," Duru said. "Bells Beach is an amazing place and I feel like it suits my surfing. I haven't had the best start to my rookie season, so to make it out of that Round 2 heat on top is a good feeling – especially against a guy like Josh [Kerr] he is an incredible competitor."
Rookie Connor O'Leary (AUS) was also able to bounce out of elimination Round 2 after winning his heat against Jadson Andre (BRA). O'Leary will be up against Parkinson when competition gets back underway.
CT veteran Jeremy Flores (FRA) took out Jack Freestone (AUS) by only 0.06 of a point in a fiery battle to close out Round 2. The heat saw some of the day's biggest sets on offer force both surfers to showcase powerful maneuvers for the win. Flores got the slight edge and will match-up against 2015 WSL Champion and former event winner Adriano de Souza (BRA) in Heat 9 of Round 3.
The eliminations continued throughout the day as Sebastian Zietz (HAW) knocked out 2017 World Title contender Julian Wilson (AUS) in Round 3 Heat 5 by just 0.03 points. Both surfers battled wave for wave, posting incredible excellent-range scores. Zietz powered through to earn the slight advantage to eliminate Wilson.
"That was a non-stop, action-packed heat," Zeitz said. "It's always good to have a lot of waves in a heat, so both competitors get opportunities. I saw a few of Julian's [Wilson] waves and he was looking super sharp so it was going to be a tough task. I knew it was going to turn on for that heat after a couple of slow ones. I can't complain though – mother nature was really providing. Getting up there and making heats is a good feeling, it really helps for requalification."
Zietz also eliminated 2017 WSL Rookie Leonardo Fioravanti (ITA) by only 0.09 points in Round 2. Fioravanti will leave the Australian leg with his third consecutive 25th place finish.
2016 WSL Rookie of the Year Caio Ibelli (BRA) charged through the competition today with a win against rookie Ian Gouveia (BRA) in Round 2 and 2017 World Title contender Michel Bourez (PYF) in Round 3.
Event organizers will reconvene tomorrowat 6:45 a.m. local time to reassess the conditions and make the next call.
SW swell continues Monday, slowly easing, fading further into Tuesday morning.  A solid swell will peak Wednesday and fade Thursday, although wind will not be as favorable as what we'll see the next couple days. A final swell is possible for the end of the waiting period, although it looks smaller than what we're now.Surfline
Rip Curl Pro Bells Beach Round 2 Results:
Heat 1: Jordy Smith (ZAF) 18.40 def. Glyndyn Ringrose (AUS) 8.83
Heat 2: Joel Parkinson (AUS) 16.57 def. Samuel Pupo (BRA) 12.83
Heat 3: Sebastian Zietz (HAW) 16.93 def. Leonardo Fioravanti (ITA) 16.84
Heat 4: Ezekiel Lau (HAW) 18.40 def. Conner Coffin (USA) 16.40
Heat 5: Connor O'Leary (AUS) 13.00 def. Jadson Andre (BRA) 6.33
Heat 6: Joan Duru (FRA) 16.24 def. Josh Kerr (AUS) 14.60
Heat 7: Caio Ibelli (BRA) 17.26 def. Ian Gouveia (BRA) 14.67
Heat 8: Mick Fanning (AUS) 18.20 def. Ethan Ewing (AUS) 12.03
Heat 9: Frederico Morais (PRT) 17.94 def. Miguel Pupo (BRA) 14.87
Heat 10: Bede Durbidge (AUS) 17.60 def. Stuart Kennedy (AUS) 13.74
Heat 11: Wiggolly Dantas (BRA) 17.00 def. Kanoa Igarashi (USA) 15.80
Heat 12: Jeremy Flores (FRA) 16.70 def. Jack Freestone (AUS) 16.64
Rip Curl Pro Bells Beach Round 3 Results:
Heat 1: Frederico Morais (PRT) 13.94 def. Gabriel Medina (BRA) 13.57
Heat 2: Caio Ibelli (BRA) 17.03 def. Michel Bourez (PYF) 16.10
Heat 3: Owen Wright (AUS) 17.54 def. Bede Durbidge (AUS) 13.83
Heat 4: Mick Fanning (AUS) 13.50 def. Kelly Slater (USA) 12.43
Heat 5: Sebastian Zietz (HAW) 17.07 def. Julian Wilson (AUS) 17.04
Heat 6: John John Florence (HAW) 14.34 def. Nat Young (USA) 11.43
Heat 7: Ezekiel Lau (HAW) 14.00 def. Kolohe Andino (USA) 12.33
Rip Curl Pro Bells Beach Remaining Round 3 Match-Ups:
Heat 8: Filipe Toledo (BRA) vs. Adrian Buchan (AUS)
Heat 9: Adriano de Souza (BRA) vs. Jeremy Flores (FRA)
Heat 10: Matt Wilkinson (AUS) vs. Wiggolly Dantas (BRA)
Heat 11: Joel Parkinson (AUS) vs. Connor O'Leary (AUS)
Heat 12: Jordy Smith (ZAF) vs. Joan Duru (FRA)
Rip Curl Women's Pro Quarterfinal Match-Ups:
QF 1: Carissa Moore (HAW) vs. Courtney Conlogue (USA)
QF 2: Tyler Wright (AUS) vs.  Coco Ho (HAW)
QF 3: Lakey Peterson (USA) vs. Sally Fitzgibbons (AUS)
QF 4: Johanne Defay (FRA) vs. Stephanie Gilmore (AUS)
– MORE AVAILABLE AT WORLDSURFLEAGUE.COM