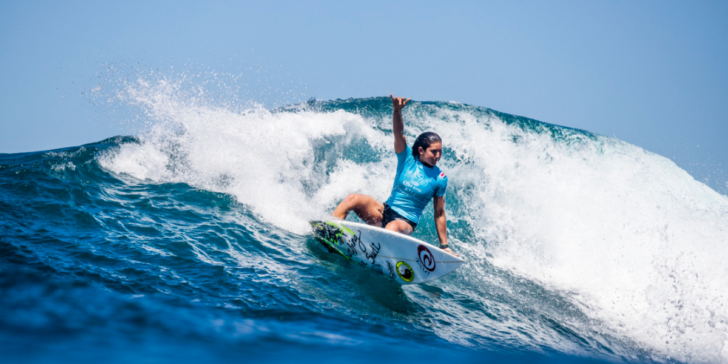 7x WSL Champion Gilmore Through to Semifinals
Fitzgibbons Eliminates Lima in Quarterfinals
Final Call: Tomorrow, Saturday, May 25 at 6:30 AM
Rookie Brisa Hennessy (CRI) eliminated three-time WSL Champion Carissa Moore (HAW) today in the opening Quarterfinal heat of the Corona Bali Protected. 
Credit: © WSL / Dunbar
Keramas, Bali/Indonesia (Friday, May 24, 2019) – The third stop on the 2019 World Surf League (WSL) Championship Tour (CT), the Corona Bali Protected, completed the first three heats of the women's Quarterfinals today in tricky two-to-four foot (0.6 – 1.2 metre) waves at Keramas.

The Corona Bali Protected now ramps up to tomorrow, the final day of the event window. With the most favorable swell of the holding period forecast for tomorrow, the Finals Day showdown will see the world's best surfers treated to promising conditions at one the world's most high-performance waves.
Rookie Hennessy Takes Down 3x WSL Champion Moore in Quarterfinal 1
Brisa Hennessy (CRI), 2019 CT Rookie, opened today's competition with a massive upset over Carissa Moore (HAW), the three-time WSL Champion. The matchup was one of most exciting of the event thus far with a back-and-forth battle between the rookie and the veteran. Despite a strong start from Hennessy, Moore had Hennessy on the ropes in the dying minutes needing an 8.07 (out of a possible 10). In the final minute, Hennessy dropped a critical 8.37, surpassing the requirement and earning her career-first Semifinal entry.

"I knew I had to bring it in a heat against Carissa (Moore)," Hennessy said. "She has been my idol since I started surfing, so I knew it was going to be a crazy battle and that I was going to have to bring my surfing because she was going to bring hers and be incredible no matter what. It was honestly just an honor be out there surfing against her in a heat. I was so grateful that that wave showed up out of the blue and came to me. I knew I had to do some big turns all the way to the end. I'm really excited to be here surfing Keramas and to now be in the Semifinals."

"In that heat I struggled with wave selection," Moore said. "Brisa (Hennessy) got four really good waves where I struggled to find more than one. I'm glad I got to open up on a few and show my progressive surfing but just wished I got a few more good waves. I'm looking forward to heading to Margaret River and seeing my husband for the first time in a while. I'm stoked to have put on a good performance here and now head to the next event."
Sally Fitzgibbons (AUS) Credit: © WSL / Dunbar
Hennessy will meet Sally Fitzgibbons (AUS) in the Semifinals of the Corona Bali Protected. Their heat will be a rematch of the 2017 Maui Pro, where Hennessy upset Fitzgibbons' World Title run with her wildcard win.

Fitzgibbons locked in her second Semifinal of 2019 after dispatching Silvana Lima (BRA) in Quarterfinal 2. Lima is back in her first event of 2019 after suffering a sidelining knee injury last season and put up a big fight in the heat. The Brasilian missed the mark by just 0.7 of a point and exits in Equal 5th place.
7x World Champion Stephanie Gilmore Eliminates World No. 3 Courtney Conlogue
Reigning seven-time WSL Champion Stephanie Gilmore (AUS) guaranteed her best result of the 2019 season today with her Quarterfinal win. The Australian booked a spot in the Semifinals after eliminating Courtney Conlogue (USA) in Quarterfinal 3. Conlogue seemed to have control of the heat for its entirety, until Gilmore pounced on a medium-sized set and posted the highest single-wave score of the matchup to clinch the win.

"I made a few mistakes in that heat," Gilmore said. "My game plan was to not be patient and the next minute I was sitting there with nothing and 17 minutes had passed. I just had to remind myself to not be freaked out by the situation and of the power of a strong mind. To be able to sit there and not be afraid to adapt to things has really helped me a lot, especially today. I'm really lucky I got that wave at the end and even though it was a six that was a big score in that heat. I'm glad to make it past the Quarterfinals and into the Semifinals, especially with the prospect of good surf tomorrow, that was a really big driving factor for me, the chance of getting really good waves tomorrow."
The final call for the Corona Bali Protected will be tomorrow, Saturday, May 25, at 6:30 a.m. WITA for a possible 6:35 a.m. start. The event will conclude tomorrow, but at this time event organizers will decide the competition's start time and heat order.

The Corona Bali Protected will be broadcast LIVE on WorldSurfLeague.com and Facebook.com/WSL .
Corona Bali Protected Women's Quarterfinal Results:
Heat 1: Brisa Hennessy (CRI) 15.70 DEF. Carissa Moore (HAW) 15.40
Heat 2: Sally Fitzgibbons (AUS) 13.60 DEF. Silvana Lima (BRA) 12.90
Heat 3: Stephanie Gilmore (AUS) 13.40 DEF. Courtney Conlogue (USA) 12.57Corona Bali Protected Remaining Women's Quarterfinal Matchup:
QF 4: Bronte Macaulay (AUS) vs. Nikki Van Dijk (AUS)Corona Bali Protected Women's Semifinal Matchups:
SF 1: Brisa Hennessy (CRI) vs. Sally Fitzgibbons (AUS)
SF 2: Stephanie Gilmore (AUS) vs. TBD

Corona Bali Protected Men's Quarterfinal Matchups:
Heat 1: Michael Rodrigues (BRA) vs. Wade Carmichael (AUS)  Heat 2: Jeremy Flores (FRA) vs. Kolohe Andino (USA)
Heat 3: Filipe Toledo (BRA) vs. Kelly Slater (USA)
Heat 4: Adrian Buchan (AUS) vs. Kanoa Igarashi (JPN)

For more information, please visit WorldSurfLeague.com.
About the WSL 
The World Surf League (WSL) is dedicated to celebrating the world's best surfing on the world's best waves through a variety of best-in-class audience platforms. The organization, headquartered in Santa Monica, is a global sport with regional offices in Australasia, Africa, North America, South America, Hawaii, Japan and Europe.The WSL has been championing the world's best surfing since 1976, annually running more than 180 global events across the Men's and Women's Championship Tours, the Big Wave Tour, the Longboard Tour, Qualifying Series, Junior Championships, as well as the WSL Big Wave Awards. The League possesses a deep appreciation for the sport's rich heritage while promoting progression, innovation and performance at the highest levels, and in doing so crowns the undisputed Men's and Women's World Champions across all tours.Showcasing the world's best surfing on its digital platform at WorldSurfLeague.com, the WSL has a passionate global fan base with millions tuning in to see world-class athletes like Kelly Slater, Stephanie Gilmore, Tyler Wright, John Florence, Lakey Peterson, Paige Alms, Kai Lenny, Steven Sawyer, Soleil Errico, Carissa Moore, Gabriel Medina, Courtney Conlogue and more battle on the most dynamic field of play of any global sport.For more information, please visit WorldSurfLeague.com