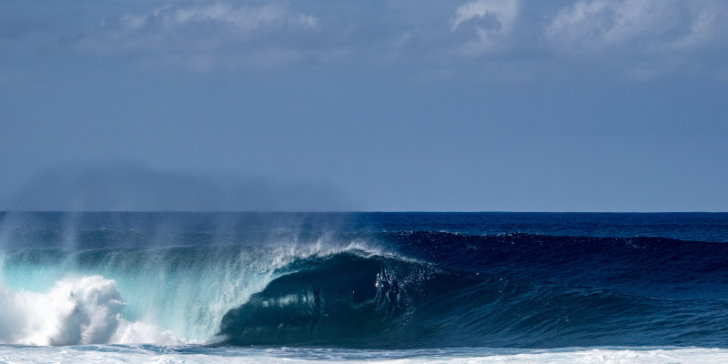 Haleiwa Standout and Upcoming Talent Shion Crawford Set for Pipeline

Women's Field Led by Former Event Semifinalist Zoe McDougall

Due to lack of swell and recent storm December 8 and 9 were Called OFF, Next Call Friday, December 10
Event organizers will make the first official call Friday, December 10 in hopes of seeing Pipeline come to life. 
Credit
: © WSL /  Saguibo
We have a real quiet week through Sunday, but things turn on from Monday the 13th with 4 back-to-back swells and moderate to fresh East trades through the end of the holding period. Monday should see a 3-5′ NNW. Tuesday-Wednesday a solid advisory (8'+) level North (tho' not the optimal direction), then we get a better 4-6′ NW Thursday the 16th and a Big NW filling Friday the 17th for the Big Finale Saturday (6′)-Sunday (near 10′). Choice to depending on number of day/heats left. SNN
BANZAI PIPELINE, Oahu/Hawaii (Tuesday, December 7, 2021) – The World Surf League (WSL) Hawaii/Tahiti Qualifying Series (QS) season opens beginning December 8 – 20 with the HIC Pipe Pro QS 1,000 at the world-famous reef of Pipeline. Regional competitors are set to hold their ground against a world-class field featuring WSL Champions and recent Championship Tour (CT) qualifiers. A minimal forecast in opening days has forced event organizers to call OFF December 8 and 9 with the next call to be made Friday, December 10 at 7:00 a.m. HST.
"Due to small northerly swell forecasted for the start of the waiting period, Wednesday and Thursday will be lay days," said Hawaii/Tahiti Nui Tour Manager Marty Thomas. "Long range forecasts show more promising swell later in the window and we're hoping to get the surfers into some proper waves for competition. Thank you to everyone who helped make this event possible, especially HIC, and the local community for their support."
Shion Crawford (HAW) made his presence known in Haleiwa and looks to bring that spark to Pipeline. 
Credit
: © WSL / Brent B.
A dramatic finish to the Challenger Series brought to light some of Hawaii's brightest new contingent ready to make their mark among the likes of two-time WSL Champion John John Florence (HAW) and five-time WSL Champion Carissa Moore (HAW).
Shion Crawford (HAW), 17, entered the Michelob ULTRA Pure Gold Haleiwa Challenger as an alternate and made some serious noise to put his name on the watchlist moving forward, finishing with a Quarterfinal result. One of Haleiwa's own, Crawford looks to continue representing proudly for the North Shore at one of the world's most recognized lineups.
"The event at Haleiwa gave me so much confidence in my surfing," said Crawford. "I can't believe I got into that event to begin with, so that was crazy. I'm really excited to compete in a regional event and get some points. I'm not really in a rush to get on the Challenger Series because I know I want to keep growing and developing my surfing, but it'll be amazing to surf with guys like John John (Florence) an Mason (Ho) again."
This marks the first women's return to the esteemed lineup of Pipeline since 2018's Women's Pipeline Invitational featuring Moore, Coco Ho (HAW), Alessa Quizon (HAW), and Zoe McDougall (HAW). For McDougall, this is a brilliant opportunity to get early points at home toward the Challenger Series in hopes of joining the world's best. The 21-year-old's 2016 performance earned her a Semifinal finish as she now looks to claim her first North Shore victory.

"I'm pretty excited to have another event at home which is new to me to have more than one event here," said McDougall. "My experiences at Pipeline have been really special. When I got to do the invitational it was definitely the largest I've surfed it at like eight-foot right before the men's Pipe Masters Final that year. I learned the most about that wave in that heat. We've been competing for almost five months straight now so I'm looking forward to keeping the ball rolling."

When the final horn sounded in Haleiwa, Luana Silva (HAW) confirmed her 2022 CT Rookie spot and now looks to gain vital experience in a jersey at Pipeline along with fellow soon-to-be rookies Gabriela Bryan (HAW), Bettylou Sakura Johnson (HAW), along with CT veterans Courtney Conlogue (USA), Lakey Peterson (USA), and more.

The HIC Pipe Pro QS 1,000 will run December 8 – 20 at Banzai Pipeline, North Shore, Oahu.
About the WSL 
Established in 1976, the World Surf League (WSL) is the home of the world's best surfing.A global sports, media and entertainment company, the WSL oversees international tours and competitions, a studios division creating over 500+ hours of live and on-demand content, and via affiliate WaveCo, the home of the world's largest high performance, human-made wave. Headquartered in Santa Monica, California, the WSL has regional offices in North America, Latin America, Asia Pacific, and EMEA.The WSL annually crowns the men's and women's surfing World Champions. The global Tours and Competition division oversees and operates more than 180 global contests each year across the Championship Tour, the development tiers, including the Challenger, Qualifying and Junior Series, as well as longboard and big wave properties.Launched in 2019, WSL Studios is an independent producer of unscripted television projects, including documentaries and series, which provide unprecedented access to athletes, events, and locations around the world. WSL events and content are distributed on linear television in over 743M+ homes worldwide and across digital and social media platforms around the world, including WorldSurfLeague.com.

WaveCo includes the Surf Ranch Lemoore facility and the utilizing and licensing of the Kelly Slater Wave System.

The WSL is dedicated to changing the world through the inspirational power of surfing by creating authentic events, experiences, and storytelling to inspire a growing, global community to live with purpose, originality, and stoke.

For more information, please visit WorldSurfLeague.com.

About HIC
Founded in 1971 by brothers Stephen and Jimmy Tsukayama, Hawaiian Island Creations started as a small surf shop in Kailua, on Oahu's Windward shore.
Fifty years and thousands of surfboards later, HIC is recognized by surfers across the globe as an icon of Hawaiian surfing. Through a commitment to quality, service and aloha spirit the company has grown to include seventeen stores across Oahu, Maui and Hawaii Island. Enjoy the ride!