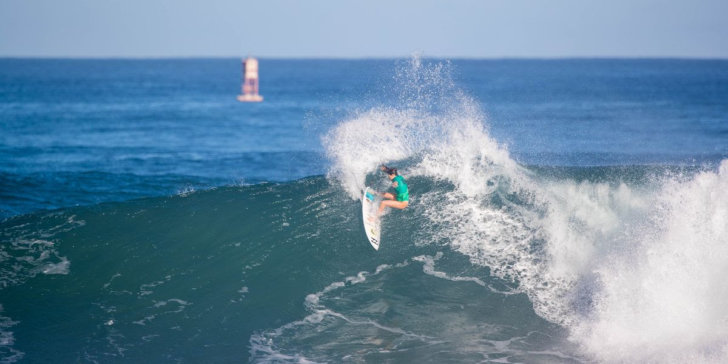 Tho' the fun NW has dropped from 5-8′ Tuesday to 3-4′ Wednesday we have good conditions and rippable sets. NE Trades are expected to fill in to lite-moderate paces by noon. The next few days will turn ON! Thursday's Big WNW fills all day and peaks Friday 8-10'+ at Haleiwa. SNN Team
Haleiwa Challenger at home in the Hawaiian Islands Called ON for Wednesday. 
Men's Round of 64 Called ON for 8:05 a.m. HST Start
Women's Competition OFF for the Day
Watch LIVE at WorldSurfLeague.com
Pictured: Haleiwa's own Shion Crawford returns to the lineup in the Round of 64, Heat 13, for a chance to break into the Round of 32. Credit: © WSL / Brent Bielmann
HALEIWA, Oahu/Hawaii (Wednesday, November 30, 2022) – The Haleiwa Challenger at home in the Hawaiian Islands, the final stop of the World Surf League (WSL) 2023 Challenger Series (CS), has been called back ON for an 8:05 a.m. HST start. The men's Round of 64, Heats 1 – 16, are on schedule to run today with four-to-six foot, occasional plus, wave faces pulsing into Haleiwa. Women's competition is OFF for the day.
"The west swell has dropped off a little bit from yesterday but we still have some really clean surf here at Haleiwa," said Hawaii/Tahiti Nui Event Director Marty Thomas. "It's going to be another great day of competition with men's top seeds hitting the water starting at 8:05 a.m. Good luck to all our competitors and thank you to the local community, and everyone involved, for helping make this event happen."
Men's competition kicks back into high gear with Rip Curl WSL Finals contender Ethan Ewing (AUS), and Challenger Series threats Lucas Silveira (BRA), and Joel Vaughn (AUS), ready to face an in-form, Round of 80 victor Alan Cleland (MEX).

Also making their highly-anticipated debuts are 2023 CT hopefuls such as Oahu's own Ezekiel Lau (HAW) (Heat 2), rising star Joao Chianca (BRA) (Heat 2), Liam O'Brien (AUS) (Heat 14), Ramzi Boukhaim (MOR) (Heat 8), and more. They will all have to deal with likes of 2x WSL Champion, and reigning event victor, John John Florence (HAW) (Heat 7), Griffin Colapinto (USA) (Heat 13), Barron Mamiya (HAW) (Heat 15), Kanoa Igarashi (JPN) (Heat 9), and a plethora of world-class talents.
Trip of a Lifetime', is a new six-part series that encapsulates the most memorable surf trips, a group of friends traveling to the most beautiful destinations in the world, in search of dreamy waves and one-of-a-kind experiences. All episodes are now available at WorldSurLeague.com, and on WSL's YouTube channel.

The 'Trip of a Lifetime' Series is proudly supported by Expedia, Hydro Flask, Tequila Eterno Verano, and Havaianas.
For the Haleiwa Challenger, WSL and SHISEIDO teamed up with WSL PURE grantee Nā Kama Kai and We Are One Ocean coalition partner, Kuleana Coral, on a coral restoration initiative to restore the reef and inspire ocean protection and stewardship. Getting involved in protecting and conserving the ocean were five time WSL World Champion Carissa Moore (HAW), fellow Hawaiians, Ezekiel Lau, Josh Moniz, Keanu Asing, Pua Desoto, Seth Moniz, Dylan Moffat (AUS), Liam O'Brien (AUS), Morgan Cibilic (AUS), and Phil Rajzman (BRA).
DAY ONE STORY:
Tuesday: Rising Contenders Set the Standard for Haleiwa Challenger…at home in The Hawaiian Islands
2022 CT Rookie India Robinson Returns to Haleiwa
Oahu's Own Eweleiula Wong Turns In Excellent Debut
Haleiwa's Own Shion Crawford Delivers Decimating Start, Kauli Vaast Goes Near-Perfect
Stage Set for Championship Tour Qualification Scenarios to Unfold
Front page: Wahiawa, Oahu's, Eweleiula Wong accrued an excellent 8.50 in her terrific debut. Credit: © WSL / Heff
HALEIWA, Oahu/Hawaii (Tuesday, November 29, 2022) – The Haleiwa Challenger at home in the Hawaiian Islands, the final stop of the World Surf League (WSL) 2022 Challenger Series (CS), opened with consistent, six-to-eight, occasional ten, foot faces to get competition underway. Both the men and women battled through their respective opening rounds, setting up world-class draws moving forward. Electric performances set the standard of what can be expected as all-important, Championship Tour (CT) qualification scenarios are now on the line moving forward.
Pictured: India Robinson (AUS) returned to the wave that she clinched CT qualification at in 2022 with force. Credit: © WSL / Brent Bielmann
2022 CT rookie India Robinson (AUS) debuted in brilliant form with her powerful forehand attack to earn a Round of 48 best, 15.20 (out of a possible 20) heat total in Heat 8. Robinson previously sustained a concussion heading into her maiden CT season and returned to Haleiwa stronger than ever. Challenger Series standout Sophia Medina (BRA) joined her in advancing to the Round of 32 over Laura Raupp (BRA), and Rachel Presti (DEU).
"I'm really fortunate to be working with Joel Centeio, he's a master out here, so watching those previous heats I saw I could've been taking off a bit further out than the other girls were," said Robinson. "I definitely fell in love with this wave since I came last year and this year I've come back just wanting to do my best surfing. I think my surfing suits this wave so when that happens I just have to enjoy it."
Former CT competitor, Dimity Stoyle (AUS), and fellow Australian Zahli Kelly, also made an impactful start with their respective debut victories to push them in the right direction.
Wahiawa, Oahu's own, Eweleiula Wong, was recently confirmed for the 2023 Challenger Series and showcased a glimpse of what's to come with an excellent, 8.50 (out of a possible 10) in her debut. Wong's Finals appearance at the Sunset HIC Pro Qualifying Series (QS) 1,000 put her on the radar as one to watch here at Haleiwa. The 17-year-old's 14.17 held firm as one of opening day's highest totals, despite a scary moment to start the heat.

"I was a little nervous because I went for a really bad wave and my leash broke," said Wong. "I tried my best to stay calm and I paddled back out, got a wave, then a bunch of sets came. I got even more nervous because I was out of position again, but then finally one of the last sets came through and I was able to get it."
Pictured: Coco Ho (HAW) showcases her CT talent and local knowledge in Heat 5 of the Round of 48. Credit: © WSL / Heff
Former CT veteran Coco Ho (HAW), proven QS standout Brianna Cope (HAW), and emerging threat Nora Liotta (HAW), added to the list of early, Hawaii success into the Round of 32. Ho's heat with fellow CT elite Sally Fitzgibbons (AUS), witnessed a back-and-forth affair as Fitzgibbons ultimately earned a valuable, advancing position to eliminate Summer Macedo (BRA), and Makaha, Oahu's, 2023 confirmed 2023 Challenger Series surfer Puamakamae DeSoto.
"It's been pumping all morning, I think right when the horn started I saw nonstop waves," said Ho. "But, my heat was a little slow and I'm trying to do everything opposite to what I used to do. I'm pretty comfortable here."
Anne Dos Santos (BRA) and South Africa's Zoe Steyn also earned early heat wins heading into the Round of 32.
Men's Opening Battles Unravel, Stage Set for CT Qualification Showdowns
Haleiwa's own, Shion Crawford, returned to his home break in decimating form in the Round of 80, Heat 7, earning an excellent 8.53 and backing it up with a 7.77. Despite Eli Hanneman's (HAW) 8.60 opener, Crawford's exceptional use of priority led the way to a win over Encinitas, California's, Levi Slawson and Japan's Reo Inaba.

"I know a lot about this wave and I've surfed it my whole life so it was pretty sick," said Crawford. "I sat watching it all day just thinking I want to surf so badly and then I finally got out there, and just wanted to do huge turns. The groms are super supportive and it's always nice to see them and try to push them to get out there for a surf."
Pictured: Peru's veteran talent, Alonso Correa, showcased his dominant backhand to post the day's highest heat total. Credit: © WSL / Heff
A back-and-forth battle of two powerful, goofy-footed competitors, Cole Houshmand (USA) and Alonso Correa (PER), took control of Heat 3, with Correa edging out the Southern Californian with an excellent 8.07 and a day's best 15.90 heat total. Correa hasn't found success past his equal 17th at the GWM Sydney Pro, but his start here at Haleiwa provided a palpable spark for the Peruvian veteran.
"It's hard out there and in that last heat, those guys were going crazy so I knew I'd have to do something really good to get some scores," said Correa. "I just wanted to get a good wave and hit it as hard as possible. I'm glad it worked."
One of 2022's standout competitors, Kauli Vaast (FRA), continued to show his world-class ability with a near-perfect 9.00 on a powerful set wave steaming into Haleiwa in Round of 80, Heat 5. Vaast's versatile, backhand attack led the way to his debut heat win over a stacked heat including Australian threat, also advancing, Chris Zaffis (AUS), Olympian Billy Stairmand (NZL), and Maui, Hawaii's, Jackson Bunch.

"I was just waiting for a good one, I had the priority at the beginning of the heat and when I saw that one I thought, this is what I like," said Vaast. "When I heard 9, I knew I needed a backup so I got another small wave straight away, made the heat, I'm stoked. There is a good Tahitian crew here and we're coming (laughs)."
Pictured: Alan Cleland (MEX) helped deliver one of the day's heaviest upsets in the first heat of men's competition. Credit: © WSL / Heff
A clash of talents set the tone for men's Round of 80 with Alan Cleland (MEX) stealing the show against a highly decorated Billy Kemper (HAW), reigning North America QS Regional Champion Michael Dunphy (USA), and Santa Cruz, California's, rising talent John Mel. Cleland's 14.50 heat total looked to be more than enough for the heat win, but a last-minute effort on his dominating forehand added a 7.90 and 15.23 total as Mel's 7.57 helped propel him to an advancing position over Kemper.
Also notching impressive, Round of 80 wins, Justin Becret (FRA), Wiggolly Dantas (BRA), Te Kehukehu Butler (NZL), and Shane Sykes (RSA) head into the Round of 64 with plenty of momentum.
CLICK HERE FOR OPENING DAY RESULTS 
Event organizers will reconvene at 7:30 a.m. HST to determine a possible 8:05 a.m. HST start.
Watch LIVE
The Haleiwa Challenger holds a competition window November 26 – December 7. Once called ON, the contest will be broadcast LIVE on WorldSurfLeague.com, WSL's YouTube channel, and on the free WSL app. Also, check local listings for coverage from the WSL's broadcast partners.The Haleiwa Challenger at home in the Hawaiian Islands is proudly sponsored by At Home in the Hawaii Islands, Hawaiian Tourism, Shisiedo, Havaianas, Specturm, 805, Alaska Air, Turtle Bay, Fu Wax, and Hydro Flask.For more information, please visit WorldSurfLeague.com.
About the WSL
The World Surf League (WSL) is the global home of competitive surfing, crowning the undisputed World Champions since 1976 and showcasing the world's best surfers on the world's best waves. WSL is comprised of the Tours and Competition division, which oversees and operates more than 180 global competitions each year; WSL WaveCo, home of the world's largest high-performance, human-made wave; and WSL Studios, an independent producer of unscripted and scripted projects.